Art Review: Clark Hulings
at The Forbes Galleries, NYC
By Raymond J. Steiner
ART TIMES May/ June 2011

EYE, MIND, SOUL — pleasing the eye, engaging the mind, speaking to the soul — how rare to find artists today doing all three at one and the same time! They do exist, however — tucked away in different corners of our country, heroically hewing to old traditions of skill and craftsmanship in spite of all efforts to sway them from the so-called "passé" standards of by-gone days. Witness, for example, the art of Clark Hulings, presently on view at The Forbes Gallery in NYC,* a show that features many works of the recently-deceased artist that have never been exhibited before.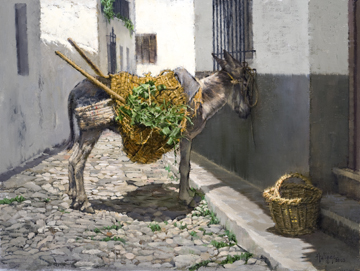 As with so many representational artists dismissed as "mere" illustrators by the modernist "pundits", Clark Hulings ignored the trend for imageless art, soldiering on while silently honing his skills of fine draftsmanship and subtly-toned color schemes on the rural motifs he seemed never to tire rendering. Hulings' art, however, has not been totally ignored, gaining both recognition and awards from such organizations as The Allied Artists of America, the Hudson Valley Art Association and representation at the once-famous Grand Central Art Galleries in NYC — all organizations that have long hewed to the traditional standards of fine craftsmanship — a much welcome allegiance now carried on by The Forbes Gallery and their current exhibition of Hulings' work.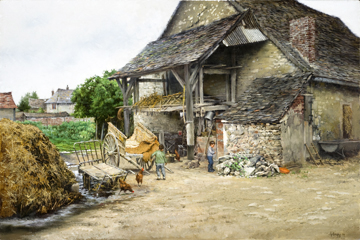 For the aficionado of classical fine art, this is a show you ought not miss. The groundwork for Hulings' eye for form and color had been long laid down by "gruntwork" as a successful illustrator whose innate eye for detail had been finely-tuned by such master Art Student League teachers as the late George Bridgman and Frank Reilly — both of whom led their talented student to eventually focus on leaving the more lucrative career of illustration to one of pursing fine art. Already influenced in his youth by the traditionally-trained portraitist Sigismund Ivanowski, his teachers could not have had a more apt and willing learner — but it was Hulings himself who transformed their teachings into his own unique vision and style of combining visual elements stored in his memory to create his compelling compositions.

The fruits of Hulings' progress are evident in the 42 paintings and drawings presently on view in "An American Master" — the designation of "master" most definitely appropriate in this instance. Viewers will assuredly have their hungry eyes, minds and souls sated by the sheer vitality of Hulings' images — images gleaned from world travels of rural land- and townscapes, colorful flower and produce markets, street vendors, farmyards, children, still lifes — and, of course, his signature placidly-patient donkeys. Never garish, never saccharine, Hulings' seems to hit the right tone in whatever he chooses to depict — even the famous, overweight character "Suzy" of Art Student League fame — a model that I had devoted a chapter to in my book, The Art Students League of New York: A History.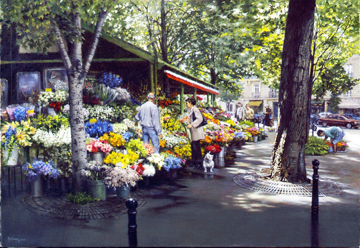 Close viewing will reveal how deftly Hulings' achieves his effects — subtle shifting of values that compels color to "hold its place" and form to avoid domination of the overall motif — varied brush and broad palette strokes to evoke detail and/or texture — all blended by a masterful eye and hand coordination — all of which comes from a lifetime of looking, of noting, of differentiating, of memorizing — of near-flawless execution.

So — go treat yourself — if only to fall in love with his donkeys or chuckle at Suzy the model.

*"Hulings: An American Master" (thru Jun 18): The Forbes Galleries, 62 Fifth Ave., NYC (843) 842-4433