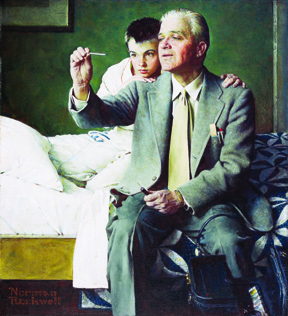 "Doctor and Boy Looking at Thermometer",
Norman Rockwell 1954. Display advertisement
for The Upjohn Company. o/c
Rockwell and his Legacy
at the Norman Rockwell Museum
(Images courtesy of the Norman Rockwell Museum)
By RAYMOND J. STEINER
ART TIMES May 2007
IN AN AGE where both mental and physical health seem progressively doomed to be a thing of the past, "Picturing Health," the present exhibition* at the Norman Rockwell Museum, might be "just what the doctor ordered." If the exhibit cannot actually stem the almost daily tide of new diseases, rampant drug abuse, pharmaceutical transgressions, hidden hospital horrors, or demented acts of terrorism, it can offer the balm of nostalgia, a quiet interlude in today's increasingly violent and sickened world, a step into a past where grey-haired doctors were friendly, fatherly types who wore ties and vests and who seemed to genuinely care not only for your bodily wounds and ills, but for you.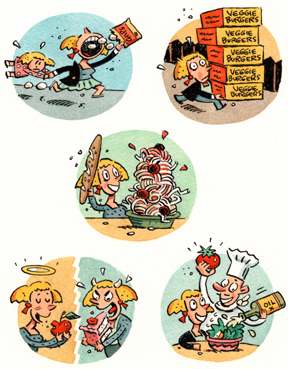 "Healthy Eating", Elwood Smith, 2000 Illustration for
Healthy Living, Jan. 2000 Watercolor and ink on paper,
Collection of the artist ©2000 Elwood Smith
Whether such a world actually did exist — Rockwell always claimed not to paint reality, but "life as I would like it to be" — "Picturing Health" does make it clear that, as a subject for art, human ailments did certainly not begin — or end — with Norman Rockwell's famous illustrations of endearing doctors and their charming patients. Examples from the past have a long history and, as this exhibit shows, continues on to this day — and "picturing health" will probably be alive and well long into the future.
Some forty-seven works — eleven by Rockwell — make up the show, those by such artists as Melinda Beck, Guy Billout, Juliette Borda, Cathie Bleck, Cora Lynn Deibler, Teresa Fasolino, Peter de Sčve, Frances Jetter, Gregory Manchess, Whitney Sherman, Elwood Smith, and Mark Ulriksen carrying on the tradition of health-related motifs if not Rockwell's distinctive style of illustration. Although the gallery featuring original Rockwell paintings commissioned by the Pfizer Company — with its suite of the four photographs he used for his "Doctor and Boy Looking at a Thermometer" — dominates the exhibit — in both scale and technique, in the estimation of this viewer — the other works are by no means negligible. The untitled mural painting at the American College of Cardiologists in Washington, D.C., for example, is as fine as any of Rockwell's illustrations if not as "homely" in its overall presence. It is, rather fittingly, "modern" in a high-tech kind of way, but flawlessly handled in an extremely sophisticated painterly manner. By contrast, most of the other works are "cartoony" in nature, meant for quick scansion and easy readability. Though all are effective in delivering their messages of "picturing health" — or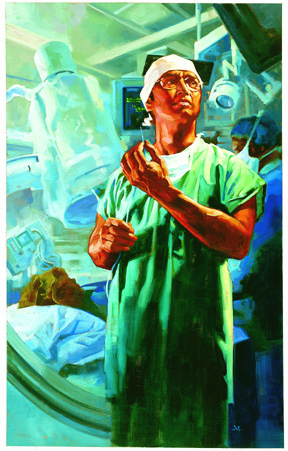 "Untitled", Gregory Manchess, 2006
Mural painting for the American College of Cardiologists, Washington, D.C., Oil on linen.
Collection of the artist ©2006 Gregory Manchess
aspects of it — at the same time, there exists a wide range of aesthetics in artistic expression. The comic book characters of Elwood Smith, for example, are a far cry from the black and white scratchboard illustrations of Cathie Bleck. Whereas Smith's comical characters render immediate understanding to his viewers, Bleck's — echoing as they do the early German woodcut with its severe expression sans the mitigation of color — carry with their ostensible message a somber reminder of the seriousness underlying the human condition. Both work, but for very different aesthetic reasons, since both are meant for different audiences.
On several counts, then, "Picturing Health" is an exhibition well worth your time to make the trip to Stockbridge, Massachusetts. Not only is it timely — we could certainly use some of Rockwell's gentle sensibility in the face of an increasingly complex world that in Hamlet's words seems "out of joint" — but it is also instructive in artistic terms as it shows a wide variety of approaches to a single theme.
The Norman Rockwell Museum is always worth a visit — but kudos to Director Laurie Norton Moffatt and Barry Winiker, curator of the Corporate Art Collection, Pfizer, Inc., for organizing and presenting this show.
*"Picturing Health: Norman Rockwell and the Art of Illustration" (thru May 28): Norman Rockwell Museum, Rte 183, Stockbridge, MA (413) 298-4100