Raymond Jacobs Retrospective at The Hotchkiss School Tremaine Gallery
By RAYMOND J. STEINER
ART TIMES May 200
6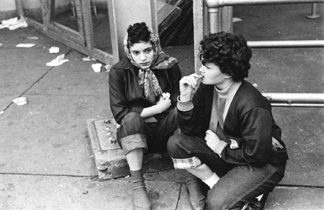 "Two Girls, Coney island", 1952
NEARLY SEVENTY PHOTOGRAPHS, taken through the '50s, the '60s and the '70s, comprise this retrospective exhibition* of the award-winning photographer, Raymond Jacobs
At first blush, I was somewhat perplexed by the several subjects grouped in the exhibition — circus performers, the indigent, jazz musicians, upper-crust society types, and the like — unable to find any unifying theme by which I might gain some insight as to how I might offer my readers an overview of the show — exacerbated, I must admit, by my general ignorance and unease in writing about photography. For the most part, I know little about the finer points of either the technical or aesthetic aspect of the art of taking photographs, and must rely solely on subject matter for entering into its special world. Ostensibly — at least according to the accompanying catalogue, Raymond Jacobs: My New York** — the exhibit was "about" New York. However, many of the photographs might have been taken anywhere, and several, in fact, were from such places as North Carolina and the Gaspé Peninsula. Thus, not finding any dominant leitmotif, so to speak, I found myself merely browsing, wandering aimlessly from wall to wall, looking but not actually seeing what my eyes were taking in.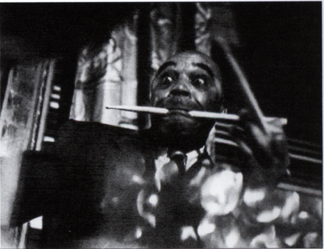 "Freddy Moore" , Central Plaza, Lower East Side, Manhatan, 1954
Happily, the Hotchkiss School is about an hour's drive for me, and it was on the way home that my mind finally opened to what lay behind Raymond Jacobs' well-deserved acclaim. After all, this was a man whose work had not only won prestigious awards and been featured in such major New York City exhibitions as "Seventy Photographers Look at New York" (ca. 1950s), but was also included in the ground-breaking and still-popular Family of Man.
His inclusion in the Family of Man might have given me the clue I needed had I not been so easily confounded by the various and seemingly disparate themes. Whatever Jacobs' skills as a photographer — and I leave that to the experts — he is above all else a humanist of the first order. It is not place, but "everyman" (or, "everywoman" I ought to say in these times of political-correctness) that serves as his subject. From the rich ("Man with monocle and woman in white mink, Metropolitan Museum of Art, NYC, 1958") to the poor ("Kids peeking through slats, North Carolina, 1955"); from the famous ("Salvador Dali-Metropolitan Museum of Art, NYC, 1958", "Douglas Fairbanks Jr. - Metropolitan Museum of Art, NYC, 1958", "Joel Grey in Mirror, 1966") to the nameless ("East Side Tenement, NY, 1954", "Gaspé Peninsula, Canada, 1954: Landscape farm with boy on bicycle"); from the clown ("Clown With Blue Vase" 1949") to the musician ("Louis 'Satchmo' Armstrong, Basin Street, 1954"), Jacobs' eye democratically accepts all comers that cross his path. Jacobs captures them sad, pensive, resigned, haughty, flirty, apprehensive, suspicious, smiling, furtive, thoughtful; he captures them both on-and off-guard, both posed and candid, both at their best and at their worst; he captures them at their leisure and while at work, at the most private and most public moments of their lives. In brief, Jacobs captures "everyman/woman" at whatever he/she doing and at those very moments when simple humanity is most evident. This, then, is the theme that lies at the heart of his work: an abiding fascination and non-judgmental acceptance of the ever-brewing melting pot of his fellow man.
City streets and public events might stop Raymond Jacobs the photographer for that special "photo op", but Raymond Jacobs the man never strays far from his real subject matter — his real love — the never-ending story of the family of man. Surely, visitors to "Raymond Jacobs Rediscovered" will find themselves somewhere included in his gallery of human visages.
*"Raymond Jacobs Rediscovered" (thru Apr 30): The Hotchkiss School: The Tremaine Gallery, 11 Interlaken Rd.; Lakeville, CT (860) 435-4423. Raymond Jacobs: My New York is published by Pointed Leaf Press. 172 pp.; 14 x 10 ½; 95 Photographs. $75.00 Hardcover. info@pointedleafpress.com.