Time and Transformation in 17th-Century Dutch Art at Vassar College
By RAYMOND J. STEINER
ART TIMES May, 2005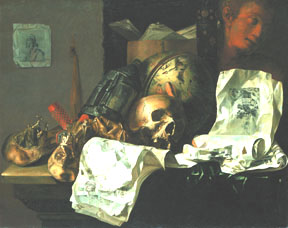 "Vanitas" 1661 Oil on Canvas by N.L. Peschier
ON THE FEW trips I've taken to the Netherlands during which I had the time to explore — Amsterdam, Bruges, Brussels, Leuven, Antwerp — I almost always found myself looking for those land- and townscapes, those tiny inner courtyards, those dark taverns filled with red-faced imbibers of brim-filled mugs of foamy beer, those narrow, twisty streets that almost always led down to some waterway, if not, in fact, to the sea itself — scenes that I could vividly recall from hours of looking at Netherlandish paintings. There were echoes, surely. You can still stumble onto one of those narrow streets today, but somehow not quite the same ones I remember from the paintings and drawings of Vermeer, de Hooch, Fabritus, Visscher, Vinckboons, or Lamberts, for instance.
I knew, of course, the foolishness of my somewhat romantic notions, knew that the art I was familiar with was centuries old and, well, today was today. Still, one cannot deny the vivid immediacy of those old Dutch masters, a "thereness" in their art that is so tangible that one almost must believe that they still exist, that these homes, these windmills, these taverns and wooden ships, still stand in the precise locations in which those painters found them. Such striking realism, such fidelity to the object, has always been a hallmark of the Lowland painters, a signature if you will, of the stolid, down-to-earth, practical nature of the Dutch people. Their art, in a word, has been almost always considered to be "timeless" — thus the trick of the mind that expects us — at least, me — to revisit times and places that have long since passed from this earth.
Time and timelessness, and the relationship of these abstractions to the mind, in fact, lie at the heart of the unifying theme which informs the present exhibition at The Frances Lehman Loeb Art Center* at Vassar College. The brainchild of its organizer, Susan Donahue Kuretsky, "Time and Transformation" is a presentation of Dutch art in an intricate context of culture, psychology, art history, aesthetics, sociology, and, finally, informed conjecture. Kuretsky, Professor of Art at Vassar College, locates the seminal seed for this exhibit in an art history course she took at Vassar in 1962 and, in particular, a term paper she wrote for that course on Daniel Vosmaer's "View of a Dutch Village with a Ruined Wall" (Cat. No. 44 in the present exhibit and the cover-art for the accompanying catalogue). "Time and Transformation", by any standard, is an outstanding tribute to the power that can be generated by a single work of art and to the accomplishments of a dedicated and determined intellectual pursuit for understanding by an outstanding scholar. The fruits of Kuretsky's forty-year journey into the impact and implications of art on not only the individual psyche but also on the course of human development are evident both in her introductory essay, "Dutch Ruins: Time and Transformation" that opens the catalogue, and in this impressive gathering of some ninety works — paintings, prints and drawings — from the hands of 60 Dutch masters, including the work of the Bloemaerts (both Abraham and Frederick), Aelbert Cuyp, Gerard Dou, Jan Van Goyen, Willem Kalf (whose little oil on panel, "A Kitchen Corner" is a joy to contemplate), Jan Lievens, Nicolaes Maes, Isack Van Ostade, Rembrandt van Rijn, Jacob Van Ruisdael, Adriaen Van de Venne (one of my own personal favorite Netherlandish artists), and Joachim Wtewael.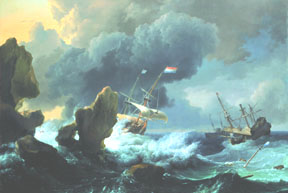 "Ships in Distress off a Rocky Coast" 1667 Oil on Canvas by Ludolf Backhuysen
"Time and Transformation" is that special kind of exhibition that, almost exclusively in these times, can only be mounted by an educational institution. Free from the pressures of "bottom lines" that push public museums toward the popular "blockbuster" extravaganza, we see colleges and universities increasingly presenting exhibitions that offer more than "eye candy", and an increasing number of exhibitions that combine both aesthetic pleasure and scholarly information. (Cf, for example, the Loeb Center's previous exhibition in May-June 2004, "The Transmission of Fame: Italian Renaissance Prints, reviewed in these pages in our May 2004 Issue).
Looking at Dutch art is almost always a pleasurable experience — don't miss stopping for a bit in front of Rembrandt's wonderful etching of Saint Jerome with the Pollard Willow, Ludolf Backhuysen's magnificent treatment of the sea in his oil, Ships in Distress off a Rocky Coast, Ruisdael's Landscape with a Dead Tree in oil, Pynacker's large oil, Landscape with Hunters, Breenbergh's tiny print series, Various ruined buildings within and without Rome, Peschier's and Bailly's Vanitas and Vanitas Still Life with Portrait (respectively) and, of course, the Willem Kalf noted previously — and, along with the variety and number of others that this exhibit offers, the viewer will almost assuredly not be disappointed.
As gratifying as viewing these works on their own terms may be, however, having the opportunity of seeing them through new eyes is a rare treat, indeed. Don't miss therefore, seeing the work in the multi-textured framework in which they are presented — and especially bring home the catalogue and take the time to absorb the insights and observations offered by Kuretsky and her fellow scholars, Walter S. Gibson, Catherine Levesque, Erik P. Löffler, Lynn Federle Orr, and Arthur K. Wheelock, Jr.
Kudos to Susan Donahue Kuretsky and her colleagues, to James Mundy, Director of the Art Center, and to the thirty lenders to the exhibition for undertaking, supporting, and presenting this special contribution to the public.
*"Time and Transformation in Seventeenth-Century Dutch Art (thru Jun 19): The Frances Lehman Loeb Art Center, Vassar College, 124 Raymond Ave., Poughkeepsie, NY (845) 437-5632 fllac.vassar.edu. After closing at Vassar, the show will travel to the John and Mable Ringling Museum of Art in Sarasota (Aug 20-Oct 30) and close at the Speed Art Museum, Louisville (Jan 10-Mar 26, 2006). (A fully-illustrated catalogue is available).