Art Review: Eugene Ludins: An American Fantasist
at the Samuel Dorsky Museum of Art
By Raymond J. Steiner
ART TIMES March/ April 2012
ONE IS TEMPTED to ask if Eugene Ludins' last name was derived from the Latin word ludi — "game". I kind of doubt it, but if there was ever a "Magister Ludi" — or "master of the games" — it would surely be the man I'd come to know after profiling him nearly thirty years ago in his Woodstock studio. A quick wit but a gentle critic, he loved to 'collect' his wife's inadvertent witticisms to share with others, for example when he told a group of us about her old cranky old Hoover Vacuum Cleaner: "Well," she said, "at least it's better than nothing." Gene would give that impish grin and say, "'Vacuum' — 'nothing'. Get it?" in case the slow ones missed the unintended verbal pun. Susana Torruella Leval, curator and author of the catalog accompanying the exhibit*, gives a complete account of Ludins's life and career (dubbing him an "American fantasist", an apt name for an artist — a man — who never seemed to allow a whimsy go to waste) so I will concentrate my remarks on the exhibition.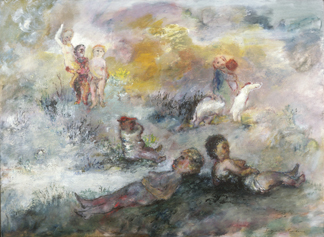 It does not take very many steps into the gallery before you begin to feel that you've stepped into another land, another dimension where distortion reigns and disorientation begins — sort of like a leap through Alice's (in this case, Ludins's) mirror into Wonderland. To casually slough him off as just one more "surrealist" or some such glib catchphrase, is simply a too-easy pigeonholing of a talent that defies easy categorization. Titles of paintings or drawings do little or nothing to "clear things up." If Ludins began as an American realist, it did not take long for him to wander off into becoming — as Leval notes — an American fantasist. Bodies, faces, buildings, landscapes, on closer inspection seem to lose perspective, proportion — at times — simple common sense. If rooted in some piece of reality that might have confronted Ludins, he would soon turn a vista, a group of people — whatever — into something dreamlike. "To Space", at first glance, appears to include a space capsule — but includes two hugging couples nearby and a mish-mash of gadgets attached to the spacecraft that looks anything but technically feasible. In "Regenerator" we see some kind of outlandish contraption — a "regenerator" I suppose — composed of pulleys, columns, stove pipes, vases and unknown objects with a scantily-clad woman alongside and, a little distance away, a group of naked and dressed people along a river- or lake-bank. His wife Hannah, once said to me, "Don't you wish you could look into his head?" For those of us who couldn't perform that feat, visiting this exhibition is the next best thing.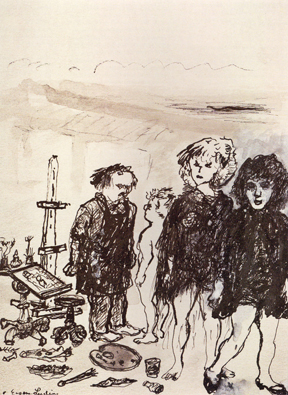 It was in his drawings that Ludins seemed to really "let himself go" — here we see the Magister Ludi at his best. Although they are obviously little vignettes — a party, a picnic, a gathering of friends, a couple of lovers or friends walking together — there would almost always be a ludicrous element included, some unexpected gesture or facial expression that would stop you in your tracks: one or both walkers stark naked ("Couple"); a man kneeling alongside a dog eyeing a bone next to a dish ("Bone of Contention"); a cockamamie construction with both clothed and naked people working on it ("Live Sculpture with Sculptor"; a disheveled painter in front of his easel with three disgruntled women nearby ("Untitled Drawing") — and so on, and so on. The exhibition, which covers several rooms and comprises some 60 paintings and 20 drawings, is complemented by several vitrines displaying memorabilia, photographs, and sketchbooks.

Lest you think that Eugene Ludins was merely a jokester and producer of comic caricatures, be assured that he was first and foremost a painter. This is perhaps most evident in his use of color — for when you make that first step into his land of the absurd you cannot but help to be captivated by richly-hued landscapes, skies, mountains and fields. If at times, even his use of color does not "make sense" it always delights the eye. Give yourself a gift — even a casual stroll through this exhibition will reward the viewer with a welcome recess from a world that can sometimes be overwhelmingly too predictable.

*"Eugene Ludins: An American Fantasist" (thru Jul 12): Samuel Dorsky Museum of Art, The State University of New York at New Paltz, One Hawk Drive, New Paltz, NY (875) 257-3844. A fully-illustrated catalog of the same name accompanies the exhibit. newpaltz.edu/museum for more information.