Art Review: Rembrandt at The Frick
By Raymond J. Steiner
ART TIMES March/ April 2011
"REMBRANDT NEVER PALLS" — so I began a review of his works at Vassar College's Loeb Center back in June of 2006, and the sentiment still holds true as I revisited his works at The Frick, an exhibition that combines the collections of both the Frick and of Frits Lugt of Paris. Appropriately titled "Rembrandt and His School: Masterworks from the Frick and Lugt Collections"* the exhibit features paintings, drawings and etchings of the great Dutch master and his followers, the ensemble arranged by the combined efforts of Colin P. Bailey, Peter Jay Sharp, Margaret Iacono, and Joanna Shers with support from the Christian Humann Foundation, Fiduciary Trust Company International, the Robert Lehman Foundation, the Netherlands Cultural Services, and the Netherland-America Foundation. There are, in fact, only five paintings featured from the Frick's collection — three by Rembrandt (including the regal and recently restored Self-Portrait painted in 1658) and two by his followers or "school" — along with a wealth of prints, drawings and etchings (some sixty-five from the Frits Lugt Collection (Paris) along with those of The Frick's permanent (and rarely seen) collection.

It is difficult for me, whenever I view Rembrandt's works, to comprehend the modern stance against the need of present-day art students of studying the art of draftsmanship. To my eyes, it is precisely Rembrandt's use of line that permanently seats him in the halls of great artistic geniuses. As skillful as he may have been with the brush — and assuredly he was — it was his use of the pen and the burin that forever sets him apart — and it is assuredly this assessment of mine that reveals my own prejudice for his etchings over his admittedly glorious paintings.

I had my first "up-close-and-personal" encounter with Rembrandt's work in 1992 at the exhibition "Rembrandt: The Master and His Workshop" at the Rijksmuseum in Amsterdam, a show that was mounted shortly after the Rembrandt Research Project had drastically reduced the artist's opus from an estimated 1,000 works to around 250.
Like the one presently under consideration at The Frick, it featured Rembrandt's paintings, drawings and etchings along with many of his "school". In spite of the spectacular Night Watch taking up "front row" preference at the Rijksmuseum, I was soon drawn to the print room, which was less crowded and better lighted (though, unfortunately, unlike The Frick and its well-appointed galleries, the lighting was rather poor throughout the old building), finding the paintings more interesting in their handling of paint than for their subject matter — mostly religious and/or allegorical — or treatment of color. Though entranced by most of Rembrandt's graphic work, it was Christ Preaching (The Hundred Guilder Print) that captivated me, holding me the longest while at the Rijksmuseum. The press of the crowd, however, moved me along so it was with great delight that I would be honored by a special and private viewing of The Hundred Guilder Print plate a week later while visiting the Kupferstichkabinett (Copperplate Room) at the Staatliche Museen Preuschischer Kulturbezitz in Berlin with my friend Heinrich Jarczyk, himself a master etcher/painter, with white-gloved attendants hovering nearby as our eyes (but not our hands!) were but inches from the surface. Then, once again, I would revisit a print of the work at Vassar College's permanent collection at the Loeb Center in Poughkeepsie, NY (noted above).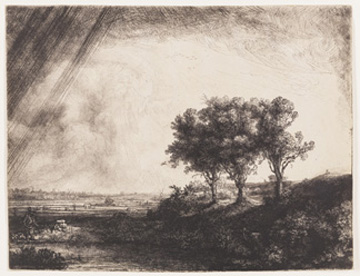 Who could predict that I would once again be reunited with The Hundred Guilder Print at The Frick's "Rembrandt and His School"? Unfortunately, I chose a day to review the exhibition that was reminiscent of the Rijksmuseum visit in that the crowds paralleled that day back in Amsterdam in 2006. When I arrived at The Frick, there were lines that stretched around the building to 5th Avenue (I learned the following day that there were about 2,000 visitors) — surely affirming my assertion some years back that "Rembrandt never palls". Once again, I had difficulty in getting to closely study many of the works because of the throngs of people but, thankfully, although the present exhibit had works that were new to me many were "old friends" and I could renew that friendship with such prints as, for example, Death of the Virgin (Hoogstraten from the Lugt Collection) and Rembrandt's Christ Crucified between Two Thieves (The Three Crosses), from The Frick.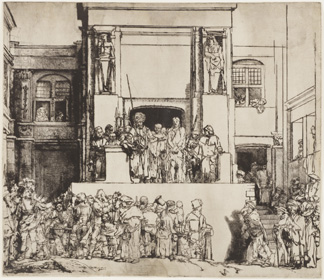 Although I have a fondness for Rembrandt's landscapes — such as his Landscape with Three Trees, Cottage with a White Paling and his Landscape with Three Gabled Cottages (The Frick) and The Grain Mill 'De Bok' on the Bulwark 'Het Blauwhoofd' – Cottage near the Entrance to a Wood or Farmhouse and a Haystack (Frits Lugt) — I am forever drawn to his drawings of people. Thus, I once again found myself lingering in front of his Hundred Guilder Print — mercifully hung in a smaller gallery where less people had to be fought off. There are, of course, many singular works I could concentrate on, but this print offers so much for the viewer — enough, I believe, to satisfy acclaiming his genius. There are some 40 distinct figures in this print — along with several animals — grouped to the right, left and front of a standing Christ, the entire group highlighted and set against a shadowy background of stone walls and arches. Surrounded in velvety chiaroscuro and stark, linear outline, there is not a single unnatural figure to be found. Facial expressions, gestures, stances, dress — all give evidence of Rembrandt's uncanny and celebrated skill at depicting human beings in a dramatic setting. Any one of his figures could be "worked up" into a full-scale, individual painting or print. Had the Rembrandt Research Project reduced Rembrandt's total work to this single print alone, we would need no further proof of his genius.

The Frick exhibition offers the aficionado of drawing a veritable treasure trove of visual delight, as well as an adventure into a world of fine art for the casual viewer. I mentioned my predilection for landscape and I would be remiss not to mention one by Jan Lievens, View in a Wood that almost held me as long as the Hundred Guilder Print. This is a show that no one ought miss — it will renew your faith in the value of great art and linger in your memory for a long time to come.
*"Rembrandt and His School: Masterworks from the Frick and Lugt Collections" (thru May 15): The Frick Collection, 1 East 70th St., NYC (212) 288 0700. A fully-illustrated catalogue by Colin B. Bailey, et al. of the exhibition is available: 112 pp.; 8 ½ x 11 ½; B/W & Color Illus.; Checklist of Works; Bibliography. $20.00 Softcover,