Art Review: California Impressionists at the Boca Raton Museum
By Raymond J. Steiner
ART TIMES March/ April 2011

IT DOES SEEM as if impressionism is perennially addictive — drawing a huge viewing public whenever a show of these light-filled paintings appear — and the present exhibit* certainly no exception. Some 60+ paintings comprise the exhibit, all filling a separate well-lit wing separate from a concurrent show, "Cut! Costume and the Cinema".

"California Impressionism" is the result of the combined efforts of a number of people — Jean Stern, Director of The Irvine Museum (from whence the paintings), Harvey L. Jones, Senior Curator from the Oakland Museum, and Janet Blake, Curator of The Irvine, all of whom have contributed to the accompanying catalogue that also includes prefacing essays by Joan Irvine Smith and James Irvine Swinden — and, of course, with the additional help of the staff at The Boca Raton Museum of Art, visitors may rest assured that all of these efforts combine to make an outstanding presentation.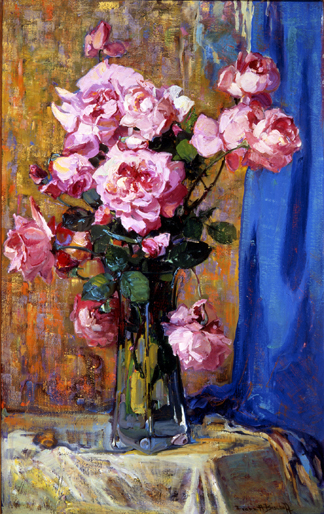 There is always the problem facing a reviewer of which artists, which paintings ought be pointed out — often not a daunting task, but in the case of impressionists — French, California, Connecticut, or wherever — the problem is usually which ones do you not mention. This comes as little surprise to me since a few years ago, in September 2008, I faced the same dilemma when I reviewed "All Things Bright and Beautiful" at the Katonah Museum of Art in Katonah, New York, which featured very nearly the same roster of artists (and paintings) that are on view here in Florida — the show up North also from The Irvine Museum and organized by Jean Stern but, in that instance, with the assistance of William F. Gerdts, author of what has now become the standard text on the subject, Abbeville Press's book California Impressionists. In any event, as I wrote back in 2008, the "irrepressible joie de vivre shared by Impressionist painters" — of all stripes — continues to be "well-nigh impossible for viewers to resist". Small wonder, then, that the current selections from The Irvine Museum will continue to delight even the most jaded of viewers.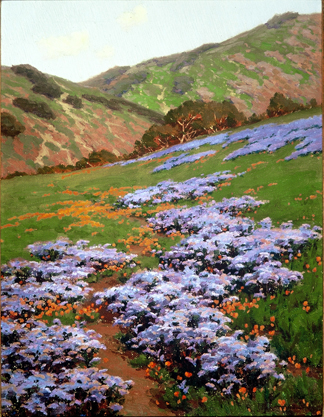 As noted, choosing which paintings to focus on is somewhat counterproductive since all need to be viewed and appreciated, but I will mention but two that stopped me in my tracks for closer inspection— John Bond Francisco's Scrub Oaks, a lovely landscape with an almost magical light falling from a cloud-filled sky from the upper left corner down into a small cleft of land in the mid right-hand half of the canvas — breathtaking! — and Percy Gray's somewhat smaller Oak Tree and Poppies, a little gem of a painting that lures the eye into its warm, light-dappled "little piece of Heaven" for some serious meditative moments. Again, a bit unfair to call attention to my favorites since there are few (though I did find one or two which, if cited here, would only serve to make known my personal tastes and nothing of the quality of the works) that do not deserve some moments of your time. There are land- and seascapes, intimate gardens and sweeping vistas (landscape aficionados will love John Marshall Gamble's Joyous Spring), interiors and townscapes, still lifes and figures — in brief, the usual Impressionist fare one might expect in such a show.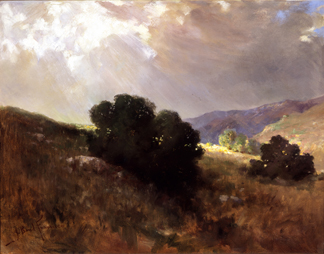 I heartily recommend you devote an afternoon to visiting these "California Impressionists" — it'd be perfect on one of those overcast, beach-forbidding days. You won't be disappointed.

For myself, I keep wondering why some of these Floridian artists — for example, the Boca Raton Museum of Art Artist's Guild — have not formed a group of "Florida Impressionists" — after all, this is the "Sunshine State"! And, if not light, what else is Impressionism about? I'll be looking forward to their first exhibition…
*"California Impressionism: Paintings from The Irvine Museum" (thru Apr 17): Boca Raton Museum of Art, 501 Plaza Real, Boca Raton, FL (561) 392-2500 (bocamuseum.org). A fully-illustrated catalogue, Selections from The Irvine Museumby Jean Stern, et al. (272pp; 9 x 12; Color Illus.; Selected Bibliography; Index. $25.00 Softcover), is available.