Giovanni Boldini at
The Sterling and Francine Clark Institute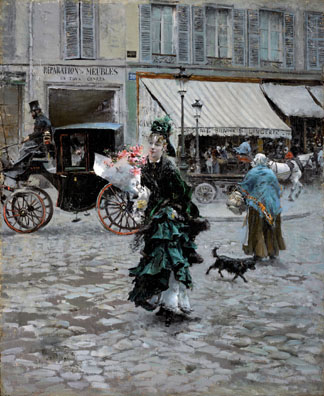 Crossing the Street, 1873–75, by Giovanni Boldini
Oil on panel, Sterling and Francine Clark Art Institute, Williamstown, Massachusetts (photo by Michael Agee)
By RAYMOND J. STEINER
ART TIMES Mar/ Apr 2010
IT WAS ALMOST twenty years ago that I had gotten my first glimpse of a Giovanni Boldini painting. I had gone to the Clark Art Institute to review and write about the work of Sir Lawrence Alma Tadema (ART TIMES November 1991 Issue) and, while at the Institute, took some time to glance at the other rooms — and there, off in an alcove, the little painting "Crossing the Street" caught — and captivated — my eye. How had he managed to "say" so much on such a small panel? And the colors! — glisteningly jewel-like, they seemed as if applied moments before I stepped in front of it. There were a few others by the same hand, but for me, this one was love at first sight. I noted the name of the artist and both he and his exquisitely rendered Parisienne lingered in my mind for months on end, her elegantly styled green dress daintily lifted to keep from touching the surface of the cobblestoned thoroughfare, her right arm cradling a large bouquet of pink flowers, her blond curls peeking from beneath a stylish hat framing her serious mien, all seemingly forever etched in my mind's eye.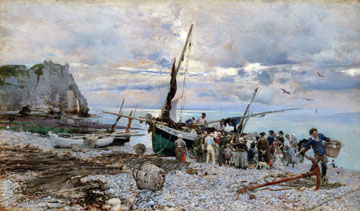 The Return of the Fishing Boats, Étretat, 1879, by
Giovanni Boldini Oil on panel, Sterling and Francine Clark Art Institute, Williamstown, Massachusetts (photo by Michael Agee)
At the time, I sought more information but such search engines as Google and Yahoo were not yet available, and I could find relatively little about the artist. It was only some time later that I came across a little catalogue, Giovanni Boldini and Society Portraiture 1880—1920, published in 1984 (the same year, incidentally, that we founded ART TIMES) by the Grey Art Gallery and Study Center, New York University, and this only whetted my appetite for more knowledge about the artist. I had seriously toyed with the idea of traveling to and spending some time in Ferrara, Italy (by then, I had discovered where he had come from) to write a book about this enchanting limner of women, but my workload never allowed for the time to do so. You can imagine my delight, then, when I discovered that not only had an excellent catalogue of Boldini's work and life been finally produced, but that a retrospective exhibition* of approximately ninety-five of his works would be mounted at the very venue in which I had first discovered him!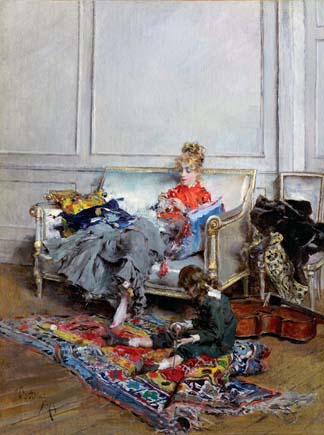 Oils, watercolors, pencil sketches and a selection of works on paper featuring drypoint, pastel, conte crayon, charcoal and etching comprise the exhibition, happily a great many featuring what I consider to be Boldini's forte — capturing the alluring grace of the female face and form. I've learned from Sarah Lees's extremely informative introductory essay to the accompanying catalogue, Giovanni Boldini in Impressionist Paris, that many of these paintings and studies of women were made from sessions with his model/mistress, Berthe (we know only her first name), and one can readily see that Boldini had not only an eye for the ladies, but a sure hand in bringing them to vivid life on paper or canvas, masterfully capturing arching eyebrows, coy glances, pert noses, and full, "rosebud" lips (see. e.g., "Berthe Going for a Walk" ((Cat. No. 12)); "Peaceful Days" ((Cat. No. 14)); "Berthe Sewing in the Garden" ((Cat. No. 11)), etc.) . A virtuoso with a painterly flourish, Boldini could seemingly dash off a curling tress, a satin flounce, or a dainty gesture with the barest of brush strokes, all resulting in an almost living presence fairly leaping out of the picture frame. None of this skill came about, of course, without a lifetime of careful observation and studied draftsmanship.
Boldini arrived in "impressionist Paris" well-schooled and well-armed to take on the established French artworld. As Lees points out in her introduction, Boldini appears to have quickly adapted his Florence-based training in academic traditions (he had even tried his hand at frescos!) to the burgeoning romance with "light" that had infused the younger set of French plein-airists. Though he knew and fraternized with several of the "impressionists", Boldini never appeared to entirely surrender himself to their gospel of light over form (a colorist at heart, he never allows light to unnecessarily "wash it out" — see his blues and pinks in "Two Women in Eighteenth-Century Costume at the Piano" (Cat. No. 7); the blues in "Noonday Promenade, Versailles" (Cat. No. 8); his greens, pinks and reds in "A Guitar Player" (Cat. No. 9); the reds and golden-bronze helmet in "The Dispatch Bearer" (cat. No. 19); and, finally, his unerring sense of the power of non-color, i.e. white, in his "Studio Interior with the Portrait of Young Subercaseaux" (Cat. No. 88) in which the splash of white in its center (not so powerful in reproduction) nearly mesmerizes the viewer, as does the gleaming white in his vivid portrayal of the heads of the excited horses in "Two White Horses" (Cat. No. 30). Likewise, he never relinquished his predilection for the well-drawn image in the interest of spontaneity for its own sake. To this viewer, Boldini's compromise between deft draftsmanship and "impressionistic" brushstroke could not have been more aesthetically pleasing — meticulously delineated facial features nestled amongst soft swirls of fabric, color and texture, the whole often set against suggested backdrops of interiors or exterior street scenes and/or landscapes (cf. "A Guitar Player" ((Cat. No. 9)); "The Morning Stroll" ((Cat. No. 39)); or, Figs. 4, 8,13 and 38 in the introductory pages of the catalogue). Boldini's predilection for clarity over suggestion is best seen in his smaller canvases wherein a wealth of detail is masterfully distributed over small areas (cf. "Recital" ((Cat. No. 59)) or "The Return of the Fishing Boats" ((Cat. No. 45)) in which he displays his finesse in capturing landscape — note the sky! — as well as people). See as well his attention to incidental things such as items in a store window in "The Dispatch Bearer" or the brushes and palette knives on the counter in "Portrait of the Artist Joaquin Araújo y Ruano" (Cat. No. 73).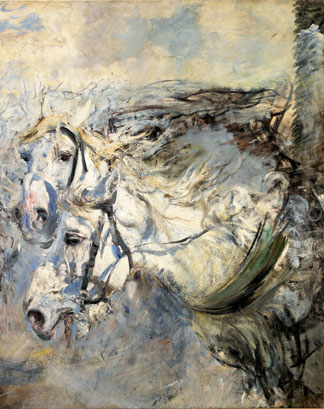 Indeed, Boldini seems to have had an innate fear that allowing oneself to lose all semblance of "reality" in one's painting was a sure path to eventual artistic obfuscation for its own sake — if not the end of "serious" art altogether. Indeed, that he seems to emphasize that the central motif is of prime importance, can be seen in such an unfinished work as "The Machine at Marly; (The Seine at Bougival" (Cat. No. 42) where we clearly see where his attention is focused — viz., the subject of the painting, while its environs are only hastily sketched in, presumably to be added at a later date when he has returned to his studio. That he toyed with impressionist explorations is evident and is most often clearly seen in his sketches. However, as the inevitable excesses would come about in post-impressionist circles seeking to outdo their earlier colleagues, he studiously eschewed total abandonment of academic principles when it came to his finished productions. Pointillism, for example, which came later on the French scene (but centuries after Byzantine mosaicists had "invented" the juxtaposition of colored 'dots'), seems to have never influenced Boldini — if he had even had much first-hand experience with it. Some have argued that Boldini's swirling pencil and/or brushstrokes (especially in his sketches) served as precursors of Italian "Futurism" — but, if only for his fidelity to the well-wrought countenance (see, e.g., his extensive foray into making his mark in the popular — and lucrative — business of producing the 'society portrait', vying, at times, with his friend John Singer Sargent for wealthy patrons), I rather doubt he would lay serious claim to the influence. Boldini's friendship with artists seems to have included that of Adolph Menzel, another of my all-time favorite draftsmen, whose portrait by Boldini "Portrait of Adolph Menzel" (Cat. No. 80) hangs in the Nationalgalerie, Staatliche Museen in Berlin (shown, however, only in the Ferrara venue).
Not only because this is the first major showing of Boldini's work outside of Europe but also because it is one of the most beautiful shows you might see for a some time, I highly recommend (weather permitting) an early Spring trip up to Williamstown, Massachusetts to visit the Clark Institute. I really don't think you'll be disappointed if only because Boldini's color-filled canvases will put some of those gray, winter doldrums to welcome rest.
*"Giovanni Boldini in Impressionist Paris" (thru Apr 25): Sterling and Francine Clark Art Institute, 225 South St., Williamstown, MA (413) 458-2303 (The exhibit was previously shown at the Palazzo dei Diamanti, Ferrara, Italy). A fully-illustrated and extremely informative catalogue by Sarah Lees (with contributions from Richard Kendall and Barbara Guidi (curator at Gallerie d'Arte Moderna e Contemporanea di Ferrara) is available (See New Art Book Listing for details).
Share your thoughts about this review: rjs@arttimesjournal.com