Max Lazarus at Stadtmuseum, Trier
By Raymond J. Steiner
ART TIMES July/ August 2010
AS ITS TITLE suggests, this is an oft-told tale, the trials and tribulations of a Jew — in this case an artist — who found himself at a time and place where to be a Jew was viewed as little more than being a criminal who deserved nothing less than the death penalty. Though considerably "after the fact", it was with some interest that I traveled to Trier — believed by some to be the oldest city in Germany — to see an artist being honored by the mounting of a solo exhibition in the very town in which he was born, worked, and eventually forced to leave (in 1938) because of the National Socialists and their policies of excluding Jews from partaking of any cultural activities — in spite of the fact that he was the co-founder of the Trier Artists' Guild.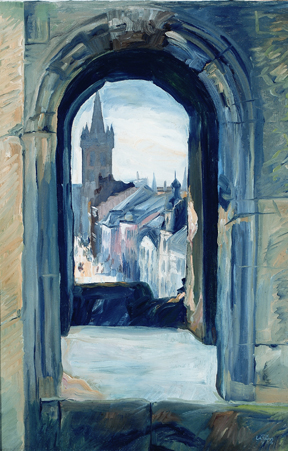 In this exhibit* — comprised of sketches, drawings, prints, watercolors and oils — the Stadtmuseum "did him up proud", devoting a large, well-lit gallery with a separate, walled-off niche that featured his "synagogue paintings" for which he was well-known, both photographs and images offered here to viewers for the first time. Images from Trier, Merzig, Homburg, Langen, Newmagen, Elberfeld, Lübbecke, Thalfang and Herford show clearly why he was called the "Synagogenmaler" — the Synagogue painter.
Also included were vitrines featuring memorabilia of the artist and his times. In one, I found a rejection letter from the Committee for Jurying regional artists for the upcoming 1939 World's Fair in New York claiming a lack of wall-space to include his paintings (already shipped to the U.S.) particularly interesting in light of the fact that he himself would be traveling to America shortly thereafter receiving this type-written letter, arriving in St. Louis in '38. Being already "rejected" by the National Socialists, this must have been a bitter pill for the artist to swallow.
Lazarus began his career by studying at the College of Applied Arts and Crafts in Trier, eventually moving on to the Düsseldorf School of Applied Arts, the Weimar School of Applied Arts and at the School Reiman in Berlin. Judging from his early work —landscapes, florals, and figurative studies (many featuring portraits of friends and family members) — his initial training was in the classical mode.
Soon after his schooling, however, he was influenced by such "modernists" as Paul Cézanne and Max Liebermann, gradually adopting looser brushstrokes and idiosyncratic use of color. (I saw Liebermann's work a few days previously to visiting Trier, incidentally, while I was in Cologne at the Wallrath-Richartz Museum, his work and that of Max Corinth and Max Slevogt the trio featured in a major landscape exhibition.)
While in America, he persisted in the style he had adopted earlier in Germany, eventually finding himself in somewhat of an artist's "no-man's land" caught between the conservative and modernist movements in this country. Still, his images of his newly-adopted land remain vivid, capturing an America slowly changing from small backwater towns to bustling centers of burgeoning industry.
The onset of tuberculosis forced him to move to a better climate in Denver (where new images revitalized his work) and, after a short and final visit to his beloved Trier in 1954, Max Lazarus died seven years later of stomach cancer in 1961.
*"Max Lazarus: Ein jüdisches Künstlerschicksal (The Fate of a Jewish Artist)" (thru Jun 27): Stadtmuseum Simeonstift Trier. 60 Simeonstrasse, Trier, Germany. The exhibit will then travel to the U.S. at The Sheldon Art Galleries, St Louis (Feb 7 '10 thru May 7). and then to the Rocky Mountain Jewish Historical Society and Beck Archives, University of Denver in Denver Public Library (Jun thru August). For further info: museum-trier.de and arttimesjournal.com for videos of Trier and environs.