Heinrich J. Jarczyk at Haus Schlesian
By Raymond J. Steiner
ART TIMES July/ August 2010
A visual diary — this perhaps might best describe this latest showing of Heinrich J. Jarczyk's work at a retrospective exhibition* featuring both pencil and pen drawings, watercolors and one oil — a large-scale triptych, "Gedanken zu Europa ("Thoughts about Europe") — at Haus Schlesian in Königswinter, Germany. Originally shown at Muzeum w Nysie (March 2010) in Poland (thus the title), the exhibition was designed to feature Jarczyk's journey from his hometown — formerly Neisse, Silesia, now Nysie in Poland — through the war years and on up to the present, that is, in March of 2010, when he returned to his birth-town where they hosted the exhibit.
Although the exhibition at Haus Schlesian (an historical institution that features the history and works of Silesian German émigrés) differs slightly from its original venue in Poland, it is comprised of nearly 75 works, some twenty-five or so fewer than that of the Nysie venue.
As noted above, the exhibition is a "visual diary", its contents the captured images of a life that began in Silesia (when still a part of Germany), that continues on through the WWII horrors and, after extensive travels to many continents, culminating finally to the artist's current life in Bergisch Gladbach (outside the city of Cologne).
Thus, we see Jarczyk's re-captured images of his birthplace (done largely while a prisoner of war in Belgium), drawings from his P.O.W. days, then a dazzling tour of the many cities and countries he visited and worked in as a research scientist in the employ of the Bayer Company. In alphabetical but no particular chronological order, the "tour" takes you to America, Australia, Bahamas (Poland venue only), Belgium, China, Egypt, England, France, Grenada, Italy (Poland venue only), Luxembourg, Mali, Malta, Poland, Portugal, Spain, Switzerland (Poland venue only), and Thailand — with the large triptych, executed in 1991, "summarizing" his overview of the socio-political state of the European continent at that time.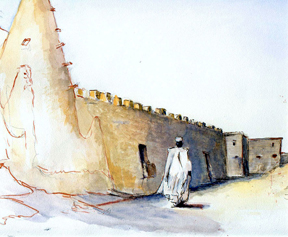 The Opening Reception was enhanced by a welcoming from Nicola Remig, Museum Director, an overview of Jarczyk's oeuvre by the Curator of the exhibit, Alexandra Marquetant, and a solo Harp recital by the artist's daughter, Konstanze Jarczyk, who offered the viewers a medley of delightful musical pieces. Dr. Jarczyk and I also offered a few words, he thanking those who came, and I, sharing a few insights into our now over twenty-year association since I first saw his work at the German Consulate in New York City. (Haus Schlesian graciously acknowledged my contribution with a bottle of sekt – German "champagne").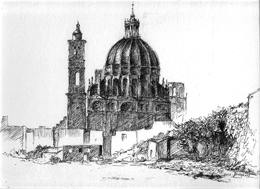 The exhibition, by any standard, is an impressive accomplishment, made readily accessible to the viewer in its clear, representational imagery. Had the exhibit included his etchings, the list of visited cities and sites would have extended even further. Though a scientist by profession, Heinrich J. Jarczyk seems to have been born with the soul of an artist. Combined with his "scientific" eye, Jarczyk's sensitivity to his surroundings allows for a poignant record of what touched his heart as he traveled from place to place, sketchbook always at the ready, carefully and precisely limning in pencil, in pen, in watercolor the life, landscape, and architecture that unfolded before him.
Clearly, this is an artist who exemplifies the true meaning of the word "amateur" — that is, someone who loves what he is creating. For what it says about one man's journey from a war-torn country to a wider world of wonders, this is an exhibit that deserves a far greater viewing audience.
*"Von Neisse — Unterwegs — nach Neisse" (Along the way from and back to Neisse)" (thru Jun): Haus Schlesian, Konigswinter, Germany. For more info: jarczyk.de or ww.hausschlesien.de and check arttimesjournal.com for upcoming videos of this exhibition and trips to Cologne, Cochem, Trier, and the vineyards along the Mosel River.