What is Art and When is it Craft
By GINGER LEE HENDLER
ART TIMES July/August 2009
As my travels take me from gallery to gallery, museum to museum, and beyond, I continue reflecting on the never-ending question, "What is art?" I have engaged in many conversations that have danced around the subject, but have never walked away with a satisfactory answer. Of course, there is no one answer and I become more and more interested in the myriad theories. What did the ancient Greeks have to say about it? Plato had two theories of art. He believed that art is imitation. Art imitates physical things, and leads us further from truth towards illusion. It has the power to stir the emotions and therefore, art is dangerous. Plato was not the first nor the last to think that art imitates reality, but it still may be the most commonly held theory.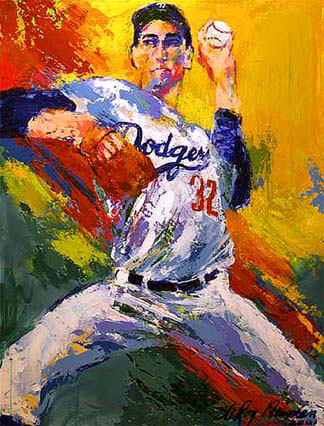 "Sandy Koufax" by LeRoy Neiman, Published 2001. Limited edition signed & numbered serigraph
Courtesy Hammer Graphics Gallery
Most people think that a picture must look like something and that an artist is someone who can make a picture look like the real thing. It wasn't until the late nineteenth century that this idea began to fade and art as expression or art as pure form became an accepted response. According to several philosophers there is a list of conditions necessary to make something a work of art. It must possess aesthetic properties, be expressive of emotion, be intellectually challenging, have the capacity to convey complex and coherent meanings, exhibit an individual point of view, show originality, demonstrate a high degree of skill, and be the product of an intention to make a work of art. In other words, it is a work of art because "I" say so.

According to David Revere Mc Fadden, the Chief Curator and Vice President of the Museum of Arts and Design in New York, "Craft, art, and design are words heavily laden with cultural baggage. For me, they all connote the profound engagement with materials and process that is central to creativity. Through this engagement, form, function, and meaning are made tangible. It is time to move beyond the limitations of terminologies that fragment and separate our appreciation of creative actions, and consider the 'behaviors of making' that practitioners share." What are we gaining by the constant narrowing of artistic creations into ever-smaller categories, genres, styles, and forms?
The artists whose work I mention here differ in many respects, but if I look at the conditions listed above I would have to say that they all fulfill the requirements, some more than others. In spite of what the philosophers and art historians have said about art we cannot rule out the subjectivity that we each bring to our understanding and appreciation of the work itself.
The LeRoy Neiman exhibit, "Sports and Leisure", at the Great Neck Arts Center, was an example of how art can have an impact on our social culture. Not only was it an art exhibit, but it was also a magnet for sports fans and an opportunity to have Babe Ruth's granddaughter autograph baseballs, which were available for sale. Mention LeRoy Neiman's name to most anyone and they immediately think of his colorful semi-abstract works depicting sports, or perhaps they may recall his connection to Playboy Magazine. He is said to be America's most popular living artist.
Neiman has managed to capture the hearts of Americans with their obsession for professional sports and leisure activities. Each of his paintings, serigraphs, and drawings, takes us to the moment of impact, and are action- filled. We see Roger Clemens with arms outstretched, ball in hand, ready to throw, Whitey Ford, arm reaching across his torso, ball in mid-air, alive with the resounding motion of Neiman's brushstrokes, Muhammed Ali, Sandy Koufax, and numerous other sports luminaries. The curve of the body and the kinesthetic energy of each stance are captured and brought to life. We are able to relive the game, hear the squeals of the crowd, and feel the brisk electric air in the stadium.
There are those who feel that Neiman is an illustrator in the same vein as Norman Rockwell. Rhoda Altman, director of the Hammer Gallery in Manhattan, calls him a modern day impressionist. His work is in the permanent collections of the Smithsonian, the Whitney, the Museum of Fine Arts in Boston, the Hermitage, and Wadham College in Oxford as well as private collections throughout the world. And yet, he is known as "the artist the artworld loves to hate." Why is that? Is it his commercial success or his enthrallment with celebrity? Watching the excitement generated amongst young and old alike by this exhibit I would have to say that it transcends the questions and brings art to the people.
* "LeRoy Neiman Sports and Leisure", Great Neck Arts Center, 113 Middle Neck Road, Great Neck, New York 11021 (516) 829-2570 (May 3- July 28, 2009) greatneckarts.org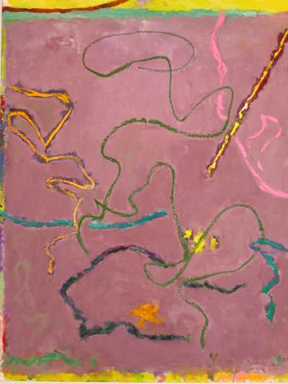 "Within Mauve", by Stan Brodsky 2009, Oil &
paintstick on linen. Courtesy: of the Artist
The Art League of Long Island in Dix Hills recently honored Stan Brodsky at their annual Artrageous Gala. Brodsky is thought to be one of Long Island's finest artists and educators. His abstract landscapes dominate the first floor gallery's left walls. I had seen his figurative work at the Hofstra University Museum in 2008. I found his work to be brilliantly executed in breathtaking colors. The poignancy of his personal story became a visceral union between the canvas and the observer. I was moved by the way he interwove his painful subject matter with the saturated colors, using passionate brushstrokes, blocks of color, and collage to communicate so expressively.
At the Art League's show we are treated to his abstract landscapes. They literally ooze color and through an array of squiggly lines, undulating colors, and painterly strokes, we are drawn into the work, eyes resting and then quietly moving on always looking for more. There is reassurance and peace in these paintings. Brodsky is at ease with his palette and uses colors as the gardener uses plants, placing them throughout the canvas so that we are never tired of looking. Colors emerge from the corners and then reappear in other shapes on another plane. Deep purples collide with turquoise and yellow squiggles. "Abiquiu", an abstract of the land of Georgia O'Keefe in the mountains outside Santa Fe, has a magical quality. I could easily see what she fell in love with as my eye moved across the warm tones. Browns and aubergine, light blues and orange, lavender and pink, all dare to find themselves on the same canvas. Yet there is a rich quietness about this painting as with all of Brodsky's work. We are never bombarded, yet with all the different colors and lines, we are intuitively invited into a world of intensity and vibrancy. "Tuscan Series # 8" is reminiscent of Monet. Staring into the space we can see similarities, whether intentional or not. Brodsky's paintings emanate strength and humility. They are bold in their minimalism, expressive and humorous. The Art League exhibit will have ended by the time you will read this article, but you will be able to see his next exhibit at the Port Washington Library in October.
Art League of Long Island, 107 East Deer Park Road, Dix Hills, New York 11746, (631) 462-5400 artleagueli.org
The landscapes of April Gornik adorn two galleries at the Heckscher Museum in Huntington.. The newly renovated museum, with its higher ceilings and new lighting system, easily accommodates these large, bold works. At first I thought I would find them overpowering, but there was something about their surrealistic quality that left me detached. They seemed to evoke a feeling of alienation. Perhaps this was the mysterious element that April Gornik sought in her attempt to morph different landscapes into one magical landscape from her imagination. The artist uses photography to enhance and alter images, which she then paints onto canvases. The ziggurat of lightning crossing the deep blue sky in "Lightning at Twilight" emphasizes the eminent power of the land and the sky. I felt encircled in the breadth of the scale, yet still noticed the artist's brushstrokes.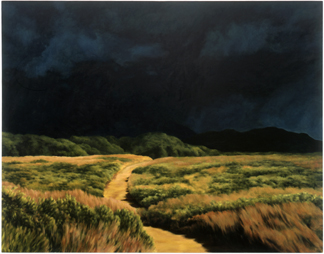 The exhibit consists of twelve paintings. You will see no humans or animals in any of them. Gornik explains that, "not including people avoids giving emotional cues. When you have a person in the painting, it gives away too much." Perhaps this is what lends itself to the feeling of alienation. She uses light to create dramatic contrasts as in "Field and Storm", which the artist says was influenced by 9/11. There is a strange warm glow and a massive dark blue impending storm covering three quarters of the canvas. There is a path leading somewhere towards the mountains in the background. The result is a montage of landscapes the artist has selected to inspire some unknown response.
*The Luminous Landscapes of April Gornik, May 2- July 5, 2009 Heckscher Museum of Art, 2 Prime Avenue, Huntington, NY 11743 (631) 351-3250, heckscher.org
Finally, I followed the path to the BJ Spoke Gallery where the Long Island Craft Guild was exhibiting the work of its members commemorating their 50th Anniversary. I was initially hesitant to include this in my review since by its very own admission it was craft, not art, and models itself according to the structure of the original craft guilds. But after a few minutes of consideration I tackled my own misgivings and considered the original question, "What is art and when is it craft? The inverse also held true. When is craft art? In so many cases throughout history the two overlap. Was Michelangelo a craftsman or an artist when he painted the ceilings of the Sistine Chapel? Was Alexander Calder an artist or a craftsman when he created the first mobiles and stabiles?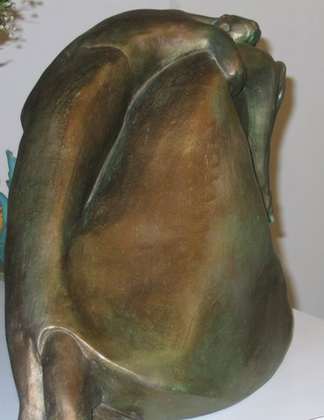 "Dance Me to the End of Love" by
Barbara Grossman-Karyo, 2006, Sculpture in clay, 2x8x4" Collection of Artist
In this exhibit there are many examples of functional craft, yet even these are "expressive of emotion, intellectually challenging, have the capacity to convey complex and coherent meanings, exhibit an individual point of view, show originality, demonstrate a high degree of skill, and are the product of an intention to make a work of art." Works such as Roseanne Spiewak-Ebner's clay torso entitled, "No Longer Retaining Water", Emelyn Garofolo's mixed media Time Line Scroll, "Past/Present and Future", and Barbara Grossman-Karyo's sculpture in clay, "Dance Me to the End of Love" all reverberate with the essential qualifications of the above definition. They challenge the observer to think, which brings us back to the Platonic definition of art as dangerous because they have the power to stir the emotions. Much of the work on display was thought provoking. Perhaps we really need to be asking different questions. Is there such a thing as pure art or true art? Does it matter anyway?
bj spoke gallery, 299 Main St., Huntington, NY 11743, (631) 549-5106 bjspokegallery.com
A Look Ahead:
"Grace Hartigan: A Survey" – June 13-July 26 Grace Hartigan's career began in the 1950s. She was part of the Abstract Expressionist circle of artists known as the New York School.
Guild Hall, 158 Main Street, East Hampton, NY 11937, (631) 324-9806 guildhall.org
Take time out this summer to frequent the wonderful outdoor art fairs throughout Long Island.