The Barbizon School at the New York State Museum
By Raymond J. Steiner
ART TIMES July 2004
(Photos Courtesy the New York State Museum)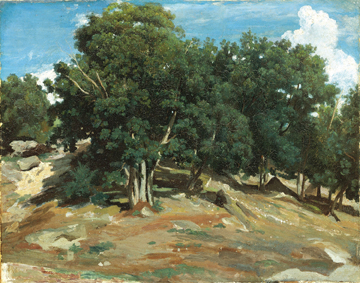 Camille Corot (1796-1875), "Fontainebleau: Oak Trees at Bas-Brau," 1832 or 1833, oil on paper, laid down on wood, The Metropolitan Museum of Art

THEY TAUGHT US to get our heads out of the studio — Camille Corot, Charles-François Daubigny, Narcisse Diaz de la Peña, Henri-Joseph Harpignies, Jean-François Millet, Théodore Rousseau, Constant Troyon (Corot, the oldest, Harpignies, the youngest) — all revolutionizing the art of landscape painting in the relatively short space of under one hundred years. They showed painters how to retrain their eyes to see nature as it was, rather than how it had been customarily painted by many of the earlier practitioners. They taught us to see trees, and water, and clouds, and windswept plains, and rocky outcrops, and farm animals, and peasants at work — but most of all, they taught us to see light.
Too early to be called true "impressionists" — who often saw more light than object — they laid the groundwork for such men as Pissarro, Monet, Renoir, and their subsequent followers. Standing midway between the classicist who only saw (and painted) objects and the true impressionist who almost lost his way in a shimmering sea of light, these painters — eventually called the "Barbizon School" because of their habit of taking their paintboxes out of their Parisian studios into the small hamlet of Barbizon to paint in the "wilds" of the Forest of Fontainebleau — literally allowed a "breath of fresh air" to flow into their paintings. No longer content to use landscape as a formulaic "backdrop," they set out to see it for itself, to actually paint a tree, a rock, a running rill as it looked in nature. True, it was still with the eye of the classicist, but now the cloud, the distant hill, the figure, seemed as one with the context in which it was seen. They allowed a "naturalness" into their paintings that had hitherto not been attempted by the academic painter — at least not in the "finished" works destined for the Salon.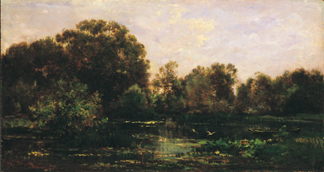 Charles-Francois Daubigny (1817-1878), "A River Landscape with Storks," 1864, oil on wood, The Metropolitan Museum of Art

Some 69 works* — oils, watercolors, etchings, drawings, lithographs, and cliché-verres — representative of their works have been brought together under the careful eye of Dita Amory, associate curator of the Metropolitan Museum of Art's Robert Lehman Collection, and brought to upstate New York viewers at the New York State Museum in Albany. Though they have long been on view at the New York City facility, having them presented en masse and in the relative intimacy of a few galleries allows for both closer inspection and greater enjoyment — and these works are, above all, meant to be savored, lingered over, leisurely viewed and slowly absorbed into the consciousness. With the advent of modernism following close on the heels of the French impressionist, we seem to have too quickly lost the patience (or eye) to "tarry awhile," to quietly contemplate the ding an sich — the thing in itself.
Camille Corot (1796-1875), "Ville-díAvray," 1870, oil on canvas, The Metropolitan Museum of Art

The Barbizon painters seemed to allow their eyes to caress a tree, a cloud, a cow — the bent back of a laboring farmer. As the exhibition shows, they often began with studies — drawings, watercolors — even etchings — to make sure they were getting it "right." They wanted us to see a thing — each leaf, each branch of a small copse of trees; to see the light as it enfolded a form; to relate to their viewers what Bernard Berenson once called the "tactile experience" of an object. Corot's trees, Daubignie's scale of greens, Rousseau's streams, Millet's peasants are lusciously handled, painted as if with loving care. This is landscape not asthe city-dweller sees it, not as the studio painter sees it after referring to his photographs, not as the painter with a formula to exploit or a manifesto to prove, but as the person who cannot only feel with his human counterpart — the peasant — but who can relate to the very "stuff" of nature. It is the work of a painter who allows for a scene to enter his consciousness through all of his senses — not just the eyes. One must feel the breeze and heat (or cold) on one's face while standing at the easel, hear the wind rustling leaves and birds singing in the fields, smell the earth, the perfume exuding from trees and flowers, taste the very air in which one stands — then can one create a landscape painting that lives for all time, a landscape that speaks to those eyes that can truly see and appreciate the charms of natural phenomena. Alas — Le temps perdu! There are few artists who paint thusly — and even fewer viewers who know how to appreciate such labors of love. Today, we like our art a là McDonalds — instant, nondescript, and easily prepared — regardless of its effects on our sensibilities. Tant pis!
"Landscapes from the Metropolitan Museum of Art" is a lovely show, one that feeds the soul as it feeds the eyes. Kudos to the New York State Museum for mounting this show, to Dita Amory for curating it, to The Metropolitan Museum for lending it, and to Fleet Bank, the New York State Senate and Assembly, The Times Union, News Channel 13, Lang Media for supporting and encouraging it — and to New York State's First Lady Libby Pataki for helping to bring it all together.
*French Painters of Nature: The Barbizon School — Landscapes from The Metropolitan Museum of Art (thru Aug 22): New York State Museum, Madison Ave., Albany, NY (518) 486-3696. This exhibit was part of the Fleet/Bank of America Great Art Exhibition and Education Program Series, a six-year program of bringing masterworks from New York City Institutions to the State Museum.