Return to Art Index

J.M.W. Turner at the Clark Art Institute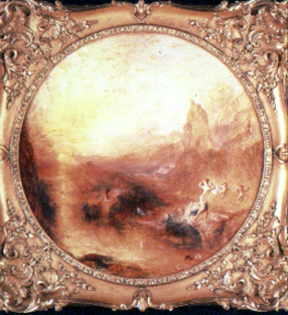 "Glaucus & Scylla" 1841 (Oil on Wood) Photo Courtesy the Sterling and Francine Clark Institute
By RAYMOND J. STEINER
ART TIMES July, 2002
AS WITH THE sea itself which must be directly experienced to be fully grasped by human comprehension, so also must Joseph Mallord William Turner's paintings be seen at first hand before any intelligent assessment may be made as to their relative merit. It is a truism that works of art are rarely reproduced with any satisfaction to the artist (or anyone with discernment, for that matter), but some artists suffer even more substantially when their work is known solely in reproduction. If only because of size – among moderns, those of Jackson Pollock come most readily to my mind – the physical presence of large-scale paintings is dramatically lost when reduced to the limitations of page size and/or the vagaries of color reproduction. Such is surely the case with the work of J.M.W. Turner.
Happily, the present (and exclusive U.S.) exhibition* at the Sterling & Francine Clark Art Institute – the first major show of Turner's work in over 20 years and the first to concentrate on his paintings of the sea (some never before seen in the U.S.) – will give many the rare opportunity of enjoying some thirty-five of Turner's oils and watercolors at first hand.
The almost overwhelming presence of Turner's larger paintings with their concomitant impact on the eye of the viewer has, of course, not always been (nor always will be) regarded as an altogether pleasurable experience. Juan Hamilton, author of the accompanying catalogue, wisely includes in an Appendix two opposing "critiques" by two of Turner's contemporaries – The Reverend John Eagle and John Ruskin – showing that, from the very outset, Turner, with his propensity for the grandiose, was a somewhat controversial figure on the English artscene.
An "impressionist" before that term became current and before its French manifestation became popular, J.M.W. Turner gradually moved from academic "realism" in his early years to a style that, in England, could only be termed "experimental" as opposed to "painterly" – or, more specifically, "academically" sound. Not surprising, perhaps, since even the increasingly touted and wildly acclaimed French product on the continent took a long time to find sympathetic eyes in the Island Kingdom. As the Reverend Eagle proclaimed when they were first exhibited at the Royal Academy Exhibition in 1840, the subjects of Turner's paintings, "Slave Ship" and "Rockets and Blue Light" (the latter, a treasure of the Clark's permanent collection and included in the present exhibition), were, insofar as comprehensibility, "past the imagination of man to find out…" and, in the end, not worth the bother since it was "too hard a task to account for anything in this unaccountable performance." In brief, Turner's unorthodox brushwork and use of color just didn't make sense to the practical eye of the convention-bound British gallery-goer.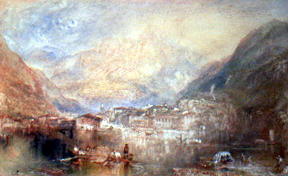 "Brunnen, from the Lake of Lucerne" 1845 (Watercolor)
Ruskin, on the other hand, though he kept his opinion on "Rockets and Blue Light" to himself, found in "Slave Ship," "the noblest sea that Turner ever painted, and, if so, the noblest certainly ever painted by man…" Waxing eloquently in his closing remarks of the same article, he writes: "I believe, if I were reduced to test Turner's immortality upon any single work, I should choose this. Its daring conception, ideal in the highest sense of the word, is based on the purest truth, and wrought out with the concentrated knowledge of a life; its colour is absolutely perfect, not one false or morbid hue in any part or line, and so modulated that every square inch of canvas is a perfect composition; its drawing as accurate as fearless; the ship buoyant, bending, and full of motion; its tones as true as they are wonderful; and the whole picture dedicated to the most sublime of subjects and impressions (completing thus the perfect system of all truth, which we have shown to be formed by Turner's works) – the power, majesty, and deathfulness of the open, deep, illimitable sea."
Assuming the sincerity of both the Reverend Eagle and Mr. Ruskin, how to account for such a divergent gap in appreciation? How do we move from the one who finds Turner "past the imagination of man to find out" to the other who sees the painter as offering us a work that is of "the purest truth"? Need we do so? The appreciation and comprehension of art, after all, is largely a subjective affair and, in vulgar parlance, "one man's junk is another man's treasure."
Fortunately, one is not required to "choose sides" in the ongoing question of the definition of "art" and, unless, like some art historian or critic, you feel you must stake your honor and reputation on your particular stance, you are free to view and decide as you please. My only admonition is that you base your judgment not on looking at reproductions of Turner's work in a book but on the actual experience of standing in front of an authentic painting. Chances are that an exit poll will garner not only the extremes found in the writings of Eagle and Ruskin, but also a full gamut of degrees falling between the two opposing opinions as well – but, the opinion will be based on your reaction and not be a derivative rendition of the words of some would-be "expert."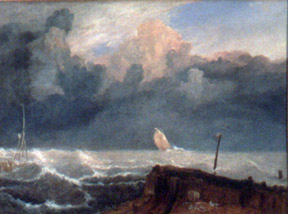 "Port Ruysdale" c. 1826-7 (Oil on Canvas)
Though I cannot predict the flavor of your reaction, I am confident that you will have a reaction – that you will in all probability not come away with a sense of indifference after viewing Turner's work. Again, in both scale and in color, Turner's paintings exert more than a little dramatic force on the viewer. To single out only one painting (already noted above) – "Rockets and Blue Lights" – one would need to possess considerably deadened sensitivity not to be visually stimulated by this extraordinary painting. Perhaps more than any other of Turner's work, none is more susceptible to degradation when reproduced – though surely such other paintings as "The Evening of the Deluge," "Entry to the Grand Canal, Santa Maria della Salute, Venice," and "Whalers" suffer nearly as much when reduced in size and subjected to reproduced color. "Rockets and Blue Lights," since it is in the collection of the Clark Art Institution, is fortunately always available to American viewers and one can, if one chooses, return at will for reassessments.
As Ruskin suggests, Turner is not "about" things – not "about" the sea, or ships, or whales – but "about" light and energy and the unseen forces of nature. A Turner sea is not a simple depiction of undulating water, but an attempt at presenting a palpable sense – an "impression" if you will – of what the moving sea feels, sounds, tastes – even smells – like. Turner sees the ocean as only an island-bound native who lives in its midst, as it were, sees it. He does not so much romanticize it as he does to force it on our consciousness. He rubs our noses in it showing that it is an entity that brooks no interference from humankind. It may suffer us to ride upon its surface, but it will allow for no lasting footprint and gives no quarter to the faint or weak-hearted. Wild, implacable, uncivilized, rapacious, dangerous and eternal, it tempts, betrays, and devours the reckless and theunsuspecting. Beautiful at one moment, it can turn in an instant into a raging, brutish, and faceless monster. With brush and pigment, Turner is less concerned with giving us a painting of the sea that might please us, as he wants to give us a sense of a sea that, at bottom, is an equal opportunity destroyer.
This is perhaps not what everyone might find pleasing to accept – and indeed, as we have seen with the Reverend Eagle, Turner's "impressions" of inchoate matter and energy are not to everyone's tastes. They may in fact prove unsettling to those of fastidious sensibilities who seek rather to find stability and definition in their artistic views of the world. For these, the exhibit may offer some respite since not all of the paintings represented are – for want of a better term – "abstract." For that matter, not all are of the sea but are of skies, and mountains and mythology (see, e.g., "Goldau," "Brunnen, from the Lake of Lucerne," and "Glaucus and Scylla").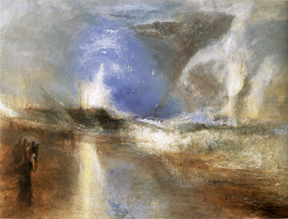 "Rockets and Blue LIghts (Close at Hand) to Warm Steamboats of School water" c. 1840 (Oil on Canvas)
And, truth be told, not every painting in "The Late Seascapes" is a masterwork. Though I am aware of his high regard for Jacob van Ruisdael, his homage to that Dutch painter, "Port Ruysdael," is not in my opinion a particularly compelling painting. A prolific painter (he's left some 20,000 sketches and watercolors and over 2000 finished paintings to posterity), it is only natural that not all of his work would be of uniform quality. And again, individual propensities will decide upon which side of the coin of value each painting – or his entire oeuvre – may fall.
Like many "difficult" painters – and one can hardly deny that what he was attempting to accomplish was often beyond the capabilities of mere pigment brushed upon a canvas – Turner, for some, demands an acquired and sophisticated taste. I recall my first "immersion" in the works of J.M.W. Turner when I visited the "Turner Wing" of the Tate Museum in London some ten years or so ago. Much as the Reverend Eagle, I too found incomprehensible a good deal of what I was looking at. But this was at first blush and in the undignified haste of a tourist intent on "seeing it all" while the opportunity presented itself. Squeezed between visits to the National Gallery, the British Museum and the Royal Academy (I was doing research at the time for my history of the Art Students League of New York) and various other sites, I must confess that I did a disservice to Turner and his work. No painter – and especially J.M.W. Turner – deserves such cursory attention. If we cannot bring a sure knowledge of the craft when we view a painter's life work, we can at the least allow enough time for a true communication to occur.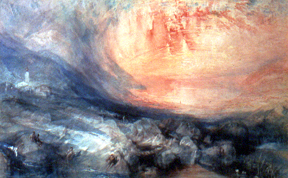 "Goldau" 1843 (Watercolor)
Luckily, my readers who are "new" to Turner will have an opportunity denied to me on my first acquaintance with his work – "Turner: The Late Seascapes" will be on view well on into early autumn and for those open to exploring some new boundaries in art, a trip up to nearby Williamstown will be well worth the time. Better yet, find some nice bed & breakfast somewhere in the vicinity and take a day or two to let this interesting painter take you on a journey that, if sometimes frightening, is sure to be enlarging and enlightening.
*"Turner: The Late Seascapes" (thru Sep 7): Sterling & Francine Clark Art Institute, Williamstown, MA (413) 458-2324. After closing at the Clark, the exhibit will travel to the Manchester Art Gallery, Manchester, England (31 Oct–25 Jan 2004) and the Burrell Collection, Glasgow, Scotland (19 Feb 2004–23 May 2004). A fully-illustrated catalogue of the same name is available: 160 pp.; 8 3/4 x 11; B/W & Color Illus.; Appendix; Notes; Checklist; Index. $49.95 Hardcover, $24.95 Softcover. Yale University Press.