Klimt Landscapes at the Clark Art Institute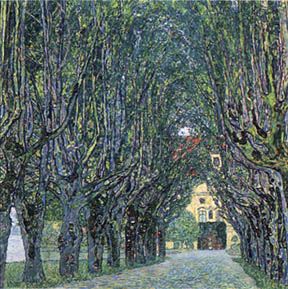 Avenue at Schloss Kammer Park, 1912
By RAYMOND J. STEINER
July, 2002
AS PART OF the Berkshire's "The Vienna Project," a collaboration of eleven cultural organizations celebrating the art and culture of Vienna, the Clark Art Institute is hosting (along with three other exhibits: "Otto Wagner: The Academy of Fine Arts;" "Josef Hoffmann: The Homes of the Wittgensteins;" and "Bernardo Bellotto: Views of Imperial Vienna") the first American viewing of eleven landscapes and one portrait by Gustav Klimt.*
Klimt, though well known in this country for his evocative portraits of women embedded in lush 'tapestries,' is little known or appreciated for his contribution to the landscape genre. For the first-time viewer, these varied bucolic views of his native Austria, may come as something of a shock. French Impressionism and its offshoots have, with rare exceptions, never traveled well into other countries. Though more inclined towards such post-impressionists as van Gogh, Gauguin, the pointillism of Seurat and Signac, and the group known as the "Nabis," Klimt seems to have imbibed the exuberant use of color without the French genius of bringing light into his canvases. There is, at least for this viewer, a palpable heaviness in a Klimt landscape, a darkness of mood (dependant, perhaps, on his predilection for his overuse of greens) that one rarely finds in the works of his colleagues across the border (or, for that matter, in his own portraits of women).
This not only obvious in such paintings as "Pine Forest I" – the darkness, of course, as much a part of the subject as it is of its treatment – or, "After the Rain (Garden with Hens in St. Agatha)," where one might argue for the misty gloominess expected as a rainstorm departs – but in such ostensibly "lighter" subjects as "The Park," "Avenue of Trees in Schloss Kammer Park," "Pear Tree," or "Upper Austrian Farmhouse" where a fussiness mires us in a maze of particularity.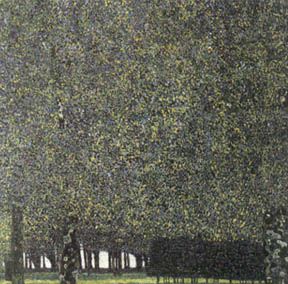 Park, 1909
It is my sense that part of what I call Klimt's "heaviness" is due to his style – the very style which has made his portraits so uniquely his and, one must add, so eagerly sought. Klimt loves the lushness of detail, the full brush in service of the plethora of images that he manages to cram into a painting. The very density of his landscapes is further enhanced by his use of a heavy impasto, a prodigality of pigment that rises up from the canvas to ensnare the eye. If elegantly striking in, say, the adornment of a female subject, his unchecked delight in detail seems to so crowd a landscape that one feels suffocated in its very beauty. No air seems able to permeate a Klimt field of flowers, a leaf-laden tree, or a grove of towering pines. There is, in fact, rarely a horizon that includes a sky in a Klimt landscape - no room for anything other than nature's overflowing cornucopia of plenty.
This is not to say that his landscapes lack a certain charm, a certain magnetism that draws the viewer into its world. Yet, for me it is a world that threatens to engulf rather than enfold, depicting a Mother Nature that seems too ready to reclaim its due. My impressions notwithstanding, however, the Clark Art Institute is to be given high marks for bringing this show to American viewers. This will be the only venue for Klimt's landscapes, and, because of that, a rare opportunity that ought not be missed. Be sure to include a visit to this wonderful museum when you come to the Berkshires to share in The Vienna Project.
*"Gustave Klimt: Landscapes" (thru Sep 2): Sterling and Francine Clark Art Institute, Williamstown, MA (413) 458-2303. An accompanying catalogue of the same name (Prestel) edited by Stephan Koja is available: 227 pp.; 9 5/8 x 11 7/8/ B/W & Color Illus.; Selected Bibliography; Indices.