Snow Scenes by Walter Launt Palmer
at the Albany Institute of History & Art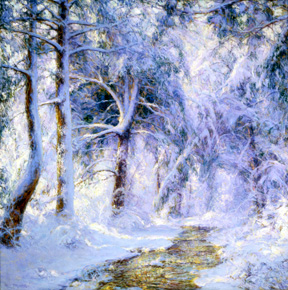 The White World (1932; oil on canvas)
By RAYMOND J. STEINER
ART TIMES January/February 2007
ALTHOUGH ONLY TEN paintings make up this show*, there are perhaps just enough to justify his colleagues' characterization of Walter Launt Palmer as "The Painter of the American Winter." A student of Frederic Edwin Church in 1870, Palmer followed up this earlier indoctrination into the traditional niceties of landscape painting á la the "Hudson River School" by studying with Charles Carolus-Duran in Paris during 1873 and 1874 to imbibe the new "impressionist" techniques that were becoming all the rage in France. Though it is unwise to make sweeping generalizations on the basis of the handful of works in this exhibit (he reportedly painted over 300 snow scenes — the subject of this show — from 1884 until his death in 1932), it seems clear that Palmer's work gives evidence of a compromise between the panoramic yet detailed vistas of Church and his colleagues and the more popular "intimate" snatches of nature coming first, from the Barbizon plein air painters, and assiduously followed by such new "Impressionists" as Pissarro, Monet, Renoir, et al. — and doing a very nice job of it indeed. By all contemporary accounts, Palmer held his own, was a Salmagundian, a member of the NY Watercolor Club, the American Watercolor Society, the Century Association, the American Federation of Arts, the Union Internationale des Beaux-Ars and des Lettres (he was, reportedly, fluent in French), the New York State Fine Arts Commission, and an Academician of the National Academy of Design, during which time he garnered considerable recognition and representation in, among other worthy institutions, The Metropolitan Museum of Art.
Still, even with this daunting resume Walter Launt Palmer appears to have been given short shrift by historians of American art since his heyday as the "Painter of the American Winter." William H. Gerdts, purported to be the "leading authority on American Impressionism" in his major study, American Impressionism (Artabras, 1984), mentions him only in passing, wherein his "photographic winter scenes" are negatively compared by Clarence Cook with John Twachtman's "poetry"in his [Italics added] winter pieces." Further, more recent books and catalogues on what has come to be known as "American Impressionism" — Masterworks of American Impressionism" a second book by William H. Gerdts (Abrams, 1991), American Impressionism and Realism: The Painting of Modern Life, 1885-1915 by H. Barbara Weinberg, Doreen Bolger, and David Park Curry (The Metropolitan Museum of Art/Harry N. Abrams, Inc., 1994), and Impressionist Masterpieces in American Museums by Robert Boardingham (Hugh Lauter Levin Assoc., Inc./Simon & Schuster, Inc., 1996), for example — completely ignore Palmer, the last mentioned catalogue in spite of the fact that the Albany Institute of History and Art, a recognized museum, is a major holder of his work. Palmer's close connection with the Albany Institute of History & Art began while he served on their Board of Directors and, since that time, the Institution has slowly been amassing not only a sizeable number of oil paintings (around seventy-five, to date), watercolors, and drawings, but also sketchbooks, prints, photographs, diaries, receipt books, and other personal papers and artifacts pertaining to his life and work.
Again, admittedly I am making assumptions on but a relatively small number of paintings, but I find scant reason for such neglect. By all appearances, Palmer avoided the extremes of both the academic traditionalists and the so-called impressionists, eschewing the fussy detail of the one and the sometimes over-loose brushstrokes of the latter. He certainly cast his net widely, drawing from the resources provided by his father, Erastus Dow Palmer, who, as a noted sculptor of some repute, opened both vistas and doors for his son — it was Erastus' friendship with Church that made that artist relax his stringent policy of accepting few students — encouraging him in his studies both here and abroad. Palmer studied while still a young man with the portraitist Charles Loring Elliott, and after receiving instruction from Church in 1870 and his first trip to Paris in 1873, returned to France in 1876 to resume his studies with Carolus-Duran. The young Palmer took due note of the many influences open to him and, in addition to his landscapes, applied his skills to other genres — still lifes, portraits, interiors — adding them to his ever-expanding oeuvre. Palmer also widened his scope by applying his talents to oil, watercolor, and pastel, winning a sizable number of awards, medals, and honors for his efforts, indicating, once again, that his contemporaries held him in some measure of esteem.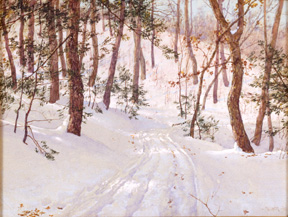 Road to Olana (1888; watercolor and gouache on paper)
You can, of course, arrive at your own conclusions by making the trip to Albany and visiting the Albany Institute of History and Art. The exhibit is handsomely laid out in a well-lit gallery and includes a selection of letters, documents, photographs, and memorabilia from their permanent collection that further illuminate Palmer's life and work. Revealing, is a replication of his essay, "On the Painting of Snow'" published in Palette and Bench (1910), in which he opens with a quotation from John Ruskin's Modern Painters (another influence on the young Palmer) and wherein he admonishes his fellow painters that art is an "interpretation" and not an "imitation." If these few examples of his snow scenes in the present exhibit are any indication, Palmer's sophisticated sense of "interpretation" reveals a sympathetic sensitivity to nature, discernment in limiting himself to the telling detail, and a sharp eye for the painterly qualities of light-on-form. See for instance his homage to his former teacher, Frederic Edwin Church, "Road to Olana" (1888: Watercolor and Gouache, 13 ¼ x 17 ¼), in which he depicts a snow-covered path on the rustic grounds of Olana, Church's former home (now a national historical site) and, my personal favorite, "Yellow Sunset" (1888: Pastel), a beautifully rendered, twilit pastoral of a lowering sky over a snowy, blue-shadowed, open field with a handful of trees in the foreground. This is landscape painting at its best — no frills, no distracting "signatures" of fancy flourish or stroke, just honest-to-goodness "interpretation" of the American landscape.
Kudos to the Albany Institute of History & Art for bringing this accomplished artist to greater public attention; hopefully it will serve to reclaim one of our long-neglected talents and encourage commercial galleries to follow suit. Meanwhile, the Institute is preparing for a major, full-scale exhibition of Palmer's work in the near future, an anticipated event that will surely go a long way toward restoring this artist to his rightful place as one of America's major talents.
"Snow Scenes by Walter Launt Palmer" (thru Feb 25): Albany Institute of History & Art, 125 Washington Ave., Albany, NY (518) 463-4478