Peter Paul Rubens (1577-1640): The Metropolitan Museum of Art & the Bruce Museum of Arts and Sciences
By RAYMOND J. STEINER
ART TIMES Jan/Feb, 2005
(Photos Courtesy The Metropolitan Museum of Art and the Bruce Museum of Arts And Sciences)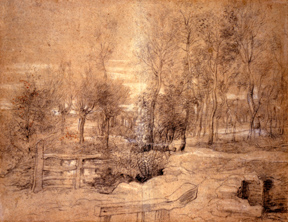 "Woodland Scene"

'LARGER THAN LIFE' — a hackneyed expression that, because media-hype and Hollywood have so emptied it of any real meaning by using it all too often to describe trivial events and persons — seems, after all, but a feeble way to begin a review of the artist — the man — Peter Paul Rubens.
Inadequate as it may be, I can begin in no other way, for Rubens, a type that, if in existence today is certainly under deep cover, was a man whose life encompassed so much more than what we moderns generally expect or settle for. A life so much larger, in fact, that to many art historians he has remained an enigma, with few of us today, pundit or layman, who know how to take Rubens and his art seriously.
My first 'real' experience of Rubens — that is, not through reproductions — was at the Louvre — now some 15 years or so ago — when I found myself entering a gallery where I was suddenly and helplessly immersed in his sea of color. His large-scale canvases were simply too much for me to process. Almost immediately, I was visually overloaded by an incomprehensible swirling of celestial, human, and beastly figures. I walked on (I'm sure much too quickly) to other more manageable art to digest — putting Rubens aside until I was better prepared — and equipped — to deal with him.
I've never returned for a second look at the Medici 'cycle' (other than in books) but, on subsequent trips to Europe over the years I've had other occasions to stand spellbound — I have no other word — before Rubens' work. Though on occasion —Prague, Milan — I've been remiss in not taking the time to have another look, I've seen his work in London's National Gallery, Madrid's Prado, Munich's Alte Pinakothek, Cologne's Wallraf-Richartz-Museum, Florence's Uffizi — it is, in truth, difficult not to find a painting by Rubens in any European art museum (it's been estimated that there are over 3000 of his works scattered around various European homes, churches and courts). I will be traveling in Europe for most of this month and I anticipate a similar reaction of awe when, during a short stopover in Vienna on my way to Budapest, I intend to take a look at the "Rubens in Vienna" exhibition(s) sponsored by The Picture Gallery of the Academy of Fine Arts, the Museum of Fine Arts, and the Liechtenstein Museum.
Of course, you don't have to go to Europe — you can discover him here as well — in Washington, D.C.'s National Gallery, in New York City's The Metropolitan Museum of Art, in Boston's Museum of Fine Art, or in Los Angeles's J. Paul Getty Museum — even in little out-of-the-way Glen Falls, New York, at The Hyde Collection, who owns the little (for Rubens) "Head of a Negro" that graces the cover of the catalogue for the exhibit at the Bruce Museum (more of that later) — to name but a few of the collections in the U.S. where you can find his work.
Almost always I found Rubens' large-scale work to be overwhelming — too outsized, too commanding, too visually crowded for me to wrap my mind around his technique — let alone the motif, the concept, the "message", of whatever painting I was attempting to view. Just who were all those earthly and heavenly figures swarming over the canvas? Where did those cloud-filled and strangely colored skies exist? Those impossibly beautiful horses? How could he have found the time to spread so much paint over such large areas of canvas? And, doing it so often that you could not help stumbling over his work no matter where you wandered? All this while juggling two marriages (his second, when he was in his fifties, to a sixteen-year-old!), fatherhood, personal tragedies, running an already well-staffed studio from which he had constantly to turn down a swarm of apprentices seeking to learn from him, and doing the spying and bidding of court worthies?
Who was Peter Paul Rubens?
Actually, we know a great deal about him — as the many books devoted to his life and art attest — one of the best, in my estimation, Paul Oppenheim's richly tapestried Rubens: a Portrait (Cooper Square Press, NYC, 2002) in that it offers the reader the historical context in which Rubens broke through — and became larger — than the life he was dealt by fate. In broad strokes, we know that he was born to Flemish parents in the German town of Siegen (a story in itself), that he grew up in Cologne, that he reclaimed his Flemish roots by moving to Antwerp, and that, for most of his life, he shunted back and forth across the continent from royal court to royal court on both painting and diplomatic missions.
We know that he was extremely well-read in the classics, that he spoke several languages, that he was motivated by both politics and religion, that he was either acquainted with or personally knew the leading lights of his day in science, art, literature, and politics, and that, by all accounts, he was highly successful as an artist. And, perhaps, this is the best we can — or ought — do, since no matter how you try to sum him up, his art still escapes most of us. All of which, most likely, is so because we simply don't have the capacity — so circumscribed are most of our lives — to grasp all of what went into making a Rubens, a Rubens.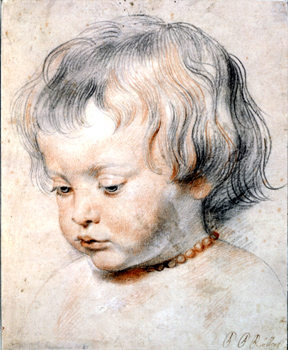 "Nicolaas Rubens"

Some have claimed (e.g., Ambrogio Spinola, military man and friend) that "of all his talents, painting was the least" — an indication, perhaps, that not even his contemporaries who lived in a much more 'universal' world than we do today, could really comprehend his art. But Rubens was an artist — if only because we've been left such a legacy of his work (thousands of drawings and paintings, it's been said, found squirreled away in his home after his death). And, we are told, his penchant for image-making started early.
As a boy in Cologne, Peter Paul studiously copied figures created by the hand of Tobias Stimmer (1539-1584), a German artist whose illustrations captured his youthful eye. Once started, he never ceased retracing images from other artists who appealed to him. Copying, in fact, became almost a way of life with Rubens as he matured into his own vision and style — he even copied himself at times, recycling figures and themes from not only his own imagination, but also from a host of his predecessors and contemporaries. Though it may have a negative taint to a purist of today, such cribbing was not just a way of artistic practice, but a necessary step in the apprenticeship of any artist of the time. It was, in the minds of many, a way of arriving at the artistic 'truth' of things — if it worked before, why abandon it? When we see the results of the practice as it was manifested in the work of Rubens, we find a mighty large truth, indeed.
Whatever one feels about the practice of copying, the inescapable fact is that Rubens progressed far beyond simple plagiarism — again, so far from simple imitation in fact, that we are often at a loss to see just where his vision came from — or, for that matter, was going. As noted above, his range of intellectual curiosity and accomplishments (not only as a painter but as 'man about town') had so far infused his aesthetics that few today (or then, it appears) can competently follow him. His private library contained hundreds of volumes — large not only for his day, but also for most artists of today — covering the gamut of informed thought on a wide variety of disciplines.
Rubens' scope certainly extended further than the range of the average artist/pundit of today. All of this went into his paintings, which often dealt with large dollops of history, mythology, religion, and allegory, all bent to his own purposes and designs. Rubens' world was one of absolute truths, a world that included the celestial heavens as well as contemporary and ancient history, a world, in short, which was larger than the life most of us know — or believe in. Long abandoning such vast conceptions as Rubens (so often successfully!) put to canvas, most today are 'specialists' – confining their expertise to more manageable parameters, lowering their line of sight to within manageable limits.
Again, this is necessarily so since, in spite of our 'global network of communication', we remain largely provincial in our outlook. Regardless of the apparent flood of 'information' at our fingertips, the bulk of it, in the long run, is irrelevant. We tend to equate information with knowledge – and, more sadly, knowledge with wisdom. Thus, what we consider to be 'larger than life' may be larger than our lives, but in terms of the vast spiritual and intellectual life that lay at the foundation of Rubens' art, it is small potatoes indeed.
Even if the tremendous ebb and flow of Catholicism vs. Protestantism that swirled around and informed Rubens' life and art is foreign territory and lost on our modern secular mind-sets, the very real business of the bloody Thirty-Year War along with the internecine infighting of the courts that served as his context ought put us on more familiar ground — and should give us a more concrete idea of the circles in which he traveled — and survived — and all of which crops up, somewhere, and somehow, in his art. For us, 'bigger than life' suggests something more in the line of our latest 'hot' movie or music celebrities. Compared to the stature of a Peter Paul Rubens, however, the current crop of pop icons come off as pretty low on the scale of human achievement — or, for that matter, relevance.
For this viewer, I've had to come at Rubens through his smaller works, for only then could I begin to see how he painted rather than struggling with what he painted (much, I must admit, that still escapes my full understanding since, like you, my world is defined by my time and not his). I recall my first 'lesson' when, through the direction of the Cologne-based artist Heinrich J. Jarczyk, I first viewed "Madonna and Child with Garland and Putti" (painted in collaboration with Jan Bruegel I) at the Alte Pinakotek in Munich, viewing the painting first at a distance (exactly prescribed by Jarczyk), then up close to get its full impact. (Jarczyk, incidentally, was also the first to point out to me Tobias Stimmer's influence on Rubens). The point is, looking at a painting by Rubens takes time and some accommodation on the part of the viewer.
Other opportunities arose for me over the years with the most recent presented to me when, after a paper I delivered at the Catholic University (KADOC) in Leuven, Belgium, in 2002, I visited Rubens' home in Antwerp. (The commanding physical presence of Rubens' home and gardens speak volumes about the man!) While there, I was able to see some of his smaller works, again being able to study them 'up close' and with a somewhat calmer eye — an occasion that re-presents itself, incidentally, in both of the exhibits* under consideration here.
Devoted solely to Rubens' oil sketches (the first such show in the U.S.), the Bruce Museum features some 40+ works, each of which allows for a close-up insight into the artist's technical skill insofar as both draftsmanship and brush handling are concerned. From the relatively 'sketchy' (cf. "The Glorification of the Eucharist" Catalog #33) to the superbly modeled and delicately hued (cf. "Head of a Negro" Catalog #7), we discover the hand of a master who recognized the importance of studies before attacking major works — the former for later altar pieces (or celebratory, triumphal arches), and the latter (though for no particular painting) as 'models' for figures found in mythological or religious themes. A painting such as the "Glorification", by the way, gives but a small insight into Rubens' interest in and knowledge of the related artform of architecture — a discipline that much interested him judging from its inclusion in many of his sketches and paintings.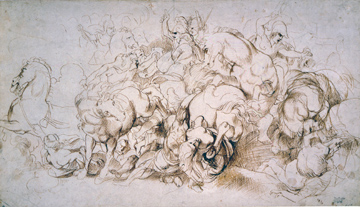 "Battle of the Greeks and Amazons"

That his range encompassed much more than painting is but hinted at in his being called upon to assemble and direct a whole array of craftsmen — including sculptors — in decking out his native Antwerp on the occasion of visiting royalty (Cardinal Infante Ferdinand in 1635). Add to all this (along with his incessant reading), a budding interest in his later years in landscaping painting — before it was fashionable — or even saleable. No small feat in itself since the painting of landscape — though a related skill — is by no means a small thing and was one that occupied (and still occupies) lesser artists — or at any rate those whose vision was considerably less elevated than that of Rubens — as full-time enterprises. If in earlier years he depended on landscape 'specialists' to fill in some of his background portraits, we find that during his 'retirement' at "Het Steen" (his castle a few miles distant from his home in Antwerp) he threw all his energies into producing this whole 'other' body of work to add to his already considerable oeuvre. (See, e.g., Rubens's Landscapes: Making and Meaning by Christopher Brown: National Gallery Publications, London and Yale University Press, 1996, and, "Woodland Scene" ca.1635-38, a chalk drawing in the exhibit at the Metropolitan done just a few years before his death.
The show at Metropolitan Museum of Art narrows down our scope even more by concentrating on Rubens' drawings. Here again, In the 115 drawings included in the show — some never before on view in the U.S. — we detect the hand of the master draftsman, his skill honed by not only the years of 'copying' the handiwork of others, but of his seemingly incessant practice. Several examples of his following the lead of others can be found in this show (cf. "Copy after Belvedere Torso" or "The Libyan Sybil" after Michelangelo). Aside from such 'studies', however, are scores of examples that come directly from his own eye and hand — among my favorites, two drawings of his son, "Nicolaas Rubens" ca. 1626-27 and "Nicolaas Rubens Wearing a Coral Necklace" ca. 1619. For those who prefer the sinewy play of animal and human muscle, his ink and graphite "Battle of the Greeks and Amazons" ca. 1602-04 is a marvel of intricately controlled draftsmanship.
Both exhibits may well serve as primers for the newcomer (or even the old hand) coming to evaluate Rubens' work. By forcing the eye to concentrate on a 'human-size' scale, both exhibits allow for our eyes to not so quickly get swept away when confronted by his usual out-sized canvases — monstrous by modern-day standards, but of a scale that he much preferred in order to allow free reign to both his prodigious vision and talents. At the very least, visiting either the Bruce or the Metropolitan will pave the way in tackling his masterworks. Whatever you may finally come away with, it must be allowed that, by almost any standard, Peter Paul Rubens holds a very unique position in the annals of western art and was indeed a figure that was "larger than life."
*"Drawn by the Brush: Oil Sketches by Peter Paul Rubens" (thru Jan 30): Bruce Museum of Arts andSciences, One Museum Drive, Greenwich, CT (203) 869-0376. "Peter Paul Rubens (1577-1640): The Drawings" (Jan 15-Apr 3): The Metropolitan Museum of Art, 1000 Fifth Ave., NYC (212) 570-3951. (Both exhibition venues have fully-illustrated accompanying catalogues distributed by Yale University Press.)