The Museum at Guild Hall & The Heckscher Museum of Art
By Ginger Lee Hender
ART TIMES Jan/ Feb 2010

If you have ever wandered through a gallery or museum wondering about the behind the scenes presence - how the show was collected, mounted, spaced out, lighted, etc, you may be thinking of the way an exhibit is curated.
How does a curator integrate so many disparate forms, genres, dimensions, and media into one cohesive exhibit? It occurs to me that every time I see a group show encompassing multiple artists and a myriad of genres, I find myself wondering about the curator's intention. How do they go about selecting the work, determining the placement and integrating each piece into an environment? In essence, it is about setting the stage, as in a theatrical performance.
At Guild Hall in East Hampton, the exhibit "ac.qui.si.tions" features over 35 artists whose work has been recently acquired by the Museum as part of its permanent collection. According to Ruth Appelhof, the museum's executive director, "Guild Hall's mission is to promote artists who have a connection to our region." The work newly acquired for this exhibit spans a variety of media including paintings, prints, collage and photographs. Some prominent artists included in this show are Robert Motherwell, Fairfield Porter, and Jim Dine. Others, perhaps not as well known, join the ranks of a highly respected community. They will now be part of the collection that includes earlier East End residents, such as Thomas Moran and Childe Hassam. Looking at the cast of characters we may initially be attracted to the stars, but even the supporting roles are played by some of the country's most celebrated painters, photographers, sculptors, and graphic artists.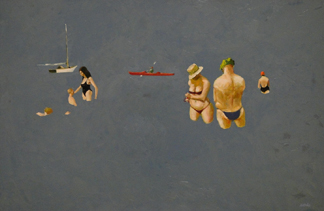 Upon entering the first gallery of this beautiful museum I was taken with Cynthia Knott's painting, "Shoal I", oil, encaustic and metallic on linen. This work is a large monochromatic seascape beautifully cast in hues of green. In a recent NY Times review of her show at DC Moore Gallery, Grace Glueck writes, "Braving the stiffest of weather, she paints directly at the seaside, recording the shifting of light and atmosphere on surfaces she meticulously builds up with layers of gesso, metallic pigments, encaustics and oils. The results border on the symphonic, involving sky, sea, sun, clouds and horizon line without the slightest trace of land, in passages that range from serene to explosive." Knott is a resident of Eastern Long Island and expresses a love for the beaches and shores near her home.
To the right of the entrance is John Hardy's "Bathers", oil on wood. There is a quality about his work that drew me towards it and I kept returning to take another look. Figures seem to disappear into an overly blue ocean, leaving an impression of surreal existence. Hardy's "unorthodox seascapes focus the viewer on the beauty and power of nature and how it plays on the way people view themselves in that context."
"Overshadowings", oil on canvas by Ingeborg ten Haeff incorporates circular rhythmical shapes that find their way amidst predominantly monolithic planes. Vertical planes collide, sometimes cutting each other off. This is a huge canvas with dominant grays and black and a hint of the palest orange. With all its intensity it has been beautifully placed among the diverse work surrounding it.
There are three small sculptures set within a case, each placed on its own small pedestal. They are an unlikely trio, yet within the diminutive display they all complement each other. Stanley Kearl's "Ring Around A Rosie", Constantine Nivola's "Untitled", a clay sculpture, and Mel Kendrick's "Colored Red and Green" command attention in spite of their size. I found myself drawn to them and I would have to give credit to the curator for making their presence known.
Two Fairfield Porter watercolors, "Rome", placed on a pedestal in the rear gallery, were framed back to back. In order to see the slight differences in each piece, it was necessary to walk around and look from one to the other. I am not sure whether this was the artist's intent, but it made for an interesting exercise in observation. Another painting that attracted my attention was "Boy With Trumpet" by Paton Miller. It depicts a young boy holding a trumpet and wearing a black hat reminiscent of one worn by Sancho Panza in Don Quixote. There is a vacant look in the boy's eyes as he stares out beyond the canvas. Thick with paint, noticeable scratches and layers of underdrawings, there is an air of mystery to the subject.
This is a lovely show with many works that stand out. Small and large, they gracefully adorn the uncluttered walls allowing the viewer enough space to walk through without feeling overwhelmed.
*"ac.qui si. tions" Recently Acquired Works in the Permanent Collection, (thru January 17): The Museum at Guild Hall, 158 Main St. East Hampton, NY (631)324- 0806 guildhall.org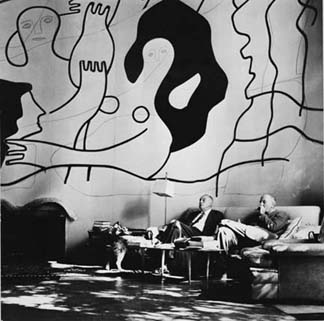 "Long Island Moderns", The Heckscher Museum's current exhibit*, consists of 60 works of art which illustrate the role that Huntington played in the careers of artists such as Louis Comfort Tiffany, George Grosz, and even Fernand Leger. This last might be seen as a stretch for some, if not a surprise, but according to Kenneth Wayne, the chief curator, Leger was commissioned by architect Wallace Harrison to paint a mural for his home in West Hills. Wayne says "it may be the most important painting to be done on Long Island." The challenging task of designing a setting for all these works of art tied together by the commonality of their connection to Long Island must have been a labor of love. Most of us think of the Hamptons as the epicenter of the Long Island art world, but let's not overlook the role that Huntington has played. Some of the artists in this exhibit have work in the permanent collection, such as George Grozs and Esphyr Slobodkina, who just last year had a one woman show.
The last gallery in this charming museum is a total dichotomy, with black and white photographs by Irving Penn and Horst P. Horst juxtaposed with the non-objective brightly colored paintings of Stanley Twardowicz and Stan Brodsky. Smack in the middle hangs Lee Krasner's "Self Portrait". I was curious about the division here and not impressed with Krasner's work. Esphyr Slobodkina's mixed media construction, "The Typewriter Bird" stood proudly in front of her abstract oil on masonite, "Vortex # 2".The geometric planes and sharp angles of Slobodkina's work were a stark contrast to the freedom of Brodsky's lines and the circular simplicity of "PRBY", acrylic on canvas by Stanley Twardowicz.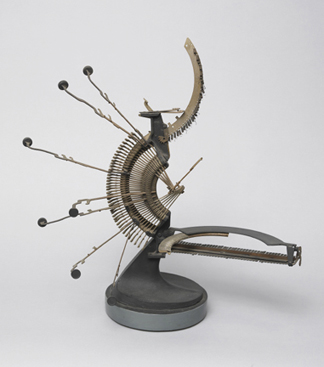 "Daffodil", a Tiffany table lamp, is placed next to three Steichens. "Portrait of a Woman" is representative of the tonalist paintings, so softly rich and impressionistic. Collagist and cutting edge artist, Ray Johnson, noted by some as "the world's most famous unknown artist", is featured in Guild Hall's exhibit through Joan Harrison's black and white photos. At the Heckscher he has two mixed media collages and a collection of "correspondence art", derived from the Surrealist game of the "exquisite corpse."
The range of renowned artists in this show is quite impressive. They either lived, worked, or summered in the Huntington area. The thread that ties them together is that simple___ geographical location and time period. It is hard to maintain a continuity with so many different styles and other than the modernity there is nothing else that links them. Under these circumstances Kenneth Wayne has accomplished his goal. 60 modern artists will be hanging together till January 10. Take some time during this chilly winter season to refresh yourself with a visit to these lovely and engaging exhibits.
* "Long Island Moderns: Artists on the North Shore from Edward Steichen to Cindy Sherman"(thru Jan 10): The Heckscher Museum of Art, 2 Prime Avenue, Huntington, NY(631) 351-3250 heckscher.org


A Look Ahead:
"Stevenson and Spampinato" This exhibit features original work from Harold Ransom Stevenson, a student of Norman Rockwell and founder of The Stevenson Academy of Traditional Painting. Through May 1. $1. Saturdays and Sundays, 2-5 p.m. Sea Cliff Museum, 95 10th Avenue. (516) 671- 0090 Sea Cliff is a small Victorian village overlooking Hempstead Harbor. The entire village is one square mile.
Share your thoughts about this review. info@arttimesjournal.com