Art Review: A HOLIDAY POTPOURRI: Janet Rickus at Henoch;
Lauren Sansaricq at Hawthorne;
Drawings from the Louvre at The Morgan
By Raymond J. Steiner
ART TIMES online December 2011
REPRESENTATIONAL ART IS alive — and more, it seems, than well! A trip to the Big Apple the day before Thanksgiving brought me a cornucopia of goodies that far surpassed the feast of turkey and trimmin's set before me on the following day. If you are an aficionado of classical art — as am I — then you will be well rewarded by dropping in on any of the following exhibits during "the season".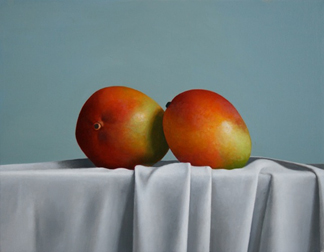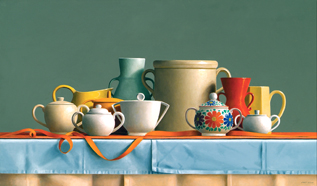 Gallery Henoch has long been ahead of the curve when it comes to keeping faith with the allure of traditional art during its forced obscurity through the '80s and beyond when visual "emptiness" was all the rage. Janet Rickus is but one more of a long line of realists that the gallery has featured over the past…but definitely not "just" one more. Some seventeen paintings comprise the exhibit*, each riveting the eye as soon as one enters the gallery. An attention to near-minute detail – e.g. in the classical treatment of folds and creases in the multi-sized, multi colored cloths that cover the surfaces of tables — is faithfully repeated in the shapes of fruits and vessels. An adept draftsman, some of her edibles — for instance the mangoes in Turned Away —invite plucking from the canvas, while her near-jumble of cups, bowls, and vases in Lili's Jarre dazzle the eye by their distinctly-rendered individual forms. Never harsh, Rickus's paintings are yet starkly presented to the viewer's eye in carefully chosen primary colors, presenting her chosen objects as "things-in-themselves" without benefit of the usual chiaroscuro or over-subtle nuance. This is classical art by one its superb modern masters.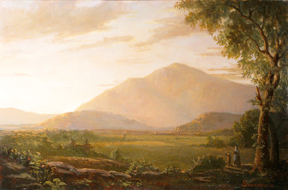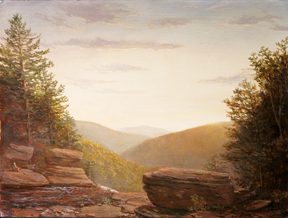 Lauren Sansaricq, in her "Nature's Poetry"** at Hawthorne Fine Art , invites the viewer to a nostalgic journey into the past (as does the entire Hawthorne gallery, in fact — back to a time when John Cole and his friends lured artists from all over to the Hudson Valley/Catskill Mountain Region to found what became known as "The Hudson River School" of painters. If originally used by the 19th-century neo-modernists in New York City as a derogatory term for those whose eyes were directed backward to the strictures of academic "rules", "The Hudson River School" not only held its own but — as the work of Sansaricq proves — has endured, continuing to please viewers down to the present day. Indeed, the paintings of Lauren Sansaricq (though still in her early twenties) might well be mistaken in style, subject and motifs as contemporary works of Cole, Church, et al. — as well as easily taken for the "school's" secondary generation of luminists (see, e.g., her delicate use of diffused light in Scene in the Catskills, View from Sunset Rock, Sunrise in the Catskills or Scene in the White Mountains with Mt. Chocorua). This is beautiful work and Sansaricq an exceptional artist with surely a long and successful career ahead of her.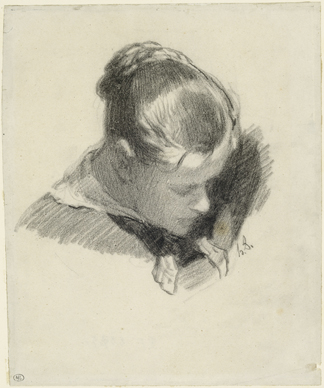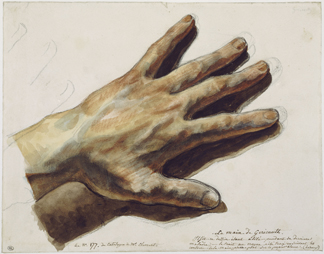 The viewing of classical drawings has long been my passion (see, e.g. our last issue, Nov/Dec 2011, with its review of master drawings at Vassar's Loeb Art Center) and the current exhibit*** at The Morgan, a sumptuous, visual treat. Some 80 works comprise the show, each a standout example of master draftsmanship — an art, alas, almost ignored by so many of our present-day painters. Along with depictions of the usual array of courtly, mythological or military exploits, there were several that I found myself pondering over: Pierre-Paul Prud'hon's Standing Female Nude Resting Her Arms on a Branch, Théodore Géricault's Studies of Cats and The Artist's Left Hand, Victor Orsel's Study for Eternity, Camille Corot's Stream in the Woods near Civita Castelanna, Eugène Delacroix's View of the Duquesne Quay at Dieppe, Paul Huet's The Côte de Grâce at Honfleur, Honoré Daumier's Head of a Young Woman, Turned Three-Quarters to the Right, and Jean-Auguste-Dominique Ingres's Studies for the Turkish Bath (just one of many of his stunning drawings) — all exceptional, all master works. What a loss to our world of art that such talent is now sloughed off as passé!
*"Janet Rickus: Recent Paintings" (thru Dec 10): Gallery Henoch, 555 W. 25th St., NYC (917) 305-0003.

**"Nature's Poetry: The Paintings of Lauren Sansaricq" (thru Jan 13): Hawthorne Fine Art, 74 East 79th St., Suite 3A-B, NYC (212) 731-0550

***"David, Delacroix, and Revolutionary France: Drawings from the Louvre" (thru Dec 31): The Morgan Library & Museum, 225 Madison Ave., NYC (212) 685-0008.