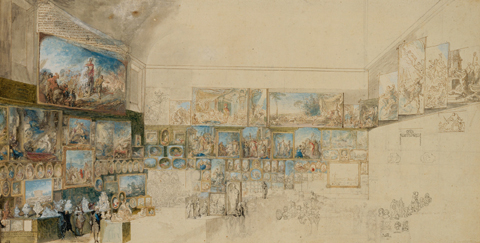 The "Salon du Louvre" in 1765 1765 (Pencil, watercolor, pen and ink)
Musée du Louvre, Paris, Département des Arts Graphiques
ONCE AGAIN, the Frick seems to have outdone itself as a leading venue for the art of the master draftsman with its current exhibition of the work of Gabriel de Saint-Aubin.* In keeping with their fine tradition of hosting world-class drawing shows — Adolph von Menzel in 1990; New Drawings from The Art Institute of Chicago in 1991; The Draftsman's Art from the National Gallery of Scotland in 2001; 17th Century French Drawings in 2002, to name but a few — The Frick seems only in competition with its own record of keeping alive the appreciation of drawing for New York viewers.
Approximately seventy-five works that range over the span of his relatively short career — around a half-dozen oils and a handful or so of watercolors scattered throughout a wide range of sketches and drawings in pencil, pen, chalk, brush, graphite, gouache, and washes — as well as a few etchings and drypoints — make up the exhibition, which in its entirety firmly establish Saint-Aubin as one of the most versatile and prolific draftsmen of his time. So busy were his pen, pencils, and chalk stumps, that his brother quipped he must have produced "one hundred thousand drawings" and fellow-artist Jean-Baptiste Greuze described his activity as "priapic." No one, however, made light of his talent.
Born into an artistic family, Gabriel tried and failed — three times — to win the coveted Grand Prix, since doing so would have allowed him to show his work at the Salon. He came close — second on more than one occasion — but the times (and favoritism) played against him — and if he didn't become a bona fide academic "history painter", Gabriel Saint-Aubin would become one of Paris's foremost chroniclers. Giving up on the Academy — it was certainly their loss — Gabriel turned his hand and talents to recording the people, the streets, the buildings and monuments of 18th-century Paris, and doing so as no artist had ever done before (or, probably, after). He was, in effect, a one-man member of an "ashcan school" a couple of centuries before Henri and followers (who had also turned their back on their academic "elites") would follow in his footsteps.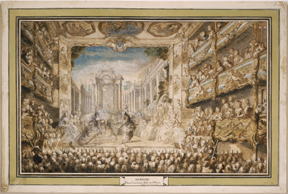 Lully's Opera "Armide" Performed at the Palais-Royal 1761 (Pen, watercolor and gouache over graphite pencil on paper) Museum of Fine Arts, Boston, Gift of Elizabeth Paine Card, in memory of Robert Treat Paine the Second
If the powers that be denied him the opportunity to depict ancient history, then Gabriel would dedicate his draftsmanship to the history that was unfolding around him — and, in doing so, became a recorder of his times, unwittingly aiding future social and political historians of the era. Saint-Aubin had both a keen eye for observation and the skills to put to paper what he saw. There are so many examples in this exhibition of his ability to "capture the moment" that it is difficult to settle on any one to prove the point. Though each drawing is consummately executed, it is in the accumulated effect of the entire show that his power comes home to the viewer. Citing just one example of his handiwork — his on-the-spot studies of stage performers at operas (Cat. Nos. 58, 59), for example (again serving as a forerunner, this time for our own Al Hirschfeld) — we are amazed at his ability not only to delineate figures and props, but also to organize the disparate elements of on-stage movements in a coherent work. He repeats this skill of organization over and over in his depictions of street scenes, outdoor fetes, lecture halls, and people-surrounded monuments. In all cases, his sense of imparting a verisimilitude of the moment is uncanny. Perhaps most astounding — at least to this viewer — was his densely-packed renditions of a Salon exhibit (the very Salon that rejected him) in which one can readily identify many of the works included in the show. It must have rankled some that Saint-Aubin so obviously proved their mistake by exhibiting his talent to reproduce so many of the "chosen" in a but a few strokes of his pencil or brush.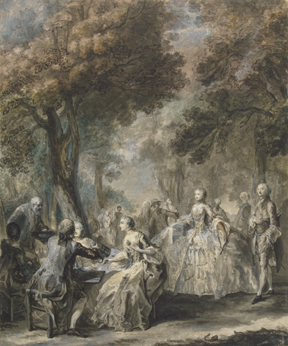 Society Promenade 1760 (Pen and brown and black ink, brush and gray wash, watercolor, and gouche)
The Hermitage, Saint Petersburg
Although there is nothing you'd not want to linger over, my favorite part of The Frick Collection's exhibition were the little illustrated catalogues displayed in vitrines in a separate "cabinet" room on the first floor. One can only marvel at how, in addition to his seemingly constant treks around the city to capture life along streets and boulevards, in concert halls, in parks, in lecture halls, at exhibitions or at someone's private home, he also managed to attend auctions where he filled the margins of these little catalogues with miniature replications of the works for sale. Some of these drawings are barely one inch square, yet each so complete in detail that one wonders how long Saint-Aubin's eyes could suffer the strain that he constantly put upon them. Finally, let me mention my favorite in the exhibit, Cat. No. 6, "Study of Objects in the Artist's Room" in which Gabriel de Saint-Aubin allows us but a peek into his private chamber — such modest accommodations to house such an all-encompassing eye. Drawing aficionados will especially not want to miss this show.
* "Gabriel de Saint-Aubin (1724-1780)" (thru Jan 27, '08): The Frick Collection, 1 East 70 St., NYC (212) 547-6866. A fully-illustrated catalogue accompanies the exhibition.