Decorative arts as history — that is what this exhibit is all about. The Bard Graduate Center for Studies in the Decorative Arts, Design, and Culture in NYC is presenting an in-depth, exquisitely researched and presented exhibit curated by Maureen Cassidy-Geiger. The idea of the exhibition is the exploration of the use of porcelain as a diplomatic gift. Diplomatic gifts are an ancient tradition used to gain favor. There is a hierarchy of gifts given depending on the importance of the recipient. Think of the gift bags distributed at corporate functions and the gifts given to celebrities appearing on talk shows. Diplomatic gifts traditionally had intrinsic value, often presented in the form of such objects as precious metals and stones, livestock or wine. Porcelain has no intrinsic value. It is made of white clay, which comes from decomposed granite (kaolin). How did it become a gift exchanged by the courts of Europe?
Asia had been producing porcelain since the eighth century. By the mid 16th century Asian porcelain appeared in some royal collections, but the formula was a well-guarded secret. Alchemists throughout Europe attempted to replicate this elusive material. It wasn't until 1710 at the court of August II (1670-1733), elector of Saxony and king of Poland, that the formula for hard–paste porcelain was discovered. The result was the first porcelain factory in Europe, the court-owned Meissen "manufactory" in Dresden. Here was a product that could be cast, carved and painted in infinite variety. The earliest designs were copies of the Asian designs. Underglaze blue soon gave way to polychrome and gilt. Porcelain was treasured because it was unique. Decorative elements could be personalized (such as coats of arms, for example). Large showpieces, full toilette and tea services were sent in customized leather boxes. There was a "wow factor" when opening the boxes. Why is porcelain still treasured and often used for gifts? It may no longer be unique, but it is still beautiful.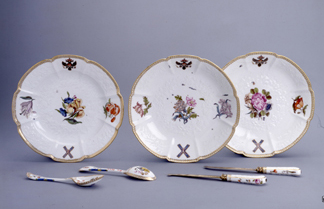 Flat plate, two deep plates, and flatware from the "St. Andrew" service, 1744–45. Meissen porcelain; silver-gilt knife blades. Plates after models by Johann Friedrich Eberlein; spoons and grips for knives: after models by Johann Gottlieb Ehder. Knife blades made in St. Petersburg in the second half of the 18th century. The State Hermitage Museum, St. Petersburg
There are over 300 objects in the exhibit organized by the country for which the pieces were made. Items are on loan from institutions and private collections in this country and abroad. There are exhibition-related educational programs and an illustrated catalogue available with scholarly essays including a chapter on the politics behind the diplomatic gifts. The exhibition will continue until February 11, 2008.
For further information contact The Bard Graduate Center 212 501-3011 BGC.BARD.EDU