"Small Treasured Paintings" at the Hudson River Gallery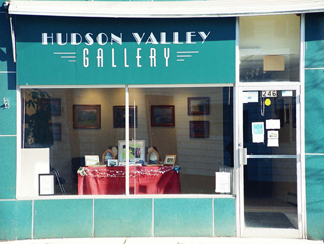 Hudson River Gallery, Cornwall-on-Hudson, NY
By RAYMOND J. STEINER
ART TIMES December 2006
IT IS MY usual practice to avoid reviewing group shows — there are approximately 30 artists participating in this exhibit* — since, ultimately, all you can really do is mention a lot of names (something that local papers really do well) and not have the space and opportunity to offer any in-depth observations. I've made an exception because, in the first place there are so many such exhibitions of small works during the holiday season that, by bringing attention to one I can call attention to all and, in the second place, this 1st Anniversary Exhibition of the Hudson River Gallery calls specific notice to the remarkable Gould Family (two of whom are included in this show: Paul, a painter and art restorer, and William, a photographer and master framer).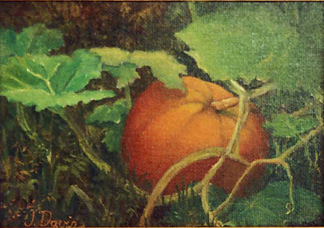 The Pumpkin Patch by Joyce Davis (oil on canvas)
Paul, the owner and director of the Hudson River Gallery, and William, along with another artist brother, Robert, are the sons of John Gould, the noted painter/illustrator. I've known Paul for some years, visiting him from time to time at the Bethlehem Art Gallery in Salisbury Mills — once managed by his mother, Mary O'Sullivan Gould and slated to celebrate its 50th Anniversary next year — is now run by Robert, William and Paul. Although another brother, John, is not in the "art business", the Goulds, in short, are an artistic family, par excellence. When we factor in the life and career of their father, John Gould, we get some idea as to just how long this family has been fostering art and its appreciation in the Hudson Valley.
"Small Treasured Paintings" continues this tradition, bringing to its walls in this celebratory exhibition the work of both newcomers and established artists to public view. Several separate galleries house the exhibit, which includes a wide variety of mediums — oils, watercolors, prints, photographs, mixed media, and sculpture — all in the usual seasonal format of small size for convenient holiday gift-giving.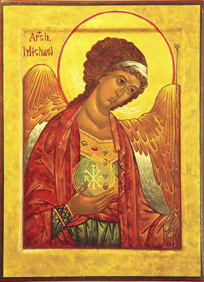 Archangel Michael by Donna Kosiorek
(egg tempera with gold leaf)
Among the various motifs represented — landscapes, still lifes, figures — several caught my notice as I strolled from room to room. Joyce Davis's charming little oil, "The Pumpkin Patch" nearly ended up going home with me, and it was only when I reflected that my walls are already art-filled that I reluctantly passed it up. There were several watercolors of M.E. Whitehill, Gloria Malcolm Arnold, and Chris Stevens that were also eye-catching — Whitehill never disappointing me in the many shows around the Hudson Valley that have featured her works over the years. I found the etchings of Lois Ryder also notable and was drawn several times back to Donna Kosiorek's gold-leafed icon, a particularly compelling rendition of this traditional Russian religious folk art.
These, of course, are not the only "small treasures" one will find in this exhibit, and thoughtful shoppers might well be able to satisfy a good deal of their needs for this holiday's shopping. Shopping or not, this is a show well worth the seeing — and you have until the end of the month to visit Paul Gould's newest establishment and his latest contributions to showcasing the wealth of Hudson Valley art and artists.
*"Small Treasured Paintings" (thru Dec 31): Hudson River Gallery, 246 Hudson St., Cornwall-on-Hudson, NY (845) 534-5ART.