Transforming the Page: Line, Washes, and Smudges at The National Academy Museum
(Photos Courtesy National Academy Museum)
By RAYMOND J. STEINER
ART TIMES December, 2004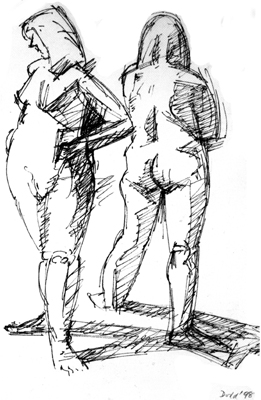 "Two Standing Nudes, Back to Back" Pen and Ink by Lois Dodd

ANYONE FAMILIAR WITH our pages knows the high value this writer has placed on that almost lost art of draftsmanship that so many of our younger artists find neglected in our present-day art schools. What better institution than the National Academy Museum, then, to pay homage to the play of pencil, charcoal or wash to the surfaces of blank pages by showcasing an exhibit of drawings? Long a bastion of a principled approach to the teaching of art, it is no surprise that the Academy has inaugurated a new cycle of exhibitions, "Drawings by Academicians", dedicated to the art of drawing. The present exhibit*, the second in the series, is now up for view and will hopefully ensure a long-run of success for the Series. Some thirty-three drawings by eleven artists, including works on paper by Jake Berthot, Charles Cajori, Nicholas Carone, Lois Dodd, Leon Goldin, Philip Grausman, James McGarrell, Ruth Miller, Philip Pearlstein, Paul Resika, and Joseph Santore, comprise the show. Curated by William Baily, the exhibit includes a wide variety of styles, from the incredibly detailed olios of Joseph Santore, to the almost illegibly loose abstractions of Leon Goldin — all revealing that personal interplay of line and form, of light and shadow, that makes the black and white drawing such an intimate look into an artist's mind.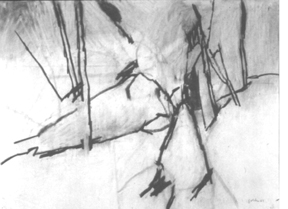 "Trees and Rocks" Charcoal by Leon Goldin

Concurrently, an exhibition entitled "The Photorealist Project" by Xavier Veilhan (also thru January 2) — along with the Academy's usual showings of old and new masters from its permanent collection — is on view. Anyone wishing an overview of what has or is happening on the past and current New York City artscene would find a visit to the National Academy Museum always worth the time.
* "Transforming the Page: Line, Washes, and Smudges" (thru Jan 2): National Academy Museum, 1083 Fifth Ave., NYC (212) 369-4880.