Musings on Art
Around Long Island
By GINGER LEE HENDLER
ART TIMES December 2008
Photos courtesy of The Long Island Museum and Nassau County Museum of Art
Growing up in New York in the early sixties, I knew very little about the legendary Art Students League other than that it was "a very special place." It had an air of bohemianism and stood large in my mind as at the core of the Manhattan art world.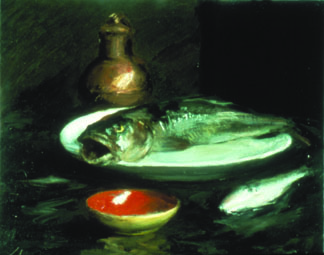 Fish Still Life, 1908, William Merritt Chase, oil on canvas
The Art Students League of New York
Highlights from the Permanent Collection

A little over a year ago, when a doctor's appointment took me to 57th street, I found myself with time to kill. The League was across the street. I crossed over and walked up the stairs into the small entry hall covered with flyers and posters announcing art lessons, exhibits, studio space, etc. I was overwhelmed by the sense that I wanted to belong, and regretted never having taken courses. There was a comfort amongst the students, a community of artists, both young and old. I was the interloper. I had finally traversed the hallowed halls, getting but a teeny glimpse of the smells and textures of this artist's landmark.

I had the pleasure of viewing "Highlights from the Permanent Collection of the Art Students League" at The Long Island Museum in Stony Brook, New York the week before it closed.* Was it serendipitous that I was now embarking on my second venture into the aura of this renowned school?

The museum was the last stop for this exhibit, which had traveled throughout the country since July, 2006.In this charming gem of a museum, dedicated to the story of Long Island, the exhibit fit right into its purpose. According to Eva Gregorsky, the museum's curator, "Long Island is the story of New York and nothing better exemplifies the story of artists in New York than the Art Students League".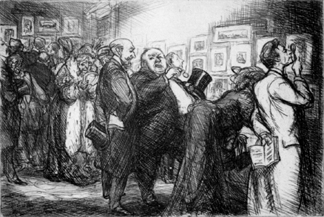 Connoisseurs of Prints, 1905, John Sloan, 1871-1951
Etching The Art Students League of New York
Highlights from the Permanent Collection
The exhibit included approximately 75 paintings, works on paper, and sculptures. Lithographs, landscapes, representational, and abstract expressionist were grouped beautifully throughout the intimate galleries. The diversity of styles and media generated a longing for the early period that spawned such talents as Georgia O'Keefe and Jackson Pollock. I was drawn to the spontaneous bursts of bold color, rhythmic play, and defiance of the four modernists in the furthermost gallery. Sidney Gross' "Untitled," oil on canvas, echoed bold yellows and purples. Charles Alston's, "Red White and Black" emanated the intensity of hot rhythms of the jazz culture his work reflects.
Amongst the more traditional landscapes, the one that stood out most for me was "October Cornfield," oil on canvas by Allen Tucker, who was involved in the groundbreaking Armory Show of 1913. "October Cornfield" is an Impressionistic work clearly inspired by Van Gogh, yet with more subdued pastel colors.
I could not ignore the black and white walls, which consisted of several small lithographs, woodblocks, and photographs. Raphael Soyer's lithograph, "The Team" and Will Barnett's lithograph, "Fulton Street Fish Market," both depicted the working class immigrant life of the period.
With all the special effects, graphic violence, and stark super realism of today's art world, I found this exhibit to be a breath of fresh air and a wonderful look into the early roots of American artists on the cusp of a new generation. There was warmth about this exhibit, almost like being home.
*"The Art Students League of New York: Highlights from the Permanent Collection, The Long Island Museum, 1200 Route 25A, Stony Brook, NY 11790 (631) 751-0066 (Jul 26 through Sept 21, 2008) longislandmuseum.org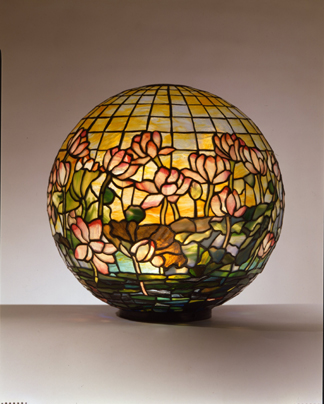 Pond Lily Globe,1900-1910,leaded glass, 13.375 inches high X 14 inches diameter Neustadt Collection of Tiffany Glass, Long Island City, New York
Nassau County Museum of Art:
Louis Comfort Tiffany: Magician, Artist, Visionary, and Giver of Light!…was a magician, pure and simple: a seer, and an artist. Combining his talents as a designer and craftsman with the genius of Thomas Edison's illuminating invention was inspired. The two separate exhibits* on display have been beautifully curated by Lindsy Parrott so that we are given a glimpse into the many facets of LC Tiffany and his legendary work. Speak the name Tiffany and one conjures a period of elegance and splendor. He lived on Long Island during the Gilded Age and was the son of Charles Lewis Tiffany, the founder of the world-renowned Tiffany and Co.; Louis, however, preferred to go out on his own as an artist and then as an interior designer. He studied with American landscape artist, George Inness and traveled throughout Europe, North Africa, and the Middle East imbuing his work with the flavors of the Renaissance as well as medieval and Byzantine periods. "Tiffany Lamps: Articles of Utility, Objects of Art" wends its way through three galleries and consists of approximately 45 major works in addition to displays and sepia tinted photos of the process as well as materials. The lamps, along with several of his windows, glow with rich luminescent colors and sensual lines. One can envision the spirit of the Art Nouveau period, sumptuous and regal, that Tiffany is most noted for. "Tiffany and the Gilded Age" is a look at Tiffany's work integrated into a typical period setting. We are treated to a taste of the art and furnishings, which most represent the influences these artists had on each other. Tiffany had long-time connections with many of the American Impressionists, Hudson River painters, and American modernists. He established an artist-in-residence program at Laurelton Hall, his home in Cold Spring Harbor. One can see the light in the paintings mimicking the light in Tiffany's lamps. The strong colors and lines of Maurice Prendergast's "Folly Cove, Gloucester" resonate clearly as elements of Tiffany stained glass. American Impressionist, Childe Hassam's "The Willows and the Bather" features similar textures in its brushstrokes to Tiffany's glass designs, notwithstanding Tiffany's intense use of natural elements. According to the Nassau County Museum's director, Constance Schwartz, "nature was Tiffany's muse," and he was a master at inviting the spectator into the natural world he was inspired by in his Long Island surroundings. We have become familiar with the dragonflies and daffodils that adorn his work, but a deeper look allows us to see how he blended the world of metal and glass with the sensuous and organic elements found in nature. A trip to this exhibit combined with a walk around the sumptuous grounds of the Frick estate will make a lovely holiday outing for the family.
*"Tiffany Lamps: Articles of Utility, Objects of Art" & "Tiffany and the Gilded Age," The Nassau County Museum of Art, One Museum Drive, Roslyn Harbor, NY 11576/ (516) 484-9337, NASSAUMUSEUM.COM (Sept. 21,2008- Jan. 4,2009)
Long Island Museum


Adam and Eve Walking Out on Montauk in Early Spring, 1924,
Childe Hassam, oil on wood panel Guild Hall
American Impressionist Childe Hassam is noted for his idyllic scenes of Long Island. He once referred to East Hampton as "a beautiful little town with its wide main street," yet the main street he painted was closer to a silent movie tableau, and bears no resemblance to the "Main Street" we have recently been hearing about from the mouths of the pundits and politicians. Hassam's world is at times bucolic and idealized. Golden Greek gods and goddesses pose along the Montauk shore and ill-proportioned nudes seem awkward placed in landscapes of the Hamptons. Yet we are treated throughout to a glimpse of the life the wealthy East End artist enjoyed. Art doesn't have to be disturbing and cutting edge; it can move us, soothe us, inspire and provoke us, but doesn't necessarily have to shock us, jolt us, and unnerve. The exhibition of Childe Hassam, which is currently at the Long Island Museum,* is a look back at a time when old-fashioned values were reflected in the peaceful scenes representing the social life, well-tended gardens, and homes of the eminent families who resided in East Hampton. Although Hassam studied in Paris with many of the European Impressionists, he rejected their bohemian lifestyle and chose to make his life back in New York, where he lived a relatively patrician life and sold his work quite regularly. "He lived with gusto, smoked a pipe, played golf, kept a good cellar, buffeted the East Hampton surf with a great, bronzed body, and worked joyously until his last illness," it said in his obituary. Many of his paintings, depicting scenes of golfers and bathers, were readily purchased and hung in the homes and offices of fellow country club members. Walking among the farmhouses, seaside bathers, ocean landscapes, and innocent etchings, I was given to daydreaming about another time and place, a refreshing escape. Hassam's etchings were beautifully rendered and I was quite taken with the richness of his detail and the simplicity of his lines.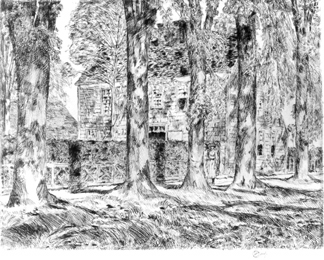 Village Elms, East Hampton, Aunt Phoebe's House, 1923,
Childe Hassam, etching New York Public Library
The accompanying silent film documenting his life was an excellent addition to this exhibit. I would like to compliment the Long Island Museum for creating a child-friendly atmosphere. Textboxes carefully placed throughout the galleries demonstrate the care the directors and curators are taking to cultivate the next generation of art appreciators.
*"Childe Hassam, An American Impressionist on Long Island," The Long Island Museum 1200 Rte. 25A, Stony Brook, NY (631)-751-0066 longislandmuseum,org (Oct. 4, 2008-Feb. 22,2009)
A Look Ahead:
East End Stories- Student Art Festival- December 14- January 4
"This multifaceted exhibition will include paintings by such artists as William Merritt Chase, Fairfield Porter and Thomas Moran, as well as an exuberant show of student work inspired by the artistic legacy of the East End of Long Island."
Parish Art Museum, 25 Job's Lane, Southampton, NY 11968, (631) 283-2118, parrishart.org
Art on Long Island is pulsing with life. As the days get shorter and colder, take advantage of the myriad galleries and museums dotted throughout the island's charming villages. Give yourself the gift of art this season.