Art Review: Ai Weiwei – Art, politics, political art, artistic politics, and every other combination
By Robert W, Bethune
ART TIMES online August 2013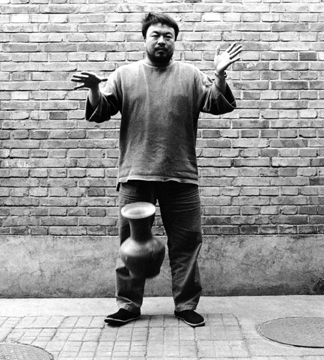 Ai Weiwei Dropping a Han Dynasty Urn
A 20-year retrospective exhibition of Ai Weiwei's installations, sculpture, and photography is on tour. It started at the Hirschorn Museum and Sculpture Garden; it just closed at the Indianapolis Museum of Art; it proceeds to the Art Gallery of Ontario (Aug 17-Oct 27), the Miami Art Museum (Dec 4-Mar 16, 2014) and the Brooklyn Museum Apr 18-Aug 10. 2014).

My opportunity to see it, think about it, and write about it came about completely by chance. I don't usually write about art and I'm not usually in any of cities where the exhibit has been or will be, but there I was in Indianapolis on the closing day of the exhibit, so I went.

The main reason I went was, as Kipling put it, 'satiable curiosity'. One hears a great deal about Ai Weiwei, and the persistent rhythm of the talking drums is all about politics: how the Chinese government reacts to him, his activities and his work with measures ranging from disapproval to censorship to repression. What, then, of the art? Of what does his art speak?

The exhibit, in its Indianapolis incarnation, includes a dozen or so of his 3-D works, such as "He Xie", an ominous cluster of ceramic crabs. "Moon Chest" is a colonnade of finely made eight-foot wooden boxes with piercings that line up to show the phases of the moon and the faces of those peering in from the other direction. "Straight" is a massive carpet of lengths of rusty iron rebar from the ruins of the Sichuan earthquake, arranged to create something like a fault zone. "Kippe" is a large block made from pieces of wood salvaged from dismantled temples. The exhibit also includes a hundred or so of his photographs from various parts of his life in China and the United States. There is an enormous wall of the names of children who died in the Sichuan earthquake—names which have been discovered by an investigative team Ai Weiwei founded when the government would not reveal them. There is a larger-than-life triptych of his famous set of photographs, "Dropping a Han Dynasty Urn", in which the artist is shown doing exactly that: holding the urn, dropping it, and standing among the shattered pieces. Among the other pieces, there is his collection of brightly painted antique pots, an antique pot with the Coca-Cola label imprinted on it, and a beautifully rendered marble sculpture of a construction worker's hard hat.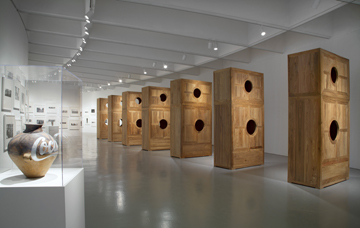 Ai Weiwei installation
One can see the theme: a combination of craftsmanship, theatricality, and provocation. The materials, of whatever sort, are handled with a high degree of precision and finish. The installations interact with people and space; one is invited to walk around them, peer through them, enjoy the shifting of color, form and perspective as one actively explores them. The esthetic is sternly modern, usually minimalist. His photography, in particular, is anti-sensual; one looks in vain among these coldly documentary images for any element of visual pleasure. His photographs of the ruins of the Sichuan school buildings take a forensic, documentary approach that evokes emotion solely through choice of subject. Some of his photographs take the form of visual puns; if you know Chinese, apparently there is homonymy between the names of various body parts and such phrases as "Party Center" creating the sort of pointed humor that Communist Party officials forcefully fail to appreciate. Others convey a more universal message; his hand, projected against various official buildings, flipping the bird, is probably understandable worldwide.

Thus stands the provocation. It is laid between the lines. If you know what you need to know, you see the provocative message. It's rather like the old rock albums where you needed to read the liner notes to understand the songs. It's not like Picasso's "Guernica" or Max Ernst's "Europe After The Rain," which are done with vivid imagery likely to be understood by anyone, regardless of prior or parallel knowledge; Picasso's screaming horse needs no liner notes. Ai Weiwei's work shows the approach of an artist who lives in the power of the regime the art provokes. Of course, the flip side of that is that you have to have the background knowledge: you have to know Chinese, you have to know about the earthquake, or the message is lost on you.

You cannot have provocation without a provocateur, and you cannot be a provocateur without placing yourself front and center. Ai Weiwei does so. The A side of that is about taking responsibility; the B side is self-promotion. There is no self-portrait of Picasso in "Guernica," or of Ernst in "Europe After the Rain." "Dropping a Han Dynasty Urn" is, quite fundamentally, three self-portraits of Ai Weiwei. The viewer is not allowed to ignore whose hand it is that flips the bird. The forceful presence of a specific, identifiable person who takes responsibility is certainly a direct contrast to the typical faceless, impersonal, collective nature of an authoritarian regime. But without the forceful presence of that one person, would there be a focus for the media? Would there be a strong marketable presence at an international level? Would there be a touring exhibition? Recto and verso are not separable. For good or ill, that interface is precisely where Ai Weiwei locates himself.