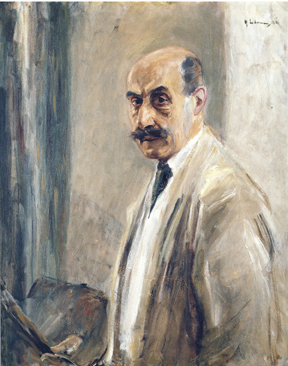 Max Liebermann (Germany, 1847–1935), Self-Portrait with Brush and
Palette, 1913, oil on canvas. Gemäldegalerie, Stiftung museum kunst
palast, Düsseldorf. © 2006 Artists Rights Society (ARS),
New York/VG Bild-Kunst, Bonn.
Max Liebermann
at The Jewish Museum
Photos courtesy of the Jewish Museum
By RAYMOND J. STEINER
ART TIMES April 2006
SOME FORTY-SIX works of the Berlin painter Max Liebermann — largely oils on canvas, but a few on wood or cardboard, and ranging from 1873 to 1934 (the year before his death) which pretty much covers his development from academic realism to what some have called "German Impressionism" — are presently on view at The Jewish Museum in New York City.* Gleaned from a total of sixty-two of the artist's paintings recently exhibited at the Skirball Cultural Center in Los Angeles (the organizers of the exhibit), "Max Liebermann: From Realism to Impressionism" is the first such comprehensive showing of the painter's oeuvre to be seen by American viewers to date.
As representative of his 'progress' (one might question if indeed the evolution ought to be characterized as progress in that word's specialized sense of 'betterment') from his early influences of such masters as the Hungarian painter Mihály Muncákcsy and the Dutch genre painters to that of coming under the sway of the French Impressionists and the newly-styled "secession" painters, the organizers of the show have gone a long way toward bringing to life a major German painter who has for the most part remained an unknown element in this country. Whatever the final assessment of the course of Liebermann's art, there can be little doubt that the path of his career was one of extraordinary accomplishment.
For a Jew whose life and artistic career coincided with a country that was determinedly attempting to establish its "pure" Teutonic roots, Liebermann had come astonishingly far in establishing himself as not only a leading painter, but also as a major force on the cultural life of Berlin, the very center of a burgeoning German consciousness. Born into a Weimar (i.e. a "democratic") dominated society, Max Liebermann found his beloved city slowly but inexorably transforming into one dominated by the rising Nazi Party. That he was well respected enough to have been elected as president of the Berlin Secession as well as president of the Prussian Academy says as much of Liebermann the man as it does of Liebermann the artist. Surely he was a presence to be reckoned with in a city filled with a cultural elite that had its heart set on becoming residents of the premier city in the new German nation. That it was fierce nationalism that finally brought him down — branded as an "alien" whose work was deemed "decadent" — speaks loudly and clearly that here was indeed an artist who was at the wrong place at the wrong time. Liebermann died a broken and demoralized man at the age of eighty-seven, just two years after Adolf Hitler became Chancellor; his wife, Martha, took her own life in 1943, on the eve of her forced deportation to Theresienstadt
.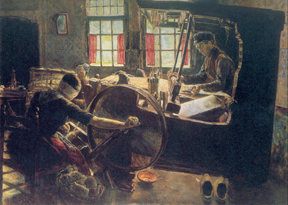 Max Liebermann (Germany, 1847–1935), The Weaver, 1882, oil on canvas. Städelsches Kunstinstitut, Frankfurt am Main. © 2006 Artists Rights Society (ARS), New York/VG Bild-Kunst, Bonn.
However much Liebermann's personal force and charisma led to his rise as one of Berlin's cultural leaders, one can readily see how his art contributed to that reputation. Paintings such as "Women Plucking Geese" painted in 1872 (unfortunately, not included in the New York City venue), "Women Cleaning Vegetables" (1879), "Workers in a Turnip Field" (also not in this exhibit), or his much vilified and re-worked "The Twelve-Year-Old Jesus in the Temple with the Scholars" (1879), reveal a painter at the height of his powers, clearly in control of the tools of his trade. Most of his early work, in fact, is masterfully executed in the traditional, realist method. Even when he begins his exploratory forays into impressionism (see, e.g., his "Study for Parrotman", 1900) we find an artist still intent on informing his viewers insofar as the impact of both form and color in art can make us "re-see" nature. After such bold, realistic statements, it is perhaps not too difficult to understand why such paintings as both sketchy 1905 versions of "Jewish Quarter in Amsterdam" caused such consternation and confusion to many of his contemporaries. Where might they detect the skill in such "slipshod" handling of paint? After all, one still had to be able to "read" what a painting conveyed, didn't one? How could an artist of such obvious talent turn his back on the principles of academic draftsmanship and careful composition?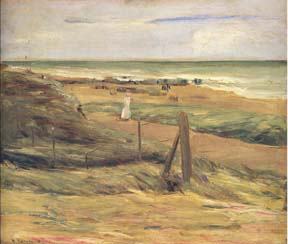 Max Liebermann (Germany, 1847–1935), Promenade on the Dunes in Noordwijk, 1908, oil on wood. Kunsthalle Bremen. © 2006 Artists Rights Society (ARS), New York/VG Bild-Kunst, Bonn.
After all, this was a man who until recently was being sought out by Berlin's upper elite — including President Paul von Hindenburg — to have their portrait painted by his hand. So far had he fallen out of favor in his later years, however, that it was only one of his upper-class sitters, Dr. Ferdinand Sauerbruch (along with the artist Käthe Kollwitz), that represented the non-Jewish members of Berlin's society attending Liebermann's funeral in 1935. Whatever he was trying to accomplish artistically, his moving from realism was to many an almost deliberate throwing down of a gauntlet in the face of a society increasingly growing in rigid conservatism. To the uncultured Nazi thug, it was already enough that he was a Jew, an Ausländer; must he also join the abominable ranks of what appeared to many as an untalented gang of would-be artists?
One cannot second-guess an artist's intentions by either studying his life or his work — and even when taken in combination, there are simply too many variables that go into an individual's aesthetic development to come away with any definite conclusions as to why this or that tack had been taken. Indeed, it is the rare artist capable of clearly stating or understanding why particular paths are chosen during an aesthetic journey. That Liebermann chose to move from the clarity of his early vision to one of suggestive ambiguity may have been the result of less aesthetic than of psychological impulses. It is true that he eventually pulled back from allowing his art to completely disintegrate into pure abstraction, that he ultimately rejected the expressionist movement, but the damage to his own aesthetic vision had already been done.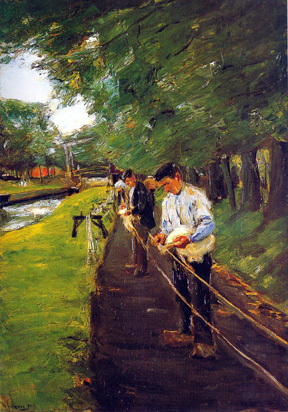 Max Liebermann (Germany, 1847–1935), Ropewalk in Edam, 1904, oil on canvas. Metropolitan Museum of Art, New York. © 2006 Artists Rights Society (ARS),
New York/VG Bild-Kunst, Bonn.
Assuming that — as many artists do — he was attempting to communicate through his art, what has he communicated to us? To this viewer, at any rate, Liebermann conveys less of a firmer grasp of his art than he does of a growing concern with a society that, as his move from clear representation to indistinct abstraction may indicate, is slowly dissolving before his eyes. As noted above, one might not view Liebermann's development as a move toward something "better", but surely one can "read" his art as a commentary on his social milieu. In this sense, as Liebermann's world collapses around him, so also does his art collapse into disjointed blotches of color that confuse the eye as much as it informs it. In the end, as his sphere of influence was circumscribed and his world narrowed, he turned in on himself, confining himself to making paintings of his beloved house and gardens in Wannsee. Sadly, the body of "impressionistic" work that he produced in these last years is far removed from that which had once revealed the power of both his vision and of his brush.
And, again, assuming that he was trying to communicate through his art, what better way than "breaking down" the rules of his academic training to reflect the breaking down of rules in what he once considered a sane and livable society? That he had to use his art as a weapon — the only weapon he was allowed as a Jew — instead of as an instrument of beauty and delight, is to my way of thinking more than a tremendous loss, for it not only reveals Liebermann's personal anguish but, because of his undeniable status as a proven artist of renown, sets the stage and clears the path for the many excesses which followed in his wake.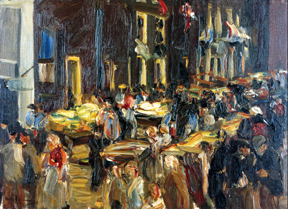 Max Liebermann (Germany, 1847–1935), Jewish Quarter in Amsterdam,
1905, oil on canvas. Kaiser Wilhelm Museum, Krefeld.

Who can deny that a good deal of today's art bludgeons the viewer much more often than it serves to soothe and elevate? Who cannot be repulsed by art that glorifies ugliness for its own sake? Granted that early masters — Goya, Daumier, Delacroix jump to mind — used their art to enlighten, but today the art itself, when used as a blunt instrument, merely shocks, enrages, disturbs, unsettles, enflames to such an extent that we come away not better informed but merely more angry. Max Liebermann's life and art can offer no more graphic illustration of one terrible instance of why this has occurred.
*"Max Liebermann: From Realism to Impressionism" (thru Jul 30): The Jewish Museum, 1109 Fifth Ave., NYC (212) 423-3200. (An illustrated catalogue with the full complement of works from both venues is available. University of Washington Press/Skirball Cultural Center: 232 pp.; 9 x 12; B/W & Color Illus.; Chronology; Selected Bibliography; Index. $29.95 Softcover.)