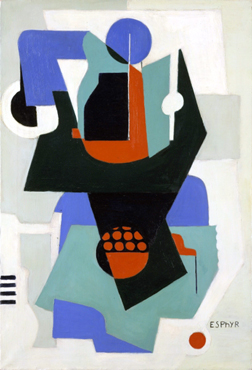 The Pot-Bellied Stove, ca. 1936-37 Oil on canvas,
35" x 24" The Metropolitan Museum of Art,
Purchase, Clarence Y. Palitz Jr. Gift, 1985 (1985.30.2)
Musings on Art Around Long Island: Serendipity, Synchronicity, and Slobodkina
Photos courtesy of the Slobodkina Foundation
By Ginger Lee Hendler
ART TIMES April 2009
My journey of art discovery on Long Island lured me to the small, yet memorable Hecksher Museum in Huntington, an enclave of cultural arts in Suffolk County. I had been there many times before, but what brought me to the Heckscher this time was the rather bold undertaking of two exhibits featuring major contemporary artists. "Rediscovering Slobodkina: A Pioneer of American Abstraction," * is basically a retrospective and peek at the work of this pioneer in abstract art and showed her transition from the 1930s to the 1990s. "Robert Rauschenberg and His Contemporaries: Recent Prints from Universal Limited Art Editions" ** included a wide breadth of prints covering a selection of mezzotints, etchings, lithographs, and aquatints done by a diverse group of artists, both well known and emerging.
Next year the Hecksher will celebrate its 90th birthday, founded before MOMA. The museum has recently undergone an extensive transformation moving it into the 21st century. Gone are the light brown cloth-covered walls, introducing newly-painted white walls, high ceilings, and a flow of natural light shining through the front doors. I have always enjoyed my visits to the museum, but the renovation has introduced new energy into this charming space, merging the earlier genteel era with contemporary design.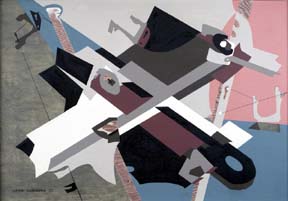 Levitator, 1950 Oil on gessoed plywood, 25" x 35". Collection of the Slobodkina Foundation
Perhaps it was synchronicity that drew me to Slobodkina's work. Up until 2008 I had never heard of this amazing woman. Now, suddenly, her name kept popping up and the phrase "six degrees of separation" loomed large. I felt some strange connection. Last fall I had gone to review her exhibit at the Hillwood Museum on the CW Post campus in Old Brookville, NY. At that time she was paired with Ilya Bolotowsky, to whom she was married for three years after they had both emigrated from Russia in the late 1920s. I knew Bolotowsky because he was at S.U.N.Y New Paltz when I was there as a student in the mid sixties. Slobodkina viewed him as her mentor and they both played important roles in the burgeoning abstract art movement in the United States. Along with Harry Holtzman, they helped organize the American Abstract Artists group, dedicated to promoting and defending abstract art while providing exhibition opportunities for its members.
The placement of their work in that exhibit curated by Sandra Kraskin was significant in showing how their work mirrored each other, flowing outward from impressionistic to abstract, almost concentrically. Esphyr's work was filled with protruding intersecting triangular shapes and sharp spear-like angles. Some shapes were evocative of sails and banners with an occasional sword penetrating through cheese-like holes. Her colors were softer, with the use of brown and olive. The inclusion of pinks and light purples in her palette contrasted with Bolotowsky's sharply bold primary colors. "Flowers in the Sink," one of her earlier oils, done in 1934, "Circuit in Pink", and "Monochrome in Pink" are all examples of the more romantic influence. In later works she began integrating foils, sequins, and paper, experimenting with mixed media. Her work was exciting and avant-garde. It is said that she thought of herself as the better painter. This exhibit was a fascinating example of how the roots and foundation of two artists converged and diverged then continued to metamorphose into unique entities of the early 20th Century art world.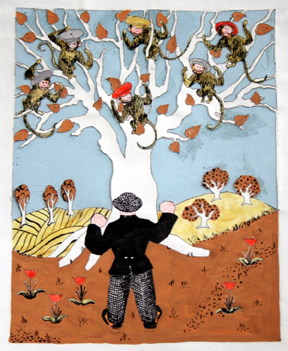 Original illustration from Caps for Sale, ca. 1940
Paint and paper collage, 7 x 5 ½ in.
Collection of the Slobodkina Foundation
About a month ago, Stan Brodsky, my painting teacher at the Art League of Long Island, brought an image of the "Pot Bellied Stove" painted by Slobodkina into class. It was exhibited in 1937 at the first American Abstract Artists Exhibition. He told us that the artist was being shown at the Heckscher Museum along with Rauschenberg and others. I was excited at the prospect of seeing her work again.
"Rediscovering Slobodkina" establishes her prominence as an artist and children's book author/illustrator. This exhibit, in honor of Esphyr Slobodkina's 100th birthday celebration, was the largest exhibit to date and a posthumous tribute to a vibrant woman whose achievements stretched way beyond her dedication to her work as an abstract artist. Up until recently she has remained relatively unknown and yet the Whitney Museum obtained a painting of hers nearly 60 years ago. According to Anne Cohen De Pietro, the former curator of the Hecksher Museum and current co-director of the Slobodkina Foundation ***, "Esphyr described herself as a late bloomer, someone who was so actively engaged in the business of making a living that for many years she never really had time to actively promote her work."
Esphyr Slobodkina was strong-willed and fiercely committed to the pursuit of her creativity, which ranged from designing buildings, murals, decorative arts, textiles, and couture clothing. She was a forerunner of what was known as the movement of hard-edge painting during the 1960s and 1970s, and she rejected Abstract Expressionism in the 1950s, referring to it as the "drip, splash, and smudge school". She protested that her approach to painting was not spontaneous, but rather methodical and mathematical. She would generally sketch out preparatory drawings, sometimes tracing photographs or diagrams of machinery. She would then overlay them with other drawings turning them in different directions. It was a labor-intensive process of grids and architectural details, which was a total contradiction of the principle foundations of Abstract Expressionism. Yet as planned and as carefully engineered as her work was, there was never a lack of passion and dynamism.
According to Ann Marie Sayer, Executive Director of the Slobodkina Foundation, Esphyr was one of a very small group of women artists at the time when she was pioneering abstract art. Still she is mostly known for being the author/illustrator of the captivating and charming children's classic, Caps For Sale. I have memories of reading it as a child and in turn reading it to my own children and grandchildren. It was her use of collage as an art form, which paved the way for the many picture book illustrators such as Eric Carle, Ezra Jack Keats, and Leo Lionni. Published in the fall of 1940, Caps for Sale was a critical success and won high praise from the New York Times Book Review.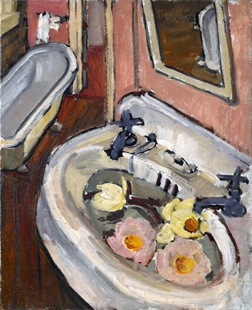 Flowers in the Sink, 1934 Oil/canvas, 20" x 16 1/8 "
Collection of the Slobodkina Foundation
Her work shows a mastery of placement with attention to intricate overlapping and layering. She was influenced by Piet Mondrian and Joan Miro, but the earlier more figurative work had the touch of the post-impressionists. "Flowers in the Sink", which I mentioned above, has a sweet poignancy in the spirit of van Gogh and Matisse. Whimsical sculptures and assemblages are evocative of the work of famed Dada artist, Kurt Schwitters. He was the artist who pioneered the use of "everyday junk" as ingredients for collages. Karen Cantor writes in her essay, Typewriter Keys, Shuttlecocks, and Everyday Junk: Esphyr Slobodkina's Assemblage Art, "In elevating daily detritus to the realm of fine art, Schwitters and Slobodkina call attention to the throwaway nature of consumer culture." Not only were they pioneers in the art world, but they were progressive thinkers in the art of going green.
Slobodkina resided in Glen Head, Long Island, which is where I have lived for the past 22 years. Her sister, Tamara Schildkraut, still lives there at the age of 103. When I entered the Slobodkina house I was overwhelmed. Her essence still lived on here. I was able to glimpse yet another side of this Renaissance woman. I was led through the rooms where she lived and worked, shown the dresses and accessories she designed and wore and saw the furniture, which she loved to adorn with trim. Assemblages were dispersed throughout and one of my favorites, "The Broken Promise of Marital Bliss," sat prominently on a table. It had several gracefully curved antler-like protrusions emanating outward with several fractured pieces of white porcelain cups hanging tenuously from them. The contrasting materials of the ceramic and the wood made an excellent metaphor for the title.
I spoke briefly with her sister whose eyes sparkled when she said to me, "I don't know how my sister found time to do everything she did." Indeed, she awoke every day and began working, "going from painting to demolishing broken computers, to typing, to dressmaking, driven by an innate need to create."
The Slobodkina Foundation is a testimony to the life of a dynamic woman and artist. It is part of her legacy to the community and the art world. It is open for guided tours for children and seniors. Visitors have the opportunity to view 29 paintings, 7 sculptural works, and two original Caps for Sale collage illustrations. There is also an interactive musical performance of Caps for Sale and its sequel, Circus Caps for Sale. Senior guests learn from Slobodkina's fascinating life, including her escape from the Russian Revolution and her subsequent journey, which inspires them to live full lives unfettered by the stigma of age. When Slobodkina died, at the age of 94, she was still creating and working every day. There is no age cut off for being inspired.
As with her family residences, everything she touched became "Esphyrized." I have been "Esphyrized." In honor of Esphyr's 100th birthday year, the public is invited to the Slobodkina House and Museum between the hours of 11am and 4pm on Sunday, May 31. There will be guided art tours, a performance of Caps for Sale for children, and food.
*"Rediscovering Slobodkina: A Pioneer of American Abstraction," (thru March 22, 2009). Exhibition Dates: Samuel P. Harn Museum of Art, Gainesville, Florida (Jun 16-Sep 6) Naples Museum of Art, Naples, Florida (Oct 1-Dec 29) Sheldon Museum of Art, Lincoln, Nebraska (Jan 26-Apr 18, 2010)
**"Robert Rauschenberg and His Contemporaries: Recent prints from Universal Limited Art Editions" (Jan10-Apr 5) The Heckscher Museum of Art, 2 Prime Avenue, Huntington, NY 11743 (631) 351-3250 heckshermusum.org (Thru Apr 5)
***Slobodkina Foundation, 32 William Street Glen Head, NY 11545 (516) 674-0776 slobodkina.org
A Look Ahead:
"Winslow Homer:Illustrating America", (thru May 25, 2009).
Works depicting scenes that span more than two decades of American life (1857-1878) are seen in Winslow Homer: Illustrating America, an exhibition opening on January 18 at Nassau County Museum of Art (NCMA). Featuring more than 100 prints from illustrated weeklies and journals, this exhibition was organized by Marilyn Kushner of the Brooklyn Museum with support from National Endowment for the Arts as part of American Masterpieces: Three Centuries of Artistic Genius. The Nassau County Museum of Art, One Museum Drive, Roslyn Harbor, NY 11576 (516) 484-9337 nassaumuseum.com) (On view through Sunday, May 25, 2009.)
"A Shared Aesthetic: Artist's of Long Island's North Fork", (thru July 12, 2009).
This exhibition explores the history of the many painters, printmakers, and sculptors who have lived, worked and exhibited on the North Fork. It documents over 300 years of the rich artistic and cultural history of the area through the many artworks left behind by these important American artists. The Long Island Museum, 1200 Route 25A, Stony Brook, NY 11790, (631) 751-0066 longislandmuseum.org (thru-July 12 ,2009)
As you continue to explore art venues on Long Island, please keep in mind that most college campuses have wonderful galleries with permanent collections as well as innovative current exhibits. The Firehouse Plaza Gallery on the campus of Nassau Community College is one of these. It is open to the public and free of charge. Included in the five exhibitions presented each year are one person and/or group exhibitions, an annual Art Faculty Exhibit, a juried Art Student Exhibit and often a juried Open Competition Exhibit. It is located at One Education Drive, Garden City, NY 11530 Tel. 516-572-0619.