Eric Aho at the Tremaine Gallery at the Hotchkiss School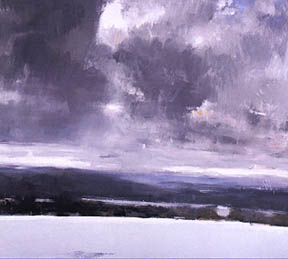 Large Ramsay Sky, 2002
By RAYMOND J. STEINER
May, 2003
ONLY TWENTY-TWO oils, all on linen but one – "Valley Dropping into Shadow" – on canvas, comprise this show*, but the fact that the majority are large-scale works make it seem large indeed. At least five are 60-inches wide with the rest varying in range down to a handful that are in a "mere" 12-inch x 12-inch format. Since all offer renditions of huge skies and limitless horizons, the effect of the show's "largeness" is thereby enhanced, curiously transforming the modest-sized galleries into vast vistas of space and distance. All this, mind you, before you even take the time to register what images have been presented to the eye. Step in close and one begins to see what magic this clever illusionist has served up to us. A skillful handling of the brush and a sensitive eye for color are the first tools in Aho's bag of tricks. He slathers on paint as only a lover of the medium can, leaving a heavily impastoed surface that invites the eye to delight in technique rather than in subject – and this, also I might add, is part of his facility with his medium, for he leads the eye beyond the obvious detail that so entraps many a landscape painter. Aho suggests rather than "tells," he seduces rather than overwhelms with fussy minutia – in short, he well earns the title of "painter." Returning to "subject," Aho's main motifs are sky and rural topography – with sky the dominating element in most of the paintings in this exhibit (Aho is fairly consistent in the use of a ternate, horizontal format with the sky taking up two-thirds of the canvas with one rather exceptional departure in his "The Constable" that neatly divides the canvas into two equal parts, a painting, incidentally, that might well be the crowning glory in an altogether extraordinary show). As his title denotes, he views the sky as an "overhead lake" and makes this conceit almost tangibly evident through his generous use of textured brushstroke.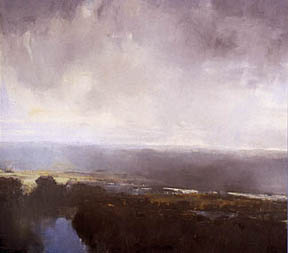 The River at Putney, 2001
An Aho sky is rarely a clear, azure expanse. Though a patch of cerulean might peek through here and there, most of his skies are heavily laden with dense and darkened multi-hued clouds, some with obvious downward slashes of rain falling to the earth, presumably emptying the heavenly moisture-laden "lake" that hovers over the landscape. If not bright and clear, Aho's skies are not ominous – though the palpable gloom of his "Black Ireland" evokes many of her dirge-heavy scops of yore – but pregnantly massive with the promise of life-giving nourishment for the waiting earth below. Edges of clouds are never clearly defined, but blend one into the other, the whole an indeterminate mass of atmosphere that almost (but not quite) becomes as corporeal as the equally indeterminate landscape below. Fields, trees, streams, wooded copses, and buildings are never clearly delineated, never made obvious to the eye. Blurred edges of objects seem to be as if viewed through the windows of a swiftly-moving train, the distant horizon lost in a melange of lowering cloud and rising hill – and still it is all there, all so patently an agrarian scene under a cloud-filled expanse of sky. This is good painting and a tribute to the beauties of nature without any fanfare of politically-correct environmentalism to justify it. This is work to be enjoyed in and of and for itself – and I heartily recommend your seeking out this fine artist the next time he shows.
*Eric Aho: The Overhead Lake" (Mar 27–Apr 30): Tremaine Gallery at The Hotchkiss School, 11 Interlaken Road, Lakeville, CT. (860) 435-2591. (Aho's work is scheduled to appear this year at Reeves Contemporary, 521 West 16th St, 6th Fl., NYC (212) 714-0044 and is always in inventory at Spheris Gallery, Main St., Walpole, NH (603) 756-9617).