Keith Gunderson and John Varriano

at Mark Gruber Gallery
By RAYMOND J. STEINER
ART TIMES April, 2005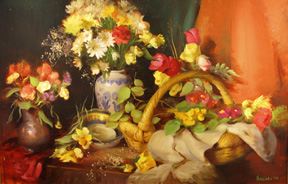 "Floral Banquet" 25"x38" (Oil) by John Varriano
FIFTY OR so paintings make up this exhibit*, the number more or less evenly distributed between the painters Keith Gunderson and John Varriano. As the title of the show indicates, both painters exemplify "classic realism," and both offer a fair sampling of still lifes and landscapes in the representational mode — a style of painting that both learned from their Art Students League teacher, Frank Mason, a long-time champion of the classical realist manner. Mason would surely be proud of the results of his teaching since both Gunderson and Varriano — if this exhibit is any indication — seem to have mastered their craft — and, more importantly, have done so as filtered through their own individual aesthetic vision. If both have imbibed the essentials of their master's teachings, they have yet come a long way in asserting their own artistic statements.
I had occasion to critique an exhibit of Gunderson's work some 15 years ago (at the Garrison Art Center, in October of 1990), which, like now, showcased his representational style, but, in addition to landscape and still life, had a strong showing of figurative art. At the time, I saw his paintings of the figure to be his forte, with both his still lifes and landscapes suffering somewhat in comparison. The figure only occurs incidentally in the present show (serving largely as a foil for landscape — the "true" subject even in a painting such as his 9"x14" The Artist at Locust Grove) and primarily included — it appears — to give an indication of scale. Interestingly, in his 1990 show, I opined that he was "on less than sure ground", even "tentative", in his still lifes and landscapes — again when considered in comparison with his strong figurative work. I concluded my critique back then with an observation that I would like to see him "stretch his technical range" — something he has more than successfully accomplished in the interim, especially insofar as his landscapes are concerned. From the somewhat "sketchy" 12"x14" Wallkill Valley (where one can see the undercoating peeking through) to his Winter on the Ridge, 18"x26", Autumn Sycamores, 12"x16" and Everglades Moonrise, 21"x25", Gunderson has indeed come a long way. There is a surety evident in his brushstroke, his composition, in his sweep of motif that was not (or at least I did not perceive) in his earlier work. Just how subtle his touch has become can be readily seen, for example, in the juxtaposition of his Everglades Moonrise with his Mohonk from High Pasture, 20"x32", the two paintings so close in palette (and size) yet so far apart in "feel" — the former fairly exuding a tropical "heat," the latter, subtly suggesting the definite "cool" atmosphere of mountain outcropping.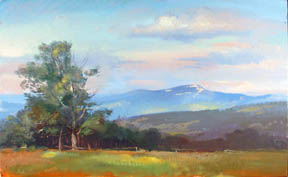 "Mohonk from High Pasture" 20" x 32"
(Oil on Linen) by Keith Gunderson

This was my first viewing of John Varriano's paintings and, whereas my earlier feeling was that painting the figure was Gunderson's strength, I come away from this exhibit with an equally compelling sense that for Varriano, it is the still life that shows him at his best. Not only in his lushly-rich rendition of flowers (especially roses; cf. Still Life with Roses, 16"x20" and Bouquet of Roses, 24"x30"), but in his placement and handling of objects in, for example Venetian Memory, 20"x24", Still Life with Terra Cotta Pot, 35"x40" or the exquisite little Sewing Box, 8"x10", Varriano fairly glows with sensitive awareness of his subjects. He has the ability to endow his painting of objects with an almost tangible realism, his facile handling of texture (I love the way pigment seems to flow from his loaded brush) and judicious touches of highlight (see, especially, its use on pewter or ceramic vase) neither under- nor overstated in its dramatic effect. As powerful as
his still lifes are, he is no mean talent when it comes to landscape. Though I found his "Italian" views — Castel Saint Angelo, 10"x16", Tuscan View, 10"x16", Roman Forum, 10"x16", View from San Marco, Venice, 10"x16", for example, somewhat contrived (perhaps because, through no fault of Varriano, such scenes have been so hackneyed over the years by European street artists and postcard manufacturers) — his Brough's Farm, 10"x16" is a triumph in its insights into the play of light in nature. Finally, I found his Artist's Muse (Studio 7), 16"x20" intriguing, not merely because this commanding study not only offers but a hint at his handling of the figure, but also because it is most certainly a touching homage to his days at the League with Frank Mason in "Studio 7".
Both painters — their works obviously hung under the guidance of an experienced eye — play well off each other, the works, though intermixed, complementary rather than standing in competition. Each holds his space well, each presenting the viewer with confident brush-handling and powerful images. Both have attained a maturity of technique and style that is evidently the fruit of years of serious study and practice and, insofar as this exhibit gives testimony, bodes well for the oft-neglected craft of fine art. Kudos to Frank Mason for keeping the tradition of the painter's craft alive and to Mark Gruber for his choosing to showcase these fine representatives of "Classic Realism."
*"Classic Realism: New Paintings by Keith Gunderson and John Varriano", (thru Apr 20): Mark Gruber Gallery, New Paltz Plaza, New Paltz, NY (845) 255-1241. Coincidentally, Keith Gunderson's work (along with that of Maya Farber, Marianne Heigemeir and Karen O'Neil) is also on view at Windham Fine Arts, 5380 Main St., Windham, NY (518) 734-6850 (thru Apr 10).