Critique:
Marlene Wiedenbaum
at The Bruynswick Art Studio & Gallery
By Raymond J. Steiner
ART TIMES Nov/ Dec 2010

AMONG THE MANY pleasures I have in writing critiques, reviews and profiles of artists, is the excitement of following the work of a particular artist that catches my eye, watching as he or she grows in facility, extends beyond technique, and (though not all achieve it) finally breaking through to genuine insight into both medium and motif. I've found this especially true with landscape painters — Marlene Wiedenbaum being one of them — who get past painting trees, hills, fields, clouds and mountain streams and ultimately penetrating Nature's real beauty — namely her magic, her enigmas, her constant tricks of illusion and revelations that have enchanted and frustrated mankind since we first became 'sapient'. There were, comparatively speaking, only a handful of works in this show* — some fifteen landscape pastels — but far and away more than enough to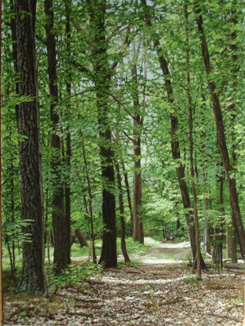 assess Wiedenbaum's considerable achievements. Although all of them reveal her uncanny sensibility and expertise in "seeing beneath the surface" — her ability to see beyond the play of light on shifting form — two of them came to the fore for me: "Downriver from Potown", a large painting that features some of the most beautiful handling of clouds that I have seen for some time, and a smaller work, "Hudson River Sunset 3", a moody rendition that quickly became my favorite in the show. Although daunting in their attention to detail and especially effective in depicting the play of light filtering through trees onto a wooded path, "Mohonk Preserve Path — I & II" tend to drown the viewer in minutia — with which, of course, Nature is overabundant but which also, in the end, prevent us from seeing the whole "illusion" unfold before our eyes. One of Nature's "tricks" is to distract us from seeing the grand design — any lunk-head, for example, can see the beauty of a blown rose; it takes a refined sensibility to see its splendor at every stage of its existence, from seed to crumbling dust — and this is something that Wiedenbaum
can
do. Her paintings of misty aerial perspective — and there are several spectacular views in which "suggestion" outweighs "declaration" — render them far more enchantingly effective than those that dazzle the eye with mere technique. Such virtuosic
tours de force
might make us gasp with admiration over the verisimilitude of this rock or that leaf — but, well, we risk leaving with only rocks and leaves. For this viewer, it is far better to leave with the magical sense of awe with which "Hudson River Sunset 3" sates myhungry soul.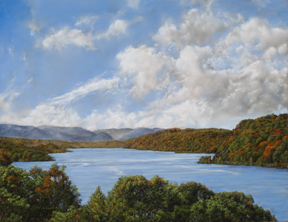 Downriver from Potown

Marlene Wiedenbaum has the ability to feed both the eye and the spirit — it is for individual viewers to satisfy their own tastes and to make their own "favorite" choices. Kudos to Pattie Eakin for mounting this exhibit in her charming gallery tucked away in Gardiner's rural countryside — a perfect venue for Wiedenbaum's landscapes.

*"Over the River & Through the Woods: Pastel Paintings by Marlene Wiedenbaum, PSA" (thru Nov 14): The Bruynswick Art Studio & Gallery, 1058 Bruynswick Rd., Gardiner, NY (845) 255-693. For more info on Wiedenbaum's work visit her website at wiedenbaum.com