Mary (M.E.) Whitehill at Duck Pond Gallery
By Raymond J. Steiner
ART TIMES online May/ June 2010
IT SEEMS AS if Mary Whitehill has been on and off my radar for as long as I've been writing for ART TIMES — I know she's been out there long before we came on the scene. More often than not, I've come across her work in group shows, her startlingly realistic florals always catching my eye, always making me pause in my overviews. This show — presently mounted at the Duck Pond Gallery in Port Ewen, NY* — has been my first opportunity to see a solo show, the first time I could view a considerable body of her work all in one place — and I was not disappointed. Now in her "young" nineties, she's still going strong, still turning out her watercolors, still dazzling us with her color-filled renditions of floral motifs. Though just short of the precision practiced by the true botanical artist, Whitehill yet seems to capture — if not always the scientifically correct detail — an astonishing sense of the essence of her subjects.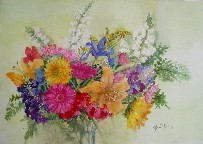 A mixed bouquet of vased flowers, a close-up of a particular bloom, a corner of some well-kept garden — all "feel" right, all affording the viewer a sense of having been with her while she rendered stem, leaf or petal. I do not know if Mary Whitehill is a gardener, but I would hazard the guess that she is; I do know that she has a sensitivity to the colors and forms of plants and flowers that reveals more than a casual glance. It can often be the case that a large body of similar work can cloy, can eventually blunt the vision to seeing variation, nuance, detail. For the lover of flowers, though, Whitehill offers enough not only to delight the eye, she also informs it, urges it towards appreciation, towards returning for another look, for savoring a color or a shape just a bit longer. For the connoisseur of the art of painting watercolors — well, you'll just have to go see for yourself. This is a taste of Spring that you don't want to miss.
*"Mary (M.E.) Whitehill: Watercolors" (thru May 29). Duck Pond Gallery, 128 Canal St., Port Ewen, NY (845) 338-5580.