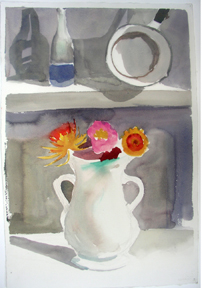 Shelves
Sylvia R Weinberg
at Reservoir Inn
By RAYMOND J. STEINER
ART TIMES May 2008
ABOUT FORTY-FIVE watercolors make up this show*, as beautiful an introduction to Spring as you might wish. Sylvia Ruth Weinberg, an avid gardener as well as accomplished watercolorist, serves up a pot-pourri of floral images that surely come from years of sharing her life with nature. A sensitive eye, a sure hand, and a delicacy of touch make each of her paintings of flowers less of an aesthetic statement than a gentle sharing of beauty. Yet, there is more, for although splashes of colored blooms seem to dominate (if only because they so evocatively seduce the eye), they are not alone, but accompanied by bowls, cups, pitchers, baskets, and the like, all, since man-made and mostly symmetrical and "hard-lined", setting off the natural free-flowing forms of petal and leaf. Color and form — and exquisite harmony of both — of course inform her work…you'll find nothing of the potboiler here. If flowers and plants appear "natural", skillful composition is evident — these are, after all,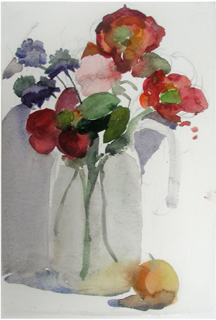 Bouquet in Glass Pitcher
still lifes and, as such, follow the age-old convention of arrangement, placement, and studied juxtaposition of shapes and hues — in itself an artform that, unfortunately, many a budding watercolorist either forgets or, more likely, has never learned. Hints of past masters of the still life crop up from time to time in Weinberg's work — "Country Kitchen", "Shelves", "Still Life with Teapot", for example — evoke memories of Chardin. Where Chardin, however, seemed perpetually meticulously precise and "formal" in his renditions, Weinberg more often gives way to a playful spirit of spontaneity — an insertion of her "self" into the subjects before her eyes. Where Chardin unmistakably states, Weinberg suggests — almost cajoles — the eye to see not only what she sees, but also to experience what she feels. "Shelves", for instance, in its quiet essentially grey, off-white, and earth tones, in its "foursquare" arrangement of items side-by-side on level, wooden shelves — in brief, in its "Chardinesque" formality — is given that special Weinberg touch of colorful splashes joyfully tripping across all that sedate setting of understated hues. As any painter can tell you, watercolor is a demanding medium and does not easily suffer fools. Deceptively "simple" in its preparation and application — it's "only" water and pigment, after all — its very "transparency" almost always betrays the rash amateur as well as the over-confident "pro". It is so easy to over- or under-state, to put too much in or to leave too much out. And, unlike oils (in which you can hide your pentimenta), what you see is what you get — and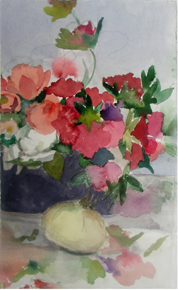 Nikkos Still Life
not all watercolorists know how to give the best. It takes years of mastery to know when to step back — William Merritt Chase used to tell his students that all painters needed someone standing behind them with a two-by-four to call the halt — years to know when to wash, dry, and put away one's brushes. Sylvia Ruth Weinberg is well on her way to knowing just when to pull that "self" back, to resist putting in that extra prop, that one more bloom, that extra background swipe of color. "Forest Floor", for example, with all its profusion of color and form yet settles down into an eminently "readable" image. Confusion is banished; order prevails. Or, more subtle means are employed to hold fast the eye in her "Striped Cloth" — fabric, flowers, fruit, and bowls may be there, but the title tells us where to focus — on those stripes. Blithe spirit though she may be, Weinberg has learned well the lesson of full control — one more dab or vermillion, one extra bowl because its shape is so alluring, one more area of unpainted paper, one little flip of the brush to "show spontaneity", and you've turned a little gem into just another picture. There are many instances of precisely this command of her medium — "Gardener's Delight #2", "White Roses #2", "Just Dahlia's", to name but a few — but my favorite was "Flower Dance", almost musical in its impact on the eye. There is, finally, size to consider. Seemingly a "non" issue, the true painter knows just how importantly dimension can influence the final result. Those who have predilections toward the miniature — and can excel in presenting exquisite images — may well get "lost" in a larger expanse of "white". And, of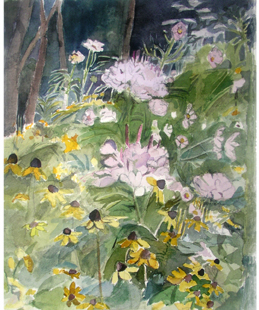 Forest Floor
course, vice-versa. For me, most of Weinberg's smaller-scale paintings showed her at her very best — yet, I hasten to add that her "Asters" was particularly successful and "Flower Dance" — as stated above, my personal choice of "Best in the Show" — are both in large-format. Though I've concentrated on her still lifes (which I strongly believe to be her forte), I would be remiss in not mentioning that this exhibit also includes some landscapes — "High Autumn" especially stands out; the colors of autumnal foliage almost always defeat artists of all persuasions, yet Weinberg masterfully reins in the rampaging range of colors that the season can bring to the Catskills — and one self-portrait. One could hardly ask for a more pleasant setting than to be surrounded by "Watercolors by Sylvia Ruth Weinberg" while dining out at the Reservoir Inn. Treat yourself!
*"Watercolors by Sylvia Ruth Weinberg" (thru May 31): Reservoir Inn, 157 Basin Road, West Hurley, NY. (845) 331-9806
.
To see more of Sylvia's work: sylviaruthweinberg.com