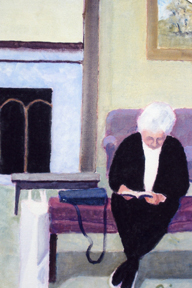 Killing Time, Acrylic
"Life"— Sam Rein
at Barrett Art Center
By RAYMOND J. STEINER
ART TIMES January February 2009
IT'S ALWAYS A distinct pleasure for this viewer to come across a working artist from the "old school" — you know, someone who can draw, manipulate a paint-laden brush, compose a motif, vary a 'signature', avoid a hackneyed formula that "sells"…in brief, bring a two-dimensional surface alive not only to the eye, but also to the spirit and soul. A humanist with wit, perception, and sensitivity, Sam Rein could not have chosen a more fitting title for this solo exhibition* since "Life" so aptly reveals his long love affair with the pathos and bathos of the human condition. This is an artist who not only loves his craft, but who also is in sympathy with the nature of being — whether it be person, object, or landscape.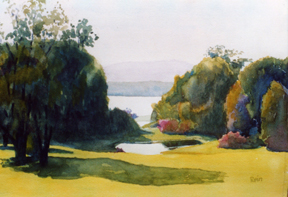 River View Watercolor
Some thirty-seven works — charcoals, pastels, watercolors, gouaches, acrylics and even a pencil drawing ("Reclining Nude, Head on Hand") — make up this show, more than enough to showcase Rein's versatility in motif, genre, and in style. As much a master colorist as he is a draftsman — his black and white renditions are as commanding as are his paintings — Rein's eye for transforming the commonplace into vivid imagery ("Track Three"; "Table Talk Al Fresco" — a charming genre piece of three oldsters conversing around an outdoor table) is compelling, inviting the viewer to enter, to participate in whatever is unfolding before the eye. Especially "present" in their "thereness" — what the early German aestheticians referred to as the ding an sich (the thing in itself) — are his studies of the female figure, his skill of transforming lounging women in various stages of dress or undress (a recurrent motif in each of the mediums), some appearing "distant", others engaging the viewer with direct "eye-contact", reveal an endearing penchant for capturing the soft curves of the female form. As enticing as are Rein's female nudes, however, even more arresting is his charming "Killing Time", a quiet and loving rendition of an elderly woman painted in soft-edge outline, seated on a bench, her head tilted downward, seemingly oblivious to her surroundings and totally absorbed in reading a book opened on her lap.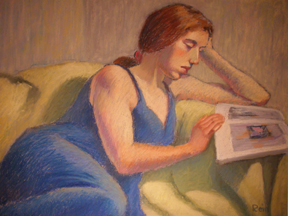 Blue Reader Watercolor
Equally impressive to this viewer is Rein's seeming ease of "updating" (or, perhaps, simply changing for effect) his style from the academic (cf. his charcoal/pencil studies of the nude) to the modernist handling of, say, "Repose", a pastel that reflects a post-modernist influence in both color and form, or to the geometric "less is more" aesthetic in his watercolor, "Still Life With Mimi's Peppermill." Finally, if one still needed such persuasion as to Sam Rein's range of expertise, one might consider that this exhibition features not only figure studies, genre scenes, and still lifes, but also a very fine landscape, "River View" (watercolor), that many a landscape painter might well be proud to include in his/her repertoire.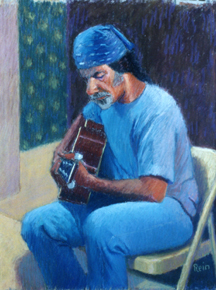 Concentration Watercolor
This is a show well worth seeing and I urge those who are visiting The Barrett House's Annual Member's Exhibition and Sale, to make sure to take the time to stop by Gallery Three to share in Sam Rein's delightful view of "Life". Do drop in — you won't regret taking the time for a leisurely visit with this "old master".
*"Life" — A Solo Exhibition of Paintings, Drawings, Pastels and Watercolors by Sam Rein (thru Jan 10): The Barrett Art Center, 55 Noxon St., Poughkeepsie, NY (845) 471-2550. A Holiday Member's Exhibition and Ceramic & Glass Sale will concurrently be on view.