Art Critique: Eva Van Rijn
At Locust Grove, Poughkeepsie, NY
By Raymond J. Steiner
ART TIMES online March 2011
WHETHER YOU ARE a tree-hugging, dyed-in-the-wool ecologist or just a plain old admirer of good art, "Safari"* is the show for you. More than simply a "wildlife" show, van Rijn seems to take you deeper into her subject's "inner" being — be it predator or prey, "star" of the painting, or simply a "walk-on". Grazing zebras with "hitch-hikers" on their backs, crouching jungle cats with fowl nonchalantly winging overhead, elephants with nearby partners and babies while birds zig-zag unperturbed between massive legs— all sharing a world of lush landscapes (any of which of these depictions of jungle flora, incidentally, could stand alone as finished works-in-themselves).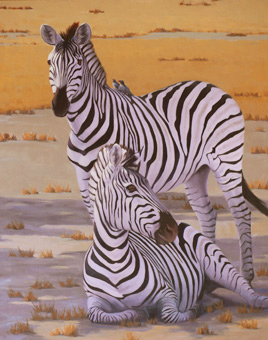 It is, however, the fauna which commands center stage in this wonderful exhibition — the "Veteran", a venerable old elephant with broken tusks, scarred hide, and notched ears, undoubtedly souvenirs of past encounters with other bulls — young leopard cubs playfully lolling in the grass — haughty birds stalking through high grass. Van Rijn, rather than making them seem as "alien" to human comprehension, seems to endow them with a "selfhood" and dignity that almost forces us to use such qualifying words as "venerable", "haughty", "playful" — words that we would normally ascribe to humans — as we see these exotic creatures up close and "personal".
Yet, as I note above, there is more than just van Rijn's empathy for our fellow denizens of this fantastic globe — there is her painting skills, which have long been honed over the years. I first profiled Eva van Rijn in 1984 for a local Ulster County Daily — just a few months before we founded ART TIMES — and have been an admirer of her work ever since, following her progress as she broadened her scope and her talents.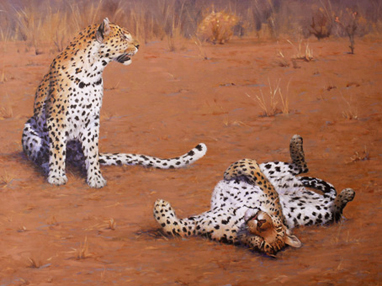 I have an early rendition of a Catskill Mountain Hoot Owl in my dining room (done in meticulous line on scratchboard — undated) that attests to both her long love of masterful draftsmanship as well as to her extended interest in wildlife that now proves to reach across the globe to the vast African savannahs. In my early profile of van Rijn, I made especial note of her landscapes — a personal favorite genre of mine — and it is also obvious that, as with her renditions of fauna, she has not lost one iota of her skill in rendering nature's light and form. As I state earlier, any one of these paintings sans the featured African "stars" might well stand alone as an accomplished landscape in its own right.
I urge my readers to treat themselves to a visit to Locust Grove (itself a wonderful experience) — not only to feast your eyes on van Rijn's aesthetic gifts but also to allow your imagination to carry you away to where you can almost feel the sun beat down on your neck.

*"Safari: A Solo Show of Paintings by Eva van Rijn" (thru Apr 10): Locust Grove, 2683 South Road, (Rte 9), Poughkeepsie, NY (845) 454-4500 lgny.org