Tate St. Ives Tenth Anniversary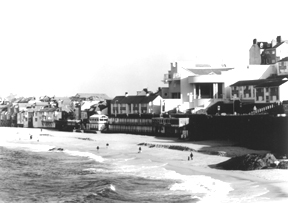 Tate St. Ives - Cornwall, England
(Photo Courtesy the Author)

By INA COLE
ART TIMES Sept, 2003
Tate St Ives celebrates its tenth anniversary this year. It's hard to believe that a whole decade has past; a slice of history which, in artistic terms, has to be as significant as when St Ives originally witnessed its mid twentieth-century heyday. With this in mind it is now my intention to look back over these years, perhaps with a twinge of nostalgia, and focus on some of the most memorable achievements in the Tate's history to date.
I have to admit that my familiarity with St Ives was somewhat limited when I first arrived, having only visited the Barbara Hepworth Museum in the town once when I was still at school. However, what I did know was that St Ives has always been essentially cosmopolitan; a fact I found strangely comforting, having arrived as an outsider myself to make up part of the launch team of Tate St Ives in 1993.
I think it's fair to say that the Tate has certainly kick started the regeneration of this small seaside town, as I have seen some dramatic changes in my time here. Of course its establishment was not without controversy; major projects never are, but any reservation quickly dissipated when it became apparent that the economic advantages were speedy and far reaching. Within two years of the gallery's opening, a specially commissioned survey revealed that vastly increased millions were being spent by additional visitors to Cornwall, whose main reason for coming to the area was to visit Tate St Ives.
The gallery attracts 250,000 visitors annually and this has created a material affluence the town has not felt before. People from far and wide travel to this windswept south-west corner of England, seeking the Mediterranean brilliance of the beaches, fresh cuisine and cultural activity; a formula which gave St Ives the kind of boost unmatched by other towns in the last decade. Many urban visitors, revelling in the delights of their new-found idyll, decide to buy their second homes here and a small cottage, so like those featured in the paintings of Alfred Wallis, priced around £40,000 eight years ago, is now fetching in excess of £250,000.
Over the past few years it has been proven time and time again that investment in the arts is beneficial and Tate St Ives, as well as changing the face of the town in economic terms, has also become a springboard for new projects. One can never underestimate the pulling power of heritage and here St Ives has a definite advantage, as the gallery was originally established to celebrate the work of a particular group of artists responsible for the town's reputation as an international outpost for artistic development from around the 1930s-60s.
Although this remit was quite clear in the early years, the gallery now has a complex balancing act to play in effectively celebrating a past era, yet positively encouraging a future one, and in this context recent breakthrough exhibitions have included Antony Gormley and Ian Hamilton Finlay. Historically St Ives has always attracted artists from around the globe, so it is not inappropriate for the gallery to continue this trend. Indeed, Gormley's Field, created from 40,000 diminutive terracotta figures, is one of the most evocative installations of recent times and was amongst the most popular exhibitions the gallery has ever staged.
Since its inception Tate St Ives has always incorporated the work of artists outside its immediate remit. Let's not forget Peter Fluck, co-founder of the popular television satire Spitting Image, who created a kinetic installation linking sculpture and music by computer technology to produce a beautifully synchronised ballet of dancing shapes; or Peter Randall-Page's sculptural evocation of the singer Bessie Smith; or Veronica Ryan, who travelled between St Ives and New York for three years in order to create new work specially for the gallery. Major collaborative ventures with other organisations also brought significant art world heavyweights to the area including Bridget Riley, Mona Hatoum and James Turrell.
Exhibitions are usually planned four years ahead to ensure the availability of specific works of art. Some exhibitions have naturally been much more difficult to install than others; in the case of Antony Gormley, the 40,000 figurines had to be carefully positioned, as well as a further sixty life-size solid iron figures. In a video display, the luminous spaces at Tate St Ives were blackened and sea views temporarily obliterated as structures within the gallery spaces were built to house installations by Gilbert & George, Tracey Emin, Bill Viola and others. Showing alongside Terry Frost in a recent exhibition was Jim Lambie, who covered an entire floor in coloured strips of vinyl tape involving the assistance of ten members of staff.
Each re-hang at the gallery sees the arrival of London staff who support the St Ives team and a momentous effort is made to install every exhibition within the space of two weeks. The galleries are always meticulously prepared in time for a morning press briefing, with no one aware of the frenetic activity that had ensued beforehand, involving technicians, builders, sign writers, decorators and conservators. The press view is then always followed in the evening by an opening party; a recent launch for Terry Frost's show attracting a record attendance of six hundred.
Tate St Ives does not operate in a vacuum and meetings are held regularly, attended by the London directors as well as members of Cornwall County Council who own the St Ives building, and this provides a forum for future planning and discussion. Of course as an organisation Tate St Ives has inevitably changed; as systems stabilise the early days of excitement and spontaneity are replaced by a streamlined operation, able to ensure the success of every show. Over the years St Ives has achieved a certain cult status, becoming a kind of mini Cannes of the art world, and much effort has to go in to sustaining this reputation. In my role I have welcomed countless film crews, broadcasters, journalists and celebrities through the doors of Tate St Ives and the gallery has enjoyed a high profile during this time.
Creating a balance between the historical and the contemporary is important if the gallery is to continue to sustain critical acclaim and high visitor numbers. However, it is equally important to remember that without a particular group of artists responsible for the town's unique heritage, Tate St Ives would not exist. With this in mind the Terry Frost show is followed by a Barbara Hepworth exhibition this summer, triggered by the centenary of this great sculptor's birth.
During the last decade popularity of these St Ives artists has soared. Terry Frost was awarded a Knighthood in 1998 and Wilhelmina Barns-Graham a CBE in 2001. Tate St Ives, like any other powerhouse of culture, is not only capable of regenerating an area, but also has the prestige to raise the market value of the artists it celebrates. Prices for St Ives works continue to increase; a Patrick Heron sold for £289,500 at auction in 2001, a new record for the artist, and following close on its heels was a Peter Lanyon for £212,500. A seminal work by Ben Nicholson from the 1930s-40s would now fetch up to £800,000.
There have been many memorable events during my time at Tate St Ives, but having the privilege of knowing the last remaining pioneers of the 1950s was one of the highlights of my time here. Patrick Heron, Terry Frost, Wilhelmina Barns-Graham and John Wells were and still are undoubtedly amongst the most remarkable personalities I have met. This group of artists has a way of elevating the everyday, so you see it again with new eyes, as though viewing the minutiae of natural phenomena through a magnifying glass. Drinking champagne with Terry Frost in his front room, overlooking the sea, I remember both of us marvelling at the fullness of the moon, hanging heavier and closer than I had ever noticed before. When talking about his painting Terry has referred to the sun and moon as his 'two gods', and at that particular moment in time I think I knew exactly what he meant.
As for Patrick Heron, no one did more than he, in his role as writer as well as painter, in creating international recognition for this group of artists. I remember spending the day with him as his famous coloured glass window was positioned into what was then a gaping hole in the side of Tate St Ives. Ferocious March winds blew as we stood watching his four metre square masterpiece precariously craned into position. Several trips to the Porthmeor Beach Café for their frothy cappuccinos was the only thing that eased Patrick's trepidation and the iciness of that cold, cold day. However, this group of artists has become an ever diminishing pool; Patrick Heron died in 1999 and John Wells in 2000, but their legacy is enduring, undiminished by the changes that have, and still will take place.
Ina Cole is based in St Ives, Cornwall, England.