Indian Market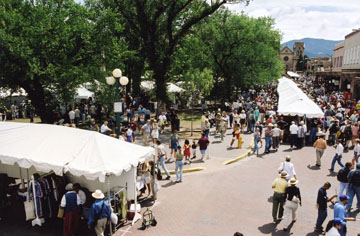 Market Crowd - Photo: Courtesy SWAIA
By DEBORAH DAVIS
ART TIMES Sept 2003
Last month, on the 23rd and 24th of August, the streets of downtown Santa Fe were shut down for two days. Instead of cars, the streets were filled with thousands of Indian artists from around the U.S. who had booths where they displayed their artwork.
Mobs of collectors flocked to the streets like a swarm of seagulls landing on a lake where bread had been sprinkled. Each collector was hunting through the crowd for their "bread": the piece of art that they had been waiting all year to buy. Some hired people to sleep in front of booths the night before, so they could be first in line for their favorite artist.
Collectors were not the only ones there. Art lovers and first-time attendees mixed in with the mob, waltzing from booth to booth and enjoying the bright Santa Fe sun. They stopped at each booth looking at the variety of merchandise.
Some picked up pottery and ran their fingers along the intricate black and white designs. Others chose the colored pots. Some of these designs are from ancient times. At the turn of the century, Maria and Julian Martinez of San Ildefonso Pueblo worked with archaeologist Dr. Edgar Hewitt. Hewitt and Julian would dig up ancient shards of pottery and then Julian and Maria would imitate the designs in new pottery. In this way the ancient designs were re-introduced. Almost a hundred years later, at this year's market many of the artists featured the ancient designs, carrying on the tradition.
The Martinez couple also introduced a new style of pottery: black-on-black. While the pots were fired Julian smoldered the burning fire with manure, and the pots came out a shiny black. They taught this style to other artists. Many of these black-on-black pots were at the market too. They were so shiny that it looked as if a gloss had been put on the glass, or as if they were wet, but it was a natural shininess that makes the pot so unique.
Everything at the market was unique because everything was handmade. That is a requirement to be in the market, and Southwestern Association for Indian Arts (SWAIA), who sponsors and organizes Indian Market, takes the requirement very seriously. They became detectives, inspecting work and asking questions about process before allowing an artist to partake in market. Despite their name, participants in Indian Market were not just from the southwest but from tribes around the U.S., bringing with them styles and symbols from around the country.
Many will use symbols in their artwork. Visitors saw corn, flowers, clouds, lightning, bears, coyotes, lizards, snakes, deer, wolves, birds, fish, and plants, weather and animals painted, engraved, beaded, carved, or otherwise created into art. These symbols mean different things to different tribes. If you are lucky an artist will tell you about the symbols, revealing where they come from.
Many of the items were originally from ceremonies, and some are still used in ceremonies. Some of the artists are also Indian dancers while others make the clothing and jewelry for the dancers. The dances are still an important part of Indian life. Some believe if one purchases ceremonial clothing or jewelry they take on the spirit of the ritual.
There are many reasons for Indian dances. Some dance to honor animals, some dance for the harvest, others dance for water. Some of the clothing had bells or shells on the bottom to create percussion during the dances, which is an additional sound to the steady beat of Indian drums and the chanting.
Some artists shared tales of their dancing. Others told more about why they chose these symbols, telling tales of their tribes or even a personal story about the symbol. This is really the magic of Indian Market, the ability to meet the artists and learn more about them, their culture, and their art. A piece of art has so much more meaning in one's home when they don't just admire its beauty, but they admire its meaning and its spirit.
Artists didn't just talk about their symbols; some also talked about how they made the art. Some showed off tools while for others it was their bare hands, weaving baskets or molding clay. There is often a ceremonial routine to the creation of the art. For example, many artists will sprinkle corn meal on pots before firing.
Some artists didn't just talk about the art, they demonstrated. One artist was painting designs on her pottery using a brush she made from a yucca plant. Another carved animals out of wood as he talked. It was like being behind the scenes in their studio without having to travel to their home.
Many allowed people to touch the art they were working on, especially kids. One tourist child was carrying a pad and crayons. An artist allowed the child to sit near him and imitate his drawing. He encouraged the youth. Moments like these added warmth that even the sun couldn't compete with.
Much of the market was a swirl of color, with vibrant paintings and drawings. A rainbow of gemstones was placed in shiny silver or gold, including coral, turquoise, and lapis. There was also much brilliantly painted wood, such as in the Kachina dolls, cottonwood figures made by the Zuni or Hopi. Some of the figures' vibrant clothing was painted on while others was created from textiles; sometimes the textiles were beaded.
The dolls weren't the only ones sporting bright colors. For humans there were lively beaded jewelry, clothing and shoes, which ranged from traditional beaded leather moccasins to beaded canvas Converse sneakers. Like the latter, many items were unexpected, such as a wooden table shaped like a canoe, and another shaped like a drum. There were many traditional arts, but there were also many contemporary spins. In this way one came upon an art that is part of the Indian culture for thousands of years, while at the next table there was a new contemporary figure that mixed the modern with the tradition. This art is important too. The artist created their perception, and many of these artists live in two different worlds; therefore it makes sense that their art combined those worlds. For some there are other reasons to make more original art: catching the eyes of the tourists or the judges.
About four hundred artists came to Indian Market two days early to enter their art in the Indian Market competition. Judges, a group made up of scholars, curators, collectors, and artists, looked at the art and decided on winners in a variety of categories. They looked at tradition, originality, process, materials, quality of materials, and many other factors. The top award was Best of Show. Members of SWAIA attended a reception for the winners, where the members got to see all of the art before the public. (One becomes a member of SWAIA by making a donation.)
There were other events at Indian Market or other events in Santa Fe that coincided with Indian Market. Events included a fashion show, book signings, dances, and music. Four artists were honored as Lifetime Achievement winners and eight newer artists were given fellowships to use towards their work. The dozen artists were honored at a private reception at the Governor's mansion at sunset with traditional feast food and drummers.
All of Santa Fe celebrated Indian Market. Indian bands blasted the Paramount, a local dance club that was celebrating Indian Market with a special event. The Center for Contemporary Arts combined with the Taos Film Festival and the Smithsonian to show a Native American Showcase where films made by/about native peoples from around the globe were shown, and directors spoke about the films. Restaurants had specials for Indian Market. Galleries and museums had special events and shows, which were a great way to see the art in a more intimate setting and to learn more about it before the show. After seeing "Jewels of the Navajo Loom: The Rugs of Teec Nos Pos," an exhibit at the Museum of Indian Arts and Culture, it was easy to pick out the Teec Nos Pos rugs at Indian Market. These were a certain style of Navajo rugs that originated at the Teec Nos Pos trading post. Some were colored while others were neutral, but it is the intricate, detailed designs along the border that made the rugs so beautiful. Families have their own border design.
For many of the families there were certain symbols or styles that are carried down. Many of the artists at this year's market learned from their parents, grand parents, or great-grandparents. Some artists do shows around the country, some have work in galleries and museums, and some only come to Indian Market every year. They are all part of the beautiful, cultural tradition that has kept thousands of people coming to Santa Fe every year, and has the power to shut down an entire city.
"At Indian Market, we all become one," says Bruce Bernstein, Assistant Director for Cultural Resources at the Smithsonian National Museum of the American Indian. "There are no non-natives, no tribes. We are one great family."
Next year's Indian Market will be held on Saturday, August 21, and Sunday, August 22, with people already booking hotel rooms for the 2004 event. For more information, visit swaia.org.
(Deborah Davis is a Santa Fe-based freelance writer who attends Indian market each year.)