Taos, New Mexico, A Place Where One's Spirit Thrives
By CORNELIA SECKEL
ART TIMES Jan / Feb, 2002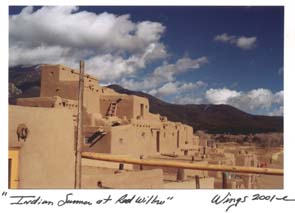 San"Indian Summer at Red Willow" 2001 Photograph by Wings, photographer and Silversmith (Hands on Silver) from Taos Pueblo (Courtesy of Wings)
It was 32 years ago when I was last in Taos, New Mexico. I had also been there several years earlier with my parents and siblings when we spent a month camping across the country, traveling in a packed station wagon with a sign on the car that read "California or Bust" and on the return: "California and Busted"! It was with good memories of these trips and the belief that for those of our readers who have not been to that area, or not been there for a while, would like a first hand report, that I accepted an invitation from Geiger & Associates to participate in a Press Tour of Taos.
Destination Marketing is one of the strategies being used to stimulate business. In this case a consortium that included The Taos County Chamber of Commerce, Taos County Lodgers Association, Taos Association of Bed & Breakfast Inns, Taos Merchants Association and Taos Gallery Association, Taos Ski Valley, Taos Valley Resort Association, and the Taos Valley Visitors & Conference Bureau invited 24 writers (some freelance, others on specific assignments) to explore the wealth of culture, natural beauty, and recreation of Taos.
It takes almost a full day of travelling from New York: first a flight to Albuquerque, then several hours driving along the Rio Grande with a magnificent view of the Southern Rocky and Sangre de Cristo Mountains before getting to Taos where the elevation is about 7,000 feet, the air crisp, clear and clean. It was obvious why artists love to paint here. I stayed at La Doña Luz Inn (www.ladonaluz.com), an historic B&B with a wonderful history.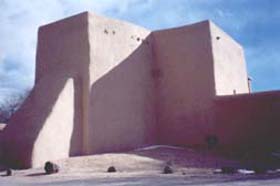 San Francisco de Asis Church (back view) Taos, NM (CSS Photo
Owner Paul "Paco" Castillo tells great stories about his grandfather Ralph Meyers who was an artist, jeweler, and proprietor of the Mission Shop (curio shop opened in 1907) in Taos. Apparently Ralph was a close friend of Mabel Dodge Luhan (more about her later) and spent time with many of the writers and painters that Mabel encouraged to come to Taos. Every wall in each of the 15 rooms of the 200 year old adobe structure has paintings, each surface a sculpture or artifact from earlier times.
Our first day began with an orientation that began at the Visitors Center. It was here that we met Skip Miller, archeologist, historian,teacher, and lecturer. Skip holds a wealth of information and I made it my business to stick close as our day proceeded. About 6,000 years ago, nomadic hunter-gatherers passed through the area and prehistoric ruins from 900AD can be seen throughout the Taos Valley. In 1350 the people of the Taos Pueblos were in their present village enjoying a thriving and vibrant culture while Europe was still in the Dark Ages. The Coronado expedition of 1540 brought the Spanish and the Catholic Church to the Southwest and they were followed by Spanish colonists in the seventeenth century from what is now Mexico. French and American fur trappers and explorers came in the late 1700's, American merchants and settlers arrived on the Santa Fe Trail in the mid 1800's, the Artists arrived in the very early 1900's and the Hippies in the 1960's. According to Skip, the residents of Taos (6,000 in town and 25,000 in the county) are still hunters and gatherers. Historically, the area has always been a trade center for the American Southwest. The first documentation of that was in 1540 with records indicating trade of turquoise, jerky and cotton. Traders (various Indian tribes and the Spanish and later American settlers) came from all directions and the Trade Fairs of Taos Pueblo was critical for hundreds of years (up until the late1800's) to the economy of New Mexico.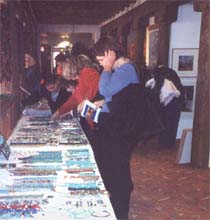 One of the many booths at the Cultural Art Market where jewelry, paintings, glasswork, pottery, hand made paper, retablos and santos, furniture, and photographs were sold by very well known and not known craftspeople and artists at the Fechin Inn
Today, as in the past, Taos is a gathering point for a wide range of people who are attracted by its mystique, unique heritage, historical significance, and beauty. Much of the community is a mixture of Spanish (many descendants of de-tribal Indians), Pueblo Indians and Mexicans with others (especially in the past 25 years) relocating from various parts of the US & around the world. Food & art are an amalgamation of Native American, Spanish, and Anglo making for a wonderfully rich culture. The land no longer supports agriculture (sheep ate the turf, sagebrush & snakegrass moved in and poisoned everything else that tried to grow). There is a strong contrast between the million dollar homes of celebrities and the modest trailers (sometimes on the next plot) that often contain no indoor plumbing or electricity. Taos County is the 2nd poorest county in America; people do any number of things to earn a living. Some cottage industries have become quite successful and there is a cooperative effort with a Health Department approved Kitchen where food products are prepared (lots of chili and salsa) packaged and marketed. Barter is common and 1 out of 7 people earn a living as artists or doing something art related. There are over 80 galleries in Taos and many artist's studios are open to visitors.
Tourism began, as we were told, in 1898 when artists Bert Phillips and Ernest Blumenschein (both of New York) stopped to have a broken wagon wheel repaired. This is known as the Broken Wheel story. They had met Joseph Sharp (who had briefly visited Taos in 1893) in Paris who told them to "paint the west before it was gone." Enchanted with the scenery and clear mountain light, they soon spread the word to fellow artists and in 1912, the Taos Society of Artists was formed (disbanding in 1927). Mabel Dodge, a wealthy New York Socialite, arrived in 1917 and eventually brought D.H. Lawrence, Willa Cather, Aldous Huxley, Ansel Adams, Paul Strand, George Bellows, Andrew Dasburg, Georgia O'Keeffe, Thornton Wilder and Carl Jung, among others, to Taos. After WW II commercial galleries opened and there are now numerous schools and individual artists who teach out of their studios or as part of an established school. Today there is a very active community working hard to encourage visitors to enjoy the magnificent landscape, culture, and recreation. Tourism is what enables Taos to survive and support a quality of life. This is a very abbreviated and simplistic version of Taos history which I hope you will add to by either reading or visiting Taos.
Highlights of the trip: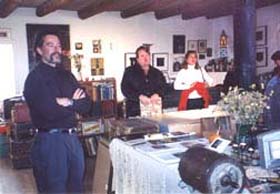 Artist (L) Randall LaGro in his studio, the former studio of Joseph Sharp, speaking about his work to our group
Taos Pueblo is home of the Taos (Tiwa) Indians and is the site of one of the oldest continually inhabited communities in the US. Let me say it did not look any different from 32 years ago. The members of the Pueblo have preserved their culture and traditional way of life in spite of the 250,000 visitors that visit the Pueblo each year. I remembered the smell of the fresh bread coming from the ovens from my earlier trips and did not hesitate to buy a loaf. Being able to speak with some of the people who had shops and were selling their drums, jewelry, pottery, and photographs is always a pleasure for me.
Millicent Rogers Museum (www.millicentrogers.org) – houses one of the finest collections of Native American silver and turquoise jewelry and Navajo and Rio Grande weavings. A permanent collection of pottery by Maria Martinez (1887-1980) of the San Ildefonso Pueblo (I could barely afford a small bowl 32 years ago) was particularly exciting. She and her husband Julian rediscovered – and perfected – the method of creating her famous blackware pottery. La Hacienda de los Martinez is one of the few northern New Mexico Style, late Spanish Colonial period "Great Houses" and is set up (in most of the rooms) to give a glimpse of the rugged frontier life and times of the early 1800's. (www.taoshistoricmuseums.com) There is an excellent Santos Exhibition.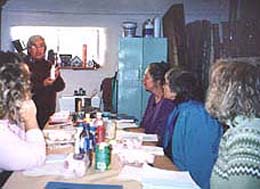 Lydia Garcia, Hispanic folk artist in her giving
a private retablos workshop for our group
The Harwood Museum of Art (www.taosvacationguide.com/MAT/har.html) was founded in 1923 and has been operated by the University of New Mexico since 1936. Several galleries are devoted to the Taos Society of Artists and major American modernists such as John Marin and Marsden Hartley. So many of the artists who were in Taos were also at the Art Students League of New York and in Woodstock, NY. There is an entire gallery given to Agnes Martin who I didn't realize lives in Taos and is quite a philanthropic supporter for the community.
Mabel Dodge Luhan House (www.mabeldodgeluhan.com) was purchased in 1918 by Mabel Dodge (1879-1962) who was born and raised in Buffalo, NY. She became one of America's most influential patrons of the arts by establishing a Salon in New York City and then in Taos, New Mexico. She renovated the house with Antonio Luhan who became her 4th (and last) husband, and began to invite her circle of friends to visit. Not mentioned previously, and of note, were Margaret Sanger, Emma Goldman, Alfred Stieglitz, and John Reed. It was wonderful to be in her home, to see her writing studio which sits above the adobe house. All four walls are made of glass and the view is extraordinary. The house is now a B&B as well as a retreat and conference center where writing, painting, and meditation workshops take place throughout the year.
I was part of a group that went on a tour of galleries and artist's studios where we saw art and artifacts on display, as it is in almost every shop, restaurant, inn, and hotel. On my own I wandered into several cooperative galleries. Much of the art was landscape of the region (most galleries have the majority of their artists from the Taos and broader Southwest area with fewer artists from other parts of the country), some still lifes, and even less abstract work. There was proportionately the same amount of sculpture to paintings and an abundance of fine craft, some of which was fashioned in modern design and made with traditional and non-traditional materials. Fine weavings of clothing and baskets, pottery, and jewelry could be found in most galleries. Some of the well-known artists that live in Taos (and according to the Taos Chamber of Commerce, Taos is home to 1000 artists) include Agnes Martin, R.C Gorman, Ray Vinella, and JD Challenger. From what I could gather, the art scene is no different in Taos than in Manhattan or other parts of our region. Most galleries are getting 50%, monthly group or solo exhibitions take place with a crowd usually showing up. Artists, for the most part, keep to themselves although several mentioned some informal breakfast get-togethers or painting with another artist en plein air.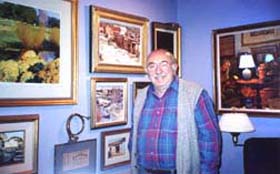 Ray Vinella, artist and founding member of
the "Taos Six"
The biggest happening while I was in town was a performance by Robert Mirabal, currently on a national tour and winner of the 2000 Native American Music Association's Best Songwriter Award (he was also raised at the Taos Pueblo), at the recently reopened Taos Center for the Arts' Community Auditorium. For a town of 6000 people there are a lot of cultural activities with 4 and 5 daily choices (concerts, exhibit openings, discussions) plus classes and workshops that are offered for spiritual, physical, and mental health. Several Art Schools offer classes and workshops at different times during the year and the University of New Mexico, Taos Campus offers degree and non-degree classes in Arts & Culture, Trades & Industry, Professions and Liberal Arts, Sciences, Business & Computer Tech, and Health & Human Services. There are an abundant number of festivals and events throughout the year in Taos, including the Talking Picture Festival (April), Spring Arts Festival (May/June), Taos Poetry Circus (June), Chamber Music Festival (July/August), Fiestas de Santiago Y Santa Ana (July), The Old Taos Trade Fair (September) Fall Arts Festival (September/October), Wool Festival (October), and Yuletide in Taos (December). The Chamber of Commerce has an excellent website (www.taoschamber.com) which will direct you to most of what Taos has to offer.
These press tours are especially delightful as I have a chance to meet with other publishers, editors, and writers to share stories of horror and joy. The staff from Geiger & Associates and the representatives from the sponsoring groups in Taos made this trip work (take it both ways). I was there to explore and explore we did. They provided opportunities to learn about the town, the culture, and the people. I even spent a morning doing some x-country skiing and am ready to go again. There are some fabulous restaurants (we sampled more than several) a wonderful variety of B & B's, and knowledgeable shopkeepers and gallery directors. People are drawn to Taos and I appreciated hearing their stories. If you haven't been to Taos in a while (or at all) make sure it's on your list of places to explore. At any time of the year there will be many different ways to enrich your intellect, your body, and your spirit. I know I won't wait another 32 years.