Travel and Culture: Ann Arbor MI. a very exciting and culturally rich city
By Cornelia Seckel
ART TIMES Fall 2013
I was pleased to receive an invitation from Geiger & Co to go on a press trip to Ann Arbor. I spent 8 years in Michigan in East Lansing while my husband of the time went to Michigan State University. I did do a masters degree at MSU and taught at Sexton High School in Lansing. It was an important time in my life and I learned a lot from the people I worked with, played with and lived with. Going to Ann Arbor also allowed me to visit John Ducat, dear friend from that time and his wife Carol. The visit was perfect and we didn't stop talking as we drank black Russians — our drink of choice over 40 years ago.
I spent several days in Ann Arbor and explored theater, music, art, architecture, and businesses that are models for the new entrepreneur. I stayed at the new Hilton Garden Inn, a very comfortable hotel with all the services needed for business and personal travel. I never did get to use the indoor pool, too busy. On my last morning I met up with our Theater writer Robert Bethune who lives in Ann Arbor and we had an excellent brunch at the Inn and a good visit. Ann Arbor is the home of the University of Michigan (was founded in 1817 in Detroit and moved to Ann Arbor in 1837) and their 45,000 students. An additional 100,000 make up the population of this very cosmopolitan "town" with rural communities just beyond the city limits.
A press trip is a whirlwind of activities that are geared for many different writers with a focus on life style, food, business and the arts. There was something for everyone and my biggest problem was often wishing to be in 2 places at once.
Upon my arrival I met up with other writers and we had a tasting feast lunch at Ayse's Turkish Café. Ayse Uras opened her café in 1993 when she came to U of M with her student husband and began looking for Turkish food. Not finding any she began catering and then opened her restaurant. Food was excellent, atmosphere delightful. The number of students from around the world has created a city filled with ethnic foods, festivals, and charm.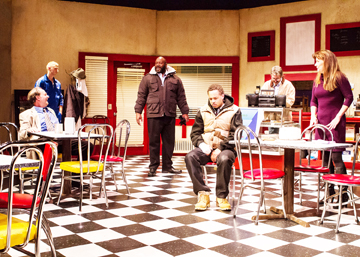 After lunch I went to Chelsea a small town not too far from Ann Arbor to the Purple Rose Theatre (purplerosetheatre.org) with a few of the other writers and saw "Superior Donuts" a play by Tracy Letts directed by Guy Sanville. The theatre seats 118 and there isn't a bad seat in the house. It is an outstanding play and the performance — a play about life and death, dead ends, the optimist and pessimist— was excellent, with an interesting set, fine acting and staging. If the play is anywhere near you, don't miss it. The Purple Rose was founded in 1991 by actor, musician, playwright, and Chelsea native Jeff Daniels. His TV show "Newsroom" began its 2nd season and his latest film is Loopier, a 2012 American science fiction action-thriller. This Equity Theatre Company is a leading American theater dedicated to producing the New American Play and creating opportunities for Midwest theatre professionals. They are dedicated to serving their audience by entertaining them and challenging them and believe that theatre is not just for the privileged few, but for everyone. It is a place for emerging talent and seasoned professionals coming from mostly Michigan to learn more about and to practice their craft. Full-time apprentices, playwriting classes, summer teen programs and tech workshops all serve to help fulfill their educational mission. Guy Sanville has been with the company since 1995 and has directed more than 30 plays including more than two-dozen World Premieres. In addition to producing and directing, he teaches workshops and lectures at the Purple Rose and around the country. He is a member of Actors' Equity Association,The Screen Actors Guild and the Stage Directors and Choreographers Society. The upcoming season begins with "The Vast Difference" a Comedy by Jeff Daniels and Directed by Guy Sanville and running Sept. 19, 2013 through Dec. 14, 2013.
Next was a welcome cocktail party at the Antieau Gallery where we met our tour host Mary Kerr, president and ceo of the Ann Arbor Convention & Visitors Bureau (visitannarbor.org). The exhibition, organized by Stephen Kerr was by fabric artist Chris Roberts.
At dinner I met up with Deb Polich, executive director of the Arts Alliance and Ken Fischer, president of the University of Michigan Musical Society. UMS is an independent multi-disciplinary performing arts presenter with a long and deep affiliation with U of M, offering 60-90 performances each season, performing in up to seven University and community venues. UMS sponsors an extensive education program, commissions and presents new work, and hosts many artists' residencies. Deb Polich is the former director of arttrain ( artrainusa.org), the non-profit organization, which brings art exhibits to "under-resourced" communities with limited or no access to cultural institutions like museums. They have abandoned the trains and commissioned the construction of mobile museum units (MMUs) that can be trucked across the country. I've known about this group for years and was so pleased to hear more from Deb. We met over a fabulously delicious tasting meal at Logan – An American Restaurant.
Some of what I learned: Numerous cultural leaders meet periodically and collaborate events when they can. There are 211 organizations and they participate in a cultural data project collaborative that provides statistics for funding among other things. They have determined that every $1 spent generates $51 in revenue for the city/ state. The numerous arts and cultural offerings attract many new businesses to relocate to Ann Arbor and Ken Fischer has been instrumental in bringing world-class performers to the University. In 2012 he received the Mariam C. Noland Award for nonprofit leadership. The population of Ann Arbor and the surrounding communities are very supportive of the arts offerings and people are known to travel 1½ hours for events. In Ann Arbor there are 30 independent Book Stores. There is a Big Film Festival (March), Art Fair (in July- now 54 years running with over 1,000 participating artists and ½ million people attending over the 4 days of the fairs), Book Festival (June) Art Walks (Oct), Saline Craft Show (in November with over 230 crafters), Ann Arbor Folk Festival (for the past 33 years is in January) and Music Festivals (the big event in May involves 100's of musicians performing throughout downtown neighborhoods), major productions sponsored by the University Music Society bringing nearly 100 Dance, Theater & Music from the US and ½ of their offerings come from outside the US. The Society also offers music education programs and is affiliated with the University. And of course the football games at U of M.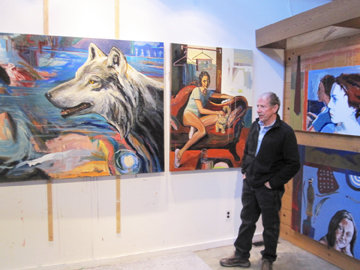 The following day began with some of the writers heading to Ypsilanti to explore Antiques & Collectibles, others went to the Jiffy Mix factory and I had a private tour to 3 artist's studios with George Percy (Geiger staff member) and Stephen Kerr, a former art teacher currently organizing art shows at various locations in Ann Arbor.
We first visited Ted Ramsey (tedramsay.com), a former U of M art professor and Department Head working at paper-making, painting, constructions and digital images. The paper, made by Ted, often serves as support for a multi-media construction of found objects and paintings — quite fascinating. He also molds the paper creating designs and sculpture. His paintings are large and he is interested in people's moods and so you see that reflected in his work. His paintings are about people, not portraits of someone. Ted is always experimenting, he feels that he must take risks with his art to grow as an artist. Ted is a generous human being and I can see that he was an excellent teacher— working with students (he taught for 40+ years) was a great joy for him. He was in pure teaching mode as we explored the many works in his studio. As we were speaking, he told me that he had studied in Ohio and for chance, I asked if he knew Eugene Ludins (featured in ART TIMES numerous times, the latest in the Mar/ Apr 2012 issue a review by Raymond J. Steiner of an exhibit at both the Samuel Dorsky Museum of Art at SUNY New Paltz). The world is small; the art world smaller.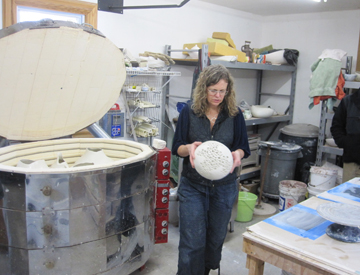 We left Ted and headed over to Kate Tremel's studio. Kate (katetremel.com) is a graduate of Cranbrook Academy of Art in Bloomsfield Hills, MI and has taught ceramics at numerous places around the country. Kate had recently returned from a year of work and study in Paris, France. Recently she has been using a technique she learned in Peru‑ using a paddle and anvil to help form her pottery and to make them thin and delicate. This technique is mostly used in metal work. Kate said that she has always been drawn to clay and recently she has taken to decorating her work with small-hole designs that sometimes pierce the clay and other times just indent. She called it "deconstructing" the work. She has done sculpture, functional and decorative pieces. What I saw was fascinating and intriguing and I couldn't resist buying a small bowl. She said that she is interested in form and experimenting. The kiln makes work unpredictable. Kate is part of the Potters Guild, a coop of 60 potters that provides a place to work although doesn't seem necessary for Kate as her studio is quite extensive with several kilns.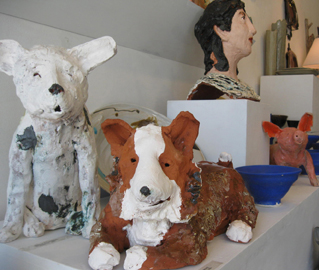 The next artist we visited was Marcia Polenberg. Marcia has been doing functional ceramic work for many years as well as painting (her early work) and building figurative life-size and near life-size people and animals built from terra cotta and then decorated with a variety of techniques. I was quite taken with her terra cotta portraits and her series of children. She spoke about her work and that "failure/ risk taking is what brings growth". Marcia obviously loves color, it is evident in all of her work. She is finally, she said, free from criticism and it is so liberating. The work that lights her up are the terra cotta heads, the "Portraits" she has done of Rembrandt, Kathe Kollwitz, Rodin and many others not so well known. They must "speak" to her and therefore they will speak to others. This work requires numerous firings and is quite labor intensive. I enjoyed my time with Marcia, she is a serious and dedicated artist willing to share (she taught for many years) her time, her work and her thoughts. She is a good role model for creative people. Risk taking brings growth. That is a phrase we should all have in mind.
After feasting the eyes and soul with these artists we feasted at Gratzi, a restaurant featuring contemporary Northern regional Italian dishes and wines. Delicious!!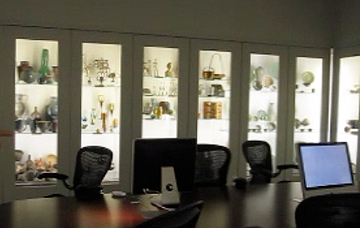 While other writers explored Breweries and Brineries I joined a few others to tour the University of Michigan Museum of Art (umma.umich.edu) with associate curator Pam Reister. The museum, begun by professors in the 1856, has grown to include 18,000 works of art. They are especially strong in early western, Asian, African and modern & Contemporary works. As with all museums, there are galleries for permanent collections, borrowed works, curated exhibits, traveling exhibits and something I hadn't seen before study/ open storage spaces. The Albertine Monroe-Brown Study-Storage Gallery allows the museum to show one thousand objects from the collections, previously in storage. The addition of classrooms, an auditorium, and a variety of gathering spaces contribute to making the museum a great asset and art resource for scholars, students and teachers. Currently on view at the museum: Adolph Gottlieb, Sculptor; through January 5, 2014, Performing Still Images David Claerbout and Matthew Buckingham through January 5, 2014, Brett Weston Landscapes through December 1, 2013 and N H D M / Nahyun Hwang + David Eugin Moon through November 10, 2013. As we were ending our tour I saw a beautiful small painting that looked. The artist's work was familiar and I learned on closer inspection that in 1855, Jasper Francis Cropsey Hudson River School Painter, had been invited to Ann Arbor and commissioned by the president of the school to paint two paintings, one of the U of M campus and the other of the University's Detroit Observatory.
I met up with Russ Collins, executive director and ceo of the historic Michigan Theater (michtheater.org), a nonprofit venue for fine film and performing arts. It is home to the Ann Arbor Film Festival, the third oldest in North America, established in 1963, and one of the premier showcases for independent and experimental filmmakers. The festival is held late spring and each year receives more than 2,500 entries. Michigan Theater is also home to the Ann Arbor Symphony and a venue for other classical and pop music concerts and comedy artists. The Theatre, built by Ann Arbor businessman Angelo Poulos, was opened in 1922 as a vaudeville and movie theatre and was unique because of its large grand foyer. As I understood from Russ, at the time, movies were not for family entertainment, they were mostly "peep shows" for poorer men. This grand building was an attempt to make movie houses safe for the middle class. In the early 80's it was heading to be a torn down but a great community effort restored both the theater and saved the Barton Theatre Pipe Organ, the Auditorium's original organ that was installed in 1927 and had been restored in 1971. The theater has projectors to show all types of film — 35 celluloid, 70mm, 16mm, and state of the art Digital. No wonder that this is such a popular Art Film Theatre. I continued talking about film with a few other writers at Café Felix where we had a potpourri of appetizers and drinks before heading over to The Ark to hear Leo Kotke and what a pure joy that was.
In 1965, four Ann Arbor churches envisioned a gathering place for students — a coffee house, like many that were springing up on campuses all around the country. The focus of the churches was to listen to the concerns of students and to provide a warm, safe, peaceful place for them to come together free from drugs, alcohol, and the storms of academic life and personal stress. It was the 60's, a time of great unrest among young people experimenting with drugs, sex and life styles. The Ark was meant to provide a creative outlet for talent in music, poetry and art work; to dialogue about the issues and questions of the campus community. The Ark (theark.org) has been afloat ever since and looking at the list (theark.org) of the thousands of musicians who played there is like looking at a Who's Who of the music world. Along the walls are posters from the past 45 years and I was remembering old friends as I saw pictures of Odetta, Pete Seeger, Joan Baez, Judy Collins, Nora Jones, Josh White, Livingston Taylor, and on and on. In 1969 David Siglin was selected as manager; expecting to stay a few years, he retired in 2008. He and his wife Linda, due to their vision, dedication and energy, have made it one of the most well-known and respected music venues in the country. The Ark is governed by an elected volunteer Board of Directors, run by a staff of seven full-time and five part-time employees and supported by over 400 volunteers. After the Church funding dried up, The Ark initiated a major fundraiser in 1977, the now yearly Ann Arbor Folk Festival, a major weekend event held in January that has fabulous entertainment.
Leo Kotke, an acoustic guitarist, is known for a finger-picking style that draws on influences from blues, jazz, and folk music. There is not much to say when listening to a great legend that is still great. To use the language of my "youth" I was just blown away. I just sat enraptured with his virtuosity, his music and his performance. He will be on the east coast this fall performing on Oct 25 at Narrows Center for the Arts, in Fall River, MA; on Oct 26 at the Westhampton Beach PAC in Westhampton Beach, NY and on Oct 27 at Newton Theatre, Newton, NJ. For a full schedule see leokottke.com.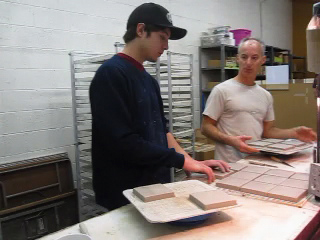 The following morning a group of us went to Motawi Tileworks (motawi.com), founded in 1992 by Nawal Motawi. Nawal studied sculpture and ceramics at the University of Michigan and then learned tile-making at Pewabic Pottery in Detroit. Wanting to do her own thing, she began Motawi Tileworks in her garage, people liked her work, she got some commissions, and hired her brother to manage the production. In just a few years the business took off and she left the garage for larger quarters. The tiles are made with local clays and glazes mixed using Motawi's own recipes. Designs are a blend of historic and modern images with rich, bold glazes and inspired by nature, art and architecture. They are well known for the multi colored glazed tiles of landscapes. At present, Motawi Tileworks employs about 30 people, including a number of artisans and graphic artists. There are between 75 and 100 designs in their catalogue. New artists' designs are added when a majority of the staff agrees and designs are removed when demand is diminished. Each day they make about 1,000 tiles. Nawal is open to new ideas and works with other companies to produce special tiles and murals. We were given a very comprehensive tour by Gretchen, whose last name I never got. She spoke about the history of the company, showed us numerous samples of the both functional/ installation and decorative tiles and then took us on a tour to see the production beginning with forming the tile to the glazing. She said that the Glazer is critical to the production and that tiles were designed with the thought of production. It was evident as we met the different employees that this was a tight, friendly and supportive group of artisans' an extended family. Nawal, a vivacious and extremely personable woman, met us along the tour and answered some questions. She said that she loves running the business and that was evident as I listened to her and subsequently watched a Ted Talk she gave a few years back. Her style of management, she said, is quite different from many companies. She is concerned about the whole entity of the work, not just the bottom line. She is involved and supportive of other businesses in the community and gives generously back to the community. She bought Rovin Ceramics, the company that she had been buying her clay from (they used her recipe) and they are now a sister company making clay (not her recipe) for other ceramists and selling ceramic tools. Nawal is a hands-on owner and has hired a ceramist to be her production manager.
At the end of our tour we were treated to a tile-making workshop where we each made a tile that was subsequently glazed and mailed to us. That was a lot of fun.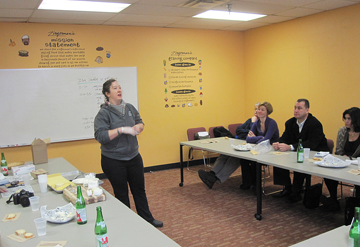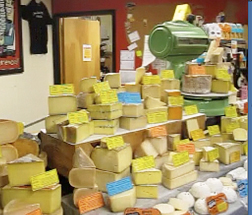 On to a tasting lunch at Zingerman's Roadhouse. Food was excellent and we began to learn about the The Zingerman's Community of Businesses (ZCoB) that began in 1982. (ZCoB) (according to their website zingermanscommunity.com) is a family of eight businesses all located in the Ann Arbor area and reflects the novel strategy for business growth created by Zingerman's Deli founders Paul Saginaw and Ari Weinzweig. Rather than replicating their very successful deli through the franchise model, Paul and Ari chose to develop new, independent businesses, all rooted in the local community that work together as one organization. Each business is operated by one or more managing partners who share ownership and put their particular expertise to work in the day-to-day running of their business. Zingerman's has become an Ann Arbor institution and includes: The Deli, Bakehouse, a Teaching Bakery for home bakers, Coffee Co., Restaurants, Creamery, Consulting Company specializing in training, service and merchandising, specialty foods and staff management, Mail Order for their partner businesses, Candy Manufactory, Food Tour Company, and Publishing Company. According to their website, "on any given day, the Zingerman's Experience is now made and delivered by nearly well over six hundred people—partners, managers and staff in 10 different businesses (with new businesses developing) —to the tune of well over $45,000,000 in annual sales!" The partners have a very strong obligation for corporate giving with 20% of profits going to community programs. Since 1988, the majority of Zingerman's corporate giving has been directed toward alleviating hunger in Washtenaw (the local) County. The following day at the Creamery we learned more about this business model whose guiding principles are: Great Food, Great Service, Great place to shop and eat, Solid profits, A great place to work, Strong relationships, A place to learn, and An Active part of the community. We were given a tasting seminar on cheese— different kinds, different processes, laws regulating, cheese from cows that are milked in the summer vs. winter, fed on certain grass— frankly more about cheese than one ever thought to ask but interesting and tasty.
The afternoon was spent with Stephen Kerr and a few others visiting galleries. In Chelsea we visited the River Gallery (chelsearivergallery.com) the only gallery in Chelsea. They have work by regional artists and they serve the purpose of a cultural center with concerts, film series and exhibitions. In downtown Ann Arbor the Art Center provides exhibition space, gallery shop and studios for many different art classes. The Clay Gallery (claygallery.org) is a cooperative gallery with work from both Marcia Polenberg and Kate Tremel, artists whose studios I visited. The Selo-Shevel Gallery (seloshevelgallery.com), owned by Elaine R. Selo has American crafts: folk art, jewelry, fabric arts, and paintings from around the country. The gallery experience is not different from that of other places in the country, always a mixture of supporting artists, selling their work, cooperating and being part of the community and of course maintaining their own business.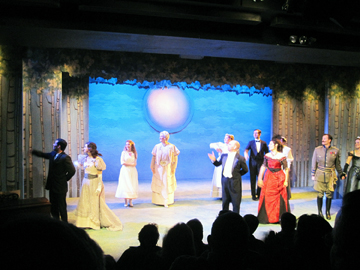 Dinner was with David Wolber, artistic director of Performance Network Theater (performancenetwork.org) at Pacific Rim (elegant and delicious). This is the 31st season of the non-professional equity house. They produce 7 shows a year and the house sits 140. Their mission is to engage, challenge and inspire both the audience and the artist— opening people's minds and strengthening community. They are committed to promoting new plays and the work of new playwrights. They premiere one national production a year and are part of the new play network. We saw "A Little Night Music" with music and lyrics by Stephen Sondheim and book by Hugh Wheeler. It had excellent acting, powerful voices, strong production and a good play.Their new season begins with "An Iliad" adapted by Denis O'Hare and Lisa Peterson from "Iliad" by Homer on Sept. 26, running through Oct. 27, 2013.
The next morning, before heading over to the Creamery, we were brought to the Farmer's Market, an activity I love no matter where I am. I get to talk with farmers, ask how crops were as I compare it to my garden.
The afternoon was spent exploring some of the University of Michigan's Landmarks: Baird Carillion and the Stearns Collection of Musical Instruments. During the tour of the Music School we had an opportunity to see a demonstration of a Bach organ and to play some instruments in a gamelan. The Stearns Collection of Musical Instruments has over 2,500 historical and contemporary musical instruments from all over the world with only 2% on display. In 1898, Frederick Stearn began the collection with his gifts.The Collection actively mounts displays of musical instruments, presents lecture-recitals from national and international performers/ speakers, and provides opportunities for organological research.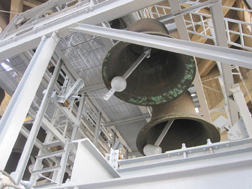 Climbing up the Burton Tower to the Baird Carillon with Sipkje Pesnichak, a graduate music student at U of M, was a thrill. Sipkje performs many of the recitals held at noon each day. The Carillon contains 55 bells and weighs 42 tons and is the 3rd heaviest in the world. The bells were cast in 1936 and the Tower finished the same year. U of M has the oldest school for the study of Carillon and Campanology (science of bells and bell ringing) in North America. Any student at the University can apply to learn to play the carillon. Other courses in campanology are offered through the music school. We each got a chance to sit at the carillon clavier (keyboard), located in a small room at the center of the bell chamber at the top of the tower, and play. The keyboard is connected to the bells via a system of wires, levers, and springs. To play the bells, the carillonneur uses loosely closed fists to strike wooden batons that are arranged like the keys of a piano keyboard. The lowest bells may also be played from a pedal keyboard. Strictly mechanical, no electricity is required for the functioning of this system. And of course the view from the tower of the campus was quite beautiful.
After a farewell dinner at Mani (they began with a serving board of cheeses, meats, olives and more) I went with several other writers to hear the Messiah at Hill Auditorium, the hall where most of the major University public events take place. Built in 1913, it is one of the most acoustically perfect concert halls in this country. The Messiah was performed by Ann Arbor Symphony Orchestra and the University Musical Society Choral Union under the direction of Jerry Blackstone. The music, the setting the voices were thrilling. What an ending to a jam-packed fabulous experience exploring the cultural offerings of Ann Arbor.
I met many new people, made new contacts and came home several pounds heavier from all the excellent meals. Ann Arbor, a tremendously diversified community, is surely an excellent destination for music, for art fairs, for theater, for exploring and for an education. Just a 10-hour drive from NYC through beautiful countryside or fly into Ypsilanti or Detroit. Another part of this country to check out.