See other articles about Travel and Culture
Costa Rica - Barbados
By CORNELIA SECKEL
ART TIMES Mar, 2004
Family friends Natalie and Pasquale Maglione resettled in Costa Rica about a year ago and invited me to visit. My brother and sister-in-law were there recently and raved about the beauty as did my friends John & Carol Ducat who have traveled there twice exploring the various ecosystems. I decided to go for part of my month off and explore this new country.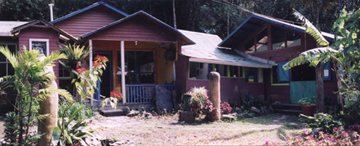 Community Arts Center, Monteverde, Costa Rica. One of the last standing original Quaker houses.
Costa Rica is in Central America and borders Nicaragua to the North, the Caribbean Sea on the East, Panama to the South, and the Pacific Ocean on the West, falling between latitudes 8ö and 11ö with elevations from sea level to 9000 feet. Ecologists define 12 tropical life zones in Costa Rica (I visited only a few). A few more facts about Costa Rica that come from Costa Rica Informer, August-September: literacy rate is 96%, life expectancy 76.1 years, unemployment 6% and a democratic government since 1889 (became independent from Spain in 1821).
Natalie, her friend Claire and I traveled from Natalie's home in Arenal, spending time in the Northwestern and Northcentral regions aside from my brief exploration (before my return flight) of San José, Capital of Costa Rica. While exploring these regions of course I paid attention to the art scene.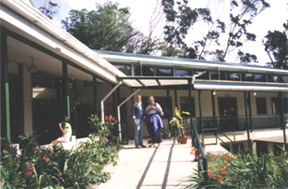 Sarah Burbank Arts Program Coordinator (L) and Cornelia Seckel at the Monteverde Institute, Costa Rica
In Monteverde I hiked the cloud forest in the Monteverde Reserve and the Skywalk which brought me across 8 suspension bridges built to cross the canopy of the forest. I saw plants, birds, insects, and animals that I have never seen. Much attention is given to the ecological balance of the environment. Resources are limited; everything comes into the area by bus or truck. So many of the things as Americans that we easily have access to and take for granted are very costly and so, for instance, instead of paper towels and paper napkins, one uses cloth and does more washes.
In 1949, four Quakers from Alabama were jailed for refusing to register for the US draft. After their release they, along with other Quakers, began to search for a place to settle where they could live peacefully and in a country that didn't have a standing army. After much exploration they decided on Costa Rica and the Monteverde area because of the pleasant climate and fertile as well as cheap land. In 1951 eleven families (44 people) arrived, some driving by truck from Alabama, others by plane, and became part of a community that was previously inhabited by the Corobici Indians before Costa Rican farmers settled in 1928. The Quakers began dairy farming and producing cheese that is now sold throughout Costa Rica. The factory also sells ice cream and fabulous ice cream sodas! Monteverde area, including the town of Santa Elena, has about 5,000 residents (many from the US) and 50,000 visitors each year. The Friends Library is the only free lending library in Costa Rica and is open every day, 24 hours a day. Most of the 10,000 books are in English and this was one of the deciding factors for Pete Young, formerly from the US who relocated in Costa Rica 3 years ago. Pete, a friend of Natalie's, opened her home to us and by staying with someone who lives in the community my awareness was greatly heightened.
I started out one day at the Community Art Center, a former home (and one of the last standing original Quaker houses) of Arthur and Clara Rockwell. The Center, part of the Monteverde Institute, houses art and pottery studios as well as coordinating classes that artists and artisans give in their own studios. It is a place where member Artists (43) and artisans can sell their paintings, jewelry, pottery, works on fabric, drawings and sculptures. I particularly liked the drawings of Lucky Guindon and was fortunate to meet her at a restaurant later that evening. She does very strong renderings of nature, especially of the Monteverde Reserve. Lucky was one of the original Quakers that came to the area. Alberto Guindon, Lucky's son and manager of the center, was very helpful in telling me the history of the Quakers in Monteverde. He suggested that I go to see Sarah Burbank at the Monteverde Institute.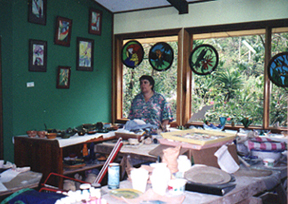 Meg Wallace in her painting, pottery, & stained glass studio, Monteverde, Costa Rica
I met up with Sarah who is the Arts Program Coordinator, and I was pleased that she could spare some time as she was in the midst of organizing the Arts Festival, which took place in February. The Monteverde Institute, founded in 1986, offers interdisciplinary courses in tropical biology, agroecology, conservation, sustainable development, local culture, Spanish, and women's studies. Courses are available to High School and College Students and Adults. Graduate Students can come and do thesis research and volunteers can help with their numerous projects and teach in local schools. International partnerships with university and research centers continue to develop. The institute also hosts international conferences. Nearly 50 adjunct faculty members, over 60 Partner Organizations and dozens of classes and projects are part of this exciting and ambitious organization. Over 1000 people came last year to work, study, or attend a conference. Sarah spoke about the Arts Festival, which last year was a one-afternoon event and this year will be in a larger facility with 65 artists showing and selling their work. Food, Music, and other activities will be part of the Art Festival. The other project she is working on is The Monteverde Music Festival, which takes place over 6 weekends. Internationally known Costa Rican Musicians are invited to perform. There is also folkloric dance, folk art traditions and of course food and other activities. Any monies from the festival will go towards Music Education scholarships for individuals and institutions. Sarah has brought the concept of Cultural Tourism to the National Tourism Board and movement is being made to support Cultural Events with tourism in mind. She is also part of a national group to coordinate a calendar for fairs, annual events, and programs throughout Costa Rica. For more information about the institute you can go online at www.mvinstitute.org.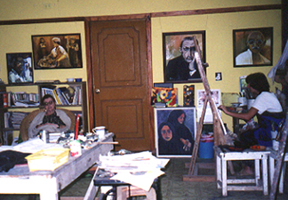 Stella Wallace in her studio surrounded by her paintings, a friend at easel, Monteverde, Costa Rica
From the Institute I visited Stella Wallace at her painting studio that she makes available for other painters to join her. Stella began oil painting 20 years ago and most of the work I saw was of people. With strong colors and firm brush stroke she captures a sense of the individual. Stella's daughter, Meg Wallace, is also an artist who has done botanical watercolors, oils, architectural watercolors, pottery, and stained (and painted) glass that I found especially excellent. Take a look at their work at www.stellasbakery.com.
Also in Monteverde I went to Galería Éxtasìs which had 3 floors of fine contemporary work, mostly wood sculpture and paintings. Christina Rubio, sentimental partner of owner and artist Marco Tulio Brenes, spoke to me about the need for a fine art gallery in Monteverde. There are so many souvenir/crafts places and few serious galleries. At Bromelias, owner Patricia Maynard represents 4 artists and craftspeople and hopes to have an exhibition of Costa Rica Artists 2-3 times a year. She also has paintings on silk, batik, stained glass, indigenous Indian musical instruments, books, crafts, jewelry. She also told me that there are so many artists and so few places for them to show their work. Her husband, Mark Wainwright, does very fine illustrations for many of Costa Rica's field guides and charts. He is also on the Board of Directors for the Monteverde Institute. I also visited CASEM, a cooperative of artisans begun as awomen's collective in 1982 by 8 women living in Santa Elena & Monteverde. Today there are over 140 men and women whose art and craft is available at the Handicraft Center. Much of the work is hand made, frequently of raw materials indigenous to the area. Having an outlet for their work gives these people an income as well as (according to their brochure) increasing their self-esteem. Some of the proceeds of the sales help to finance a training program allowing members to improve and develop their work.
In other towns I visited there were mostly souvenir shops with some crafts and art, mostly mass-produced. I did come across Lunática, house of Artes and Culture, run by Francesca Marchi Golinelli. She represents two groups of artists as well as individuals. It is a spacious gallery and well worth a visit when you are in La Fortuna, where one can see the active volcano Arenal – which was fantastic! Near Arenal is Toad Hall, a place where one can eat and visit the delightful gallery that has fine work by local and indigenous artists.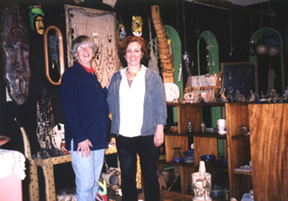 At Bromelias, owner Patricia Maynard (L) and Pete Young (R) among some of the crafts and art at the gallery, Monteverde, Costa Rica
While in San José I went to see the National Theatre (declared a National Monument in 1965) which from its neo-classical style exterior doesn't give a clue to the exquisite interior. Built in 1897 with taxes especially created to pay for the construction, the theatre answered the need for a place to perform light operas. Today their programming includes dance, theatre, and music. The marble columns and staircases, parquet floors made of local hardwoods, gilded ceilings, brass and crystal chandeliers, gold-laminated ornaments, stucco work, as well as the sculptures and paintings by some of the country's finest artists, can be seen throughout the theater. The proscenium is impressive, seating for 1070 is elegant with private boxes available in the balconies. I would love to have attended a performance that evening but nothing was scheduled until early February. There are numerous museums in San José including the Costa Rican Art Museum, Jade Museum, National Gallery of Contemporary Art and Design, La Salle Museum of National Science, Children's Museum and the National Museum.
This trip to Costa Rica was delightful. The roads are awful (I bought the T-shirt "I Survived the Road to Monteverde"), the people – "Ticos" – are very helpful and friendly, many of them speaking English and the wildlife unlike anything we see in the US. I am thinking about a volunteer trip back to Monteverde some time in the future. In fact they do need someone to publish their phone directory which at this point is just typed pages stapled together.
My plan worked. I left Costa Rica, arrived in Miami at 1pm and flew out 3 hours later to Barbados!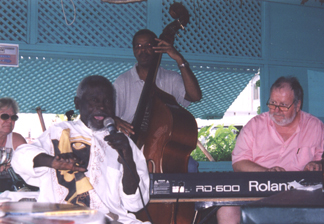 Charles Manford on piano and Clarence Green on base and
El Verno Del Congo at Lobster Alive, Barbados

Barbados is an Island where many musicians, artists as well as actors, writers, and filmmakers have come to live. If you wander into any number of restaurants and certainly nightclubs and other gathering places, musicians are often playing. Late in the day after a delightful cruise on the Catamaran Heat Wave, we ended up at Lobster Alive and heard Charles Mounford on piano and Clarence Green on base. I saw an elderly man come into the restaurant and motion hello to the musicians who in turn asked if he'd like to sit in. I didn't know what a treat we would be in for. El Verno Del Congo is an internationally known drummer and singer. The Jazz Festival here in Barbados always features him and he was a regular at the Belair Jazz Club, which unfortunately is no longer open. His delightful voice is rich with soulful expression. After the set, I went over to thank him and to see the four small oil canvases that he had with him. Mostly abstract yet recognizable and done with his fingers they were all done recently. When El Verno Del Congo was 14years old he needed money and bought some red and brown paint. He used a match stick that he had chewed downto make a brush and made a painting that he was able to sell for a few dollars. He has always painted, mostly on canvas, and his music and painting has enriched each other over the years. He asked where I was from and when I said NY he replied that in the early 1960's he had been asked to perform at Radio Center Music Hall. The artistic director of the hall had seen him dance and invited him to NY!