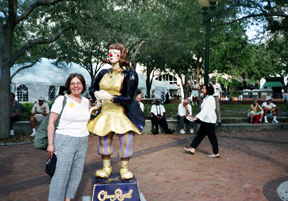 Laurie Spiegel with one of the many clowns located in downtown Sarasota. Photo: Joan Hirsh
Sarasota's Winter Art Scene
By LAURIE SPIEGEL
ART TIMES April 2007
I'm fussy. I like my coffee roasted on the premises, my music live, art museums to have world class artists like Rubens, Titian and El Greco, restaurants and shops to be locally owned and the Nutcracker to be Balanchine. Would I find these things in Sarasota Florida? Absolutely, and more.
Coming from New York in January my first priority was warm weather, a beautiful beach, and the sound of the waves. The west coast of Florida is generally known for beaches with shells but in Sarasota there is also the Siesta Key beach, judged by the Woods Hole Oceanographic Institution to have the finest, whitest sands in the world. Where there are good beaches there are always plenty of lovely resorts. We were happy at the Lido Beach Resort within walking distance of St. Armand's circle, known for restaurants and shopping. We had a large studio with a king sized bed, a sitting area and a kitchen, all overlooking the gulf. If you want to splurge there is also the Ritz-Carlton with a spa, a golf club, and a beach club that makes special cocktails to match the sunset. Both resorts have fine dining restaurants that I would recommend.
Sarasota prides itself on being the cultural coast of Florida. For the Performing Arts highlights include the Sarasota Opera, the Sarasota Ballet, the Florida West Coast Symphony, The Asolo Theater Company, Jazz Club of Sarasota, the Sarasota Film Festival in April and world famous performers stopping at the Van Wezel Performing Hall. There is also the magnificent newly renovated historic 18th century Venetian Asolo Theater, home of both local and traveling artists. Many performances are done on a repertory schedule so whether you are in town for one week or the entire season, there is a great variety to choose from.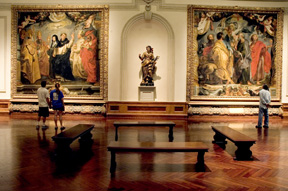 Rubens Gallery, The John and Mable Ringling Museum of Art. Photo: Ringling Museum
Many people associate Sarasota with the circus. That is because in 1927 John Ringling chose Sarasota as the winter home for the Ringling Bros. and Barnum & Bailey circus. While the circus was the initial source of his wealth, Ringling then invested in railroads, oil, and real estate making him one of the country's twenty wealthiest people by the 1920s. John and his wife Mabel also chose Sarasota for their home Cà d'Zan, and for the John and Mabel Museum of Art to house their art collection. While he envisioned Sarasota as a cultural mecca, attractive to wealthy people from the north, he always intended the art collection to be available to the public. Upon his death in 1936, John left the Museum of Art, the Venetian mansion Cà d'Zan and 66 acres to the people of Florida. Most people would agree it is the Art Museum and its collection that is the greatest legacy. John and Mabel started collecting art when they traveled to Europe to audition new circus acts. They commissioned the architect John Phillips to design the grand Italianate building. Ringling was a showman, so he planned that in each of the 21 galleries in the museum, the walls,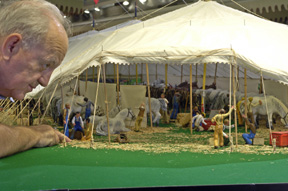 The Howard Bros. Circus (detail) complete with eight main tents, 152 wagons, 1,300 circus performers and workers, more than 800 animals and a 57-car train, is on permanent display in the Ringling Circus Museum's Tibbals Learning Center. Created over 50 years by master model builder & philanthropist Howard C. Tibbals, the circus is a 3/4-inch-to-the-foot scale replica of Ringling Bros. and Barnum & Bailey Circus (circa 1919-1938), and occupies 3,800 sq. ft. Photo: Ringling Museum, Tibbals Learning Center
architectural detail and occasional furniture would be designed in keeping with the period of the art displayed there. For example, the gallery housing the Italian Baroque collection has red walls with the same pattern as seen in one of the portraits in the gallery. The collection extends from ancient Cypriot pottery to twentieth century American constructions with lots of paintings between. The collection is best known for its old masters including Cranach, Rubens, Poussin, Hals, Van Dyck, and Guercino.
Also on the Ringling Campus, in the Tibbals Learning Center is the largest miniature circus in the world. Howard Tibbals, a successful businessman from Tennessee, spent 50 years researching and recreating the circus of 1938 complete with tents, wagons, animals and 1500 performers and circus workers. Trust me, words do not do this exhibit justice; you have to see it to believe it!
Many of the buildings on the Ringling campus including the museum and Ca d'Zan have been recently renovated. Cà d'Zan had fallen into such disrepair that it was used as the decrepit home of Miss Havisham in the 1996 remake of Dicken's Great Expectations. After 6 years and $15 million, the 41-room mansion has been restored to its original 1926 grandeur. During the Ringling's travels to Europe they fell in love with Venice and decided to design their dream house on Sarasota Bay after the Doge's Palace on the GrandCanal, complete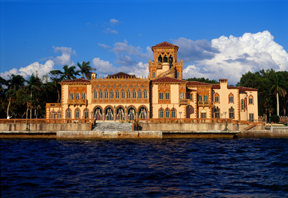 Cà d'Zan, former home of John and Mable Ringling
now fully restored. Photo: Cà d'Zan
with a marble terrace and dock. The mansion reflects the owner's familiarity with grand houses in America and Europe as many design elements were derived directly from such diverse sources as the Hotel Danieli in Venice Italy and the grand houses in Newport Rhode Island. Just like the circus it is hard to take it all in at once. There are elaborately decorated terra cotta facades, stained glass skylights and doors, marble floors, carved wooden ceilings, Spanish tiles, bronze door surrounds, crystal chandeliers, 17th century tapestries, not to mention furnishings, paintings, and beautifully restored fabrics. It seemed that everything in the house had to be restored. In fact one of the docents guiding us through the mansion is also a lace historian and personally restored some of the lace on Mabel's bed.
We were in Sarasota in time for Arts Day, the annual arts festival celebrating both performance and visual arts. This event takes place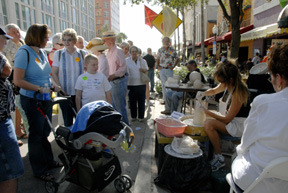 Pottery Demonstration during Arts Day 2007.
Photo: Allen Cohen
Downtown in the streets and in performance venues such as the Opera House, three stages in the Florida Studio Theater, and the Golden Apple Theater. There were 12 stages in all featuring 1000 performers ranging from students to local independent musicians, to the Sarasota Pops, Sarasota Opera Company and Sarasota Ballet performing excerpts from "The Nutcracker". 100 visual artists were represented in booths and in local galleries; there was also opportunity to experience sculpting, glass blowing and painting and to interact with local artists. All the local Arts and Cultural Organizations had booths to showcase their individual events.
Want to learn more? I don't just mean about Sarasota — I mean about everything. There are plenty of rich venues for lifelong learning in this area. Longboat Key Center for the Arts has offered classes primarily in the visual arts and crafts for the last fifty years.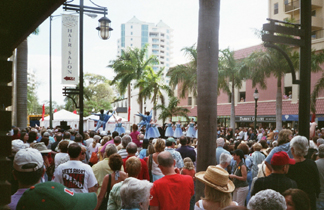 Arts Day 2007 performance by Sarasota Ballet Company
Photo: Laurie Spiegel
The Ringling Museum now under the governance of Florida State University recently introduced its Cultural Institute offering university level two-day seminars on a spectrum of subjects ranging from "The Circus as Community" to "American Painting". They also have individual lectures. The University of South Florida has an Academy for Lifelong Learning with offerings as varied as Landmark Decisions of the Supreme Court and Beginning Digital Photography. The Ringling School of Art and Design has both studio and lecture courses, and for those who are adventuresome enough to start learning a brand new skill there is beginning Strings for the young at heart at the Florida West Coast Symphony.
I left Sarasota wishing I had had more time for everything, from sitting in the sun and a leisurely massage at the Ritz-Carlton spa to visiting more galleries, eating at locally owned restaurants, and attending performances of local artists. I guess that is a good measure of how much you like a place, when you leave with a list of things to do when you go back.
(Laurie Spiegel, a worldwide traveler, lives in New York City.)