See other articles about Travel and Culture
Report from Europe
By CORNELIA SECKEL
ART TIMES March, 2005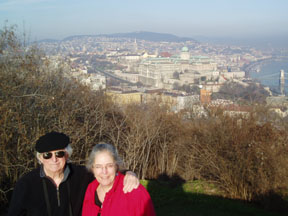 R aymond & Cornelia on Géllert Hill (Buda)
overlooking Pest across the Danube.

In each country that we traveled — Germany, Austria, Hungary and Italy — we were surrounded by the history and culture of that country. It is not that we in the US don't have a culture, it is just that it is so much part of our daily lives that it is hard to see the forest for the trees. We live in such a large area that we don't see regional differences until we have traveled hundreds of miles (while in Europe one has already crossed several other country's borders). It takes being an outsider to begin to see the trees and this we were able to do with our friends and guides as we traveled this past January. We landed in Munich on New Year's day, a day that very few people travel, and so the airports were empty and going through Customs was a breeze. Our first stop was a short visit just outside of Munich with friends Gabi & Norbert Wittmer. We went out to dinner and ate at a restaurant typical of Bavaria. In Europe, as in many other areas of the world, the food and drink are very much part of the culture. We were in Bavaria and so we drank wine and beer from the region, ate foods that were specialties of the restaurant. I was struck by the differences in greetings — in the Southern part of Germany one says "Praise God" as a morning greeting, and in the North it is "Good Morning". Catholicism permeates Bavaria — although I am not speaking about practicing Catholics, but the traditional Catholic lifestyle.
After a few days in Munich, friends Jacky Sparkowsky and Jörg Iwan from Berlin met us in Regensburg, and we went to Jacky's childhood home in Bogen and now a home she has inherited from her mother. It is certainly a privilege to visit people's homes when traveling. For the most part one stays in pensions, hotels, bed & breakfast inns. Several things struck me in Jacky's home. The refrigerator was in a room other than the kitchen (as it was in China), and each room had a door that could be locked and closed off from the rest of the house (for conserving heat). In the basement was an old washing tub, under which a fire could be built. Water from the washing machine went into a drain on the tiled floor. While in Bogen, we visited the Cloister where Jacky and her mother first lived after leaving what was once Czechoslovakia and burying what they could not carry in the field of a neighbor's farm (possessions never recovered as they were gone when they returned to retrieve them). We had dinner in a restaurant that has been in the town of Bogen for hundreds of years. We took a trip into the Bavarian Woods to Bodenmais, a ski town that seemed so much like our ski resort towns — some playground kind of thing for the children, lots of Porcelain outlet shops and factory stores with all sorts of things one often buys on vacation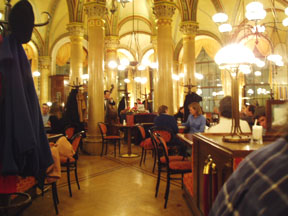 The Café Central in Vienna, Austria.

Jacky learned that the Annual Christmas Tree Auction was being held at the Cloister and we thought we would stop in and see what it was all about. We entered a large room filled with townspeople sitting at row upon row of tables stretching out at least 100 feet. As we entered, all heads turned and there was not a sound other than the music of the oompah band in the far corner. We could almost hear people wondering who these strangers were. The evening turned out to be delightful. Hundreds of items (sausages, bottles of beer and pretzels, toys, bottles of liquor and wine, plates of meats and bread, plants, small decorative items, etc.) were auctioned off. We were seated at a table next to some young people who were part of the youth fire brigade (we learned that the auction was a fund raiser for the firefighters and the oompah band), and all of us began to share whatever food and drink that we bid on and got during the auction. We had a very nice time with these young people, some of whom had been exchange students in the states and eager to practice their English.
Then we were off to Vienna and to Budapest, two cities we had never been to.
Vienna is the home of elegance, of the waltz, of coffee (I wondered as we sat in different coffee houses if the parents of my brother-in-law — both born in Vienna — had eaten there, perhaps at the very table where we were enjoying Apfelstrudel, Linzatorte, Sachertorte, Esterhazytorte and coffees). It is true that you can sit at a coffee house for hours, writing, reading and drinking, all for the price of a single cup of coffee!
Visits to the Hofburg Palace where I saw rooms from the different reigns over several hundred years, The Albertina where we hoped to see some of their drawings and etchings, but were disappointed being told by the press office that none of the 65,000 drawings and nearly 1 million prints, including works by Dürer and Klimt, were not on view to the public! What was on view was an exhibition of Chagall (that I had seen 3 years ago at the Boca Raton Museum of Art in Florida). None of the permanent collection was on view — only some reproductions from the collection. It seems absurd to me that a rotation of their collection was not on exhibit. Meanwhile, any of you going to Vienna hoping to see these graphics and drawings first-hand will be disappointed, as we were. We tried to get into the Kunstmuseum (Art Museum) where 1 of the 3 current Rubens exhibitions was on view. More trouble, press credentials were not recognized. I had hoped to speak with the press people, but since they were far away from where we were, we left. It didn't seem that Vienna was interested in press coverage!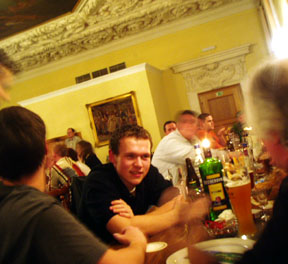 "Christmas Tree Auction" at the Cloister in Bogen,
Bavaria, Germany.

We made a trip to the Naschmarkt, the city's largest market and Saturday flea market (antiques and 2nd hand clothing), that covered easily 20 city blocks and has at least 4 aisles. I wasn't so pleased with the flea market, although there were great buys among the junk, but was thrilled to see the foods and vegetables, meats and fish. I tasted what I could, and bought a bottle of honey wine (mead). I headed out to Schloss Schönbrunn, the former summer residence of the Habsburgs, rulers of Austria from 1273 until 1918. There was quite a bit of history in this Palace with rooms from different periods, including some tape recordings and readings from diaries of royal residents. There are extensive gardens and a zoo, best seen in seasons other than winter. As I entered the first of the series of rooms, I saw the Children's Museum with children trying on clothing, dancing waltzes, drawing and playing with a large model of the palace.
What was outstanding was a visit to the Spanish Riding School and the stables where the Lipizzaner Horses were kept. In 1562 the horses were brought to Austria from Spain and the school dates back to 1572. We were not able to see a performance by these world-known horses, but did visit the riding hall, the tack room and stables. The steps that the horses follow in the performances come from the battle maneuvers of the Renaissance period. The riders are admitted after rigorous interviewing and only two new riders come to begin their training each year.
I was moved by the archeological remains of the medieval synagogue in Vienna and the holocaust memorial on the plaza above. The museum has a virtual reality video of the development of the synagogue over many centuries, and while standing on the site of the remains it was very moving to see the women's gallery, the place where the Ark stood, and where the Rabbi led the services.
I would like to have heard an opera, seen a play at the Burg Theater, visited the Jewish Museum, gone to a ball and danced waltzes all night, and seen the holdings of the Albertina. Perhaps on another visit to Vienna.
While still in New York, I had arranged with the Budapest Tourism Office (I had also contacted the Vienna Tour Office, but got little information from them), and they offered transportation and a guide to give us an overall picture and then make suggestions for us to continue on our own as we were traveling with our friends Jacky and Jörg. Our guide, Richard Bogdán of (Travel Department ), picked us up at our hotel at 9:30 and we were brought to a very comfortable car with Zoltan our driver who made it possible for us to cover a lot of territory in just one day. Richard asked us for any specific needs we had and worked it into his plan. First we got a history lesson and learned about the early settlers in Hungary. There are signs that people were settled in the Budapest area during the Paleolithic Era. Around 100 AD, the Romans established a town that lasted until the 5th Century. There are numerous archeological sites from the Romans: in the Castle District, just out of the city, can be found a museum and the remains of the town of Aquincum, and an amphitheater just outside of the city in Obuda. In 896 a nomadic tribe of Magyars came from the Urals region in Russia and settled in Pannonia. This was the time of the unification of Hungary. After this, came the Mongol Invasion (1241) and they killed off 70% of the population. As a result of this devastation, the Hungarian King invited people from all over to live and repopulate the land – (this is also the time the Jews arrived). Then, the Turks ruled (1526) for 150 years before they were overthrown by the Hapsburg Dynasty. In 1867 the Austro-Hungarian Empire reigned until after WW I, and with their defeat much of the territory was lost. An unfortunate decision to support Germany during the Nazi Regime left Hungary to the Russians after the war. It was in 1989 that the Republic of Hungary proclaimed itself, and the following year free elections took place. For the first time I got a strong understanding and appreciation of the plight of the Hungarian people.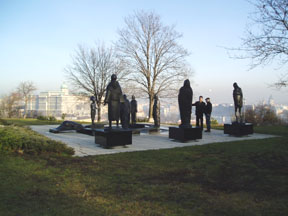 Philospher's Park, Géllert Hill, Budapest.

Our first stop was Gellért Hill, the Buda (male) side, for a view of Pest (woman) and then to the Castle district. In 1873, the three cities of Buda, Pest and Oud came together to become Budapest. Enroute we stopped at Philosophers Park and a great view across the Danube of Pest. The sculptures at Philosophers Park were made by Nándor Wagner and donated in 2001 by his widow. It was a very powerful arrangement of Akhnaton, Jesus, Abraham, Lao Tse, Gandhi, Buddha, St Francis and Bodhi Dharma.
We entered the Castle, which was from the 13th Century, through the labyrinth. The limestone of the hills allowed for many passages under the castle. Foods and other goods were stored and hidden, secret meetings took place, and very recently deceased German WW II soldiers were found that were hiding from the Russians who liberated Budapest from the Nazi soldiers.
Budapest is also well known for its coffee-houses and their fine cakes and hot chocolate. We stopped at a small coffee-house (my first and not last), in which a beautiful large porcelain stove heated the shop. We learned about Herend Porcelain, the finest porcelain in Hungary, and according to some, the world, as well as Zsolnay Porcelain which is used for the tiles on many of the church roofs in the city. As we were walking along I saw a sign — "Bánsághi Art Studio" — and told Richard that I wanted to stop in and see if the artist was available to speak with me. Raymond had seen a drawing that he was interested in, but the artist was out. We left word with his son who was watching the shop, asking his father to call us and perhaps meet us at a nearby restaurant. We went to see the Mátyzás Church, built between the 13th and 14th Centuries. We then went to the Royal Palace where we saw the outside of the Hungarian National Gallery, which houses an extensive collection of Hungarian artists' work. (The Museum of Fine Arts has traveling exhibits not necessarily focusing on Hungarian Artists). The next day we walked across the Danube via the Chain Bridge (first permanent bridge over the Danube built in 1839) to visit this museum, and I was particularly moved by the work of Alajos Stróbel, Miszoly Géza, Ligetti Miklós, Hollósy Simon, Mihály Munkácsy, and Károly Lotz. I was sorry we were not able to get any help from the Press Office at the museum so that Raymond could write about some of these artists. As journalists, we need to be accurate — and I only hope that is true for my brief history of Hungary. Also at the Palace we saw the Mátyás Fountain, walked past Sándor Palace, the home of the Prime Minister, saw the foundation of a medieval town recently uncovered just 200 meters from the Prime Minister's home, passed the National Dance Theatre, the National Library, the Budapest History Museum and the Ludwig Museum Budapest – a Museum of Contemporary Art housing the Ludwig Collection of 150 modern works donated in 1989 by Peter & Irene Ludwig of Germany and exhibits of the Social History of Hungary.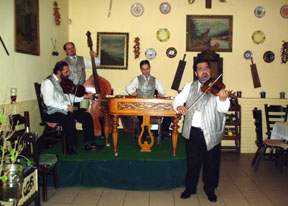 Gypsy band (center is the cimballom) at a restaurant in Budapest, HU.

A sumptuous lunch hosted by the Tourism Office at the Rivalda Cafe & Restaurant was enlivened by the presence of the artists Tibor Bánsághi and Maria (whose last name I never got), who had gotten our message and joined us. We spent quite some time talking about the life of the artist in Budapest. The story is not any different from other places I have visited. An artist can either spend his or her time trying to get into commercial galleries that take 50% commission on any work sold (and more often than not these are political and social decisions, not decisions of quality of work), or join organizations with other artists and have exhibitions at public spaces. Both Tibor and Maria are over 50 and Maria has had a career doing special effects for films. Tibor came from a family of artists. His grandfather had an easier time expressing himself in his work. Tibor and his brother, as well as his father who worked during the time of socialism, had to deal with much more state control over content. They both expressed concern at the lack of press that artists get and that it is a hard life, but as artists there is no choice for them but to do their work and try and earn a living. This is a familiar sentiment I've heard from artists no matter what country they live in. If they want to be true to their art they must try and make their own way, a way that doesn't compromise who they are and their work. (Before we left the restaurant, Raymond bought the drawing from Tibor).
When we left Buda we stopped at the Memorial to the 1956 uprising just outside of the Parliament Building. When I was 10 and in elementary school, I remember a girl joining our class who had arrived from Hungary, and at that age I only knew that she had come from another country and had a mystique about her, which I only now begin to understand. There were several other sculptures of individuals who had worked and fought for Hungarian Freedom from foreign regimes. In the Parliament area are numerous historic buildings (many also built after the unification of Buda and Pest in 1873 and at the time of the Millennium Celebration of the founding of Hungary. During this time many other buildings and parks were built in other areas of Budapest), including The Parliament, The Ministry of Agriculture, which was the High Court under the Socialist Regime; The Hungarian Academy of Sciences, The Ethnographical Museum with a collection of folk costumes representing the various nationalities and ethnic groups in Hungary, The State Opera House with an exquisite interior built after the Opera houses in Paris and Vienna and Central European University. If we had more time in Budapest we would certainly have visited these places as everywhere we looked was history, art, and new experiences. We drove past St Stephens, named for István, the first Hungarian Christian King, which contains the mummified forearm of King István.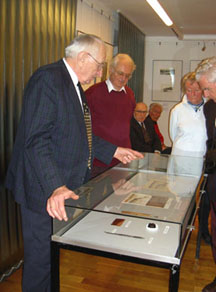 Heinrich J. Jarczyk explaining the "tools of the trade" at his exhibition, "Die Welt als Mikrokosmos" at the Haus des Deutschen Ostens in Munich, Germany.

In the 13th century, Jews were first reported to be in Hungary, the King giving the Jews freedom of religion, a freedom and an integration into the Hungarian society that lasted until 1941, when Nazi anti-Semitic laws were passed. In 1944 deportation of what ultimately came to be up to 600,000 Jews began. It was possible for many Jews to be hidden in Budapest as the deportation began outside the city. Back in 1852 the construction of what is reported to be the largest Synagogue in Europe and 2nd largest in the world began and was built in a Byzantine-Moorish style large enough for 3,000 worshippers. Unfortunately the synagogue and museum was closed while we were there; a small hall is now used for services on Friday and Saturday, as the number of Jewish people in Hungary has diminished. Richard, our guide, was able to be even more thorough as he is Jewish and part of the Jewish community whose attrition rate is escalating. He told us that there were only 15 Rabbis in all of Hungary and 14 were in Budapest. What that meant was there are only a handful of people studying and worshipping, this being a result of 40 years of Socialism and a policy of no religious practices. When recently surveyed, only 300 people identified themselves as Jews although many more than that contributed to the Jewish Charities as part of their income tax returns. What I found particularly interesting was the story of the renovation of this synagogue and the man responsible for it. Many years ago, Emanuel Schwartz left Budapest for New York. He was a very wealthy man and one of the major contributors to Temple Emanu-el, NYC, when the congregation bought property and built a new synagogue on 5th Avenue at 65th Street in NYC. His son, Bernard Schwartz, also a very wealthy man, visited his father's home in Budapest seeking his roots and learned that the Great Synagogue was is need of restoration and made the largest financial contribution in order to begin the repairs. He was also a major contributor to the sculpture of a weeping willow "tree of life", a memorial to the Jews killed by the Nazis in WWII. Bernard Schwartz is also known as Tony Curtis, and is a frequent visitor to Budapest.
The end of the day found us in the area of Városliget, or City Park, once a marshland made into an English style park in the mid 19th Century. This area was a focus for the Millennium Celebrations in 1896 that marked the 1,000-year anniversary of the conquest of the Carpathian basin by the Magyars. During this time construction of the Museum of Fine Arts; the impressive monument in Heroes' Square; the Vajdahunyad Castle, a fairy-tale like building which is comprised of a complex of buildings reflecting various architectural styles; the Széchenyi Baths —the largest complex of spa baths in Europe where the hot springs bubble up from 3,180 feet, and people can be found playing chess in the waters, was undertaken. It was also during this time that gas lighting was introduced and Europe's first underground transport system was opened.
Before saying goodbye, Richard urged us to go to the National Gallery, to Szentendre (St Andrew) and, if possible, to the Opera House, second best, he said in Europe. He also suggested that we could see the Secession style Buildings which are quite apparent in Budapest in the Gresham Palace, Gellért Hotel and Baths Complex, Sipeky Balázs Villa, Entrance to the Zoo, the main staircase of the Post Office Savings Bank, and the Apartments on Bartók Béla Block.
We did get to Szentendre, an old fishing town along the Danube some16 miles north of Budapest and known for the artists who first came to live there in the 1920's. We drove with our friends Jacky, Jörg, and new friend Lázsló Fésüs, a colleague of Jörg's who served as our guide after Richard left us. It is clear why artists came to live in this picturesque town with many of the buildings dating back to the 18th Century. As in most towns known for their arts community, the artists can no longer afford to live in there; there are several galleries where we saw excellent work and not so good work. There is a Margit Kovács Museum, her whimsical sculptures delightful. A second generation of artists are now working in her style (she died in 1977).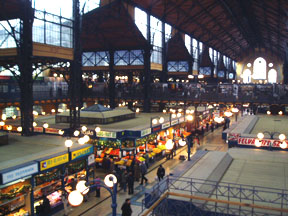 Central Market designed by Gustav Eiffel, Budapest.

Subsequent days in Budapest found us at an open air market that had a lot of antiques, porcelain, and flea market items (on route to this market we passed a large conclave of Chinese Hutons — little living areas similar to those we saw in Beijing, China — apparently there is a growing Chinese population); each night we ate at a different restaurant, all of which had good musicians (Gypsy) playing violins, a base, a cimballom (similar to a xylophone, except it had strings rather than metal rods) where we sang, we ate foods with paprika, we drank wines that we had never heard of. The Coffeehouses were as prolific as in Vienna and we drank coffee, ate delicious cakes and one place in particular seemed to be not only a coffee house but also had a gallery space and a room with a stage for readings and performances. The Central Market was designed by Gustav Eiffel and is quite a place to visit. My souvenir of choice was little packets of Paprika as well as hand embroidered boxes (the designs come from different villages) that I found in this market. I am always interested to see what fruits, vegetables, parts of animals people eat (heads, feet, testicles), and this place was fabulous. On the second floor were handmade items from different ethnic groups in Hungary.
Back to Munich for a birthday celebration and exhibition, "Die Welt als Mikrokosmos" (The World in a Microcosm) at the Haus des Deutschen Ostens, for our friend Heinrich J. Jarczyk. After the birthday celebration we traveled with Gabi and Norbert Wittmer to Italy. They have been traveling to Italy for many years, and we were happy to put ourselves (as we did with Jacky & Jörg) in their hands.
In 5 hours we passed through incredible differences in landscape: in Austria we saw the Alps, several ski areas and cross country skiers. Then into Italy, less snow and deep valleys surrounded by huge mountains that are stark and steep. We saw the gentle change in the buildings as well as we left Germany, passed through Austria, and on into Italy. A border doesn't change people's eating and living styles. No wonder the old allegiances to countries whose territories have been occupied by various countries over the centuries.
Each view was more magnificent than the next as we drove through the Alps via Brenner Pass, and down along the Lake Garda (Lago di Garda), a beautiful inland lake that is surrounded by high-peaked, snow covered mountains that in many ways reminded me of Lake Tahoe in Nevada. We were traveling in the winter and yet it was clear to see what spring and summer would be like: sailboats, fishermen, outdoor eating, camping areas, summer homes, and old castles — and lots of tourists. Bardolino wine comes from this area. (What is also interesting is the attention paid to what and where wines and beers are produced, and what gets drunk with what!! This is a focus we rarely come across unless we are dining with Gourmets). At the southern end of the lake is Sirmione, a resort town mentioned in history as far back as 56 B.C . People still come to the area for its hot mineral springs and the peaceful relaxed atmosphere just as they did in Roman times. We stayed the night at Hotel Faccioli in Valeggio, a lovely, small inn built into the walls that surrounded the castle. We walked around this quaint village that had a mill operating on the Mincio River.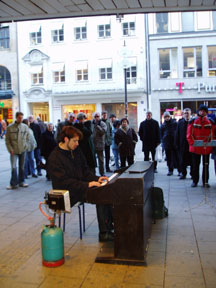 Street Musician at Munich's Marienplatz.

This was a perfect place to spend two nights as we then had a full day to spend in Verona. There had been two inches of snow the night before (apparently at most, a once-a-year occurrence) and seeing oleander, orange trees and palms with snow on them was a first for me. Our first stop in Verona was the outdoor arena, formerly a Roman Amphitheater for the "entertainment of the citizens." Now instead of gladiators and lions, each summer there is an Opera Festival with 4 or 5 different operas held over the several months. We walked into the old part of the city and I walked up the Bell Tower (La Torre dei Lamberti first built in 1172), all 365 steps, and was rewarded with a glorious view of Verona. The day was warm and I met up with Gabi, Norbert and Raymond at an outdoor café. We did some window shopping, strolling through the streets of Verona (looking for Two Gentlemen as well as Romeo and Juliet!). In the evening we went to the Opera and saw Ernani by Giuseppe Verdi which was first performed at Teatro la Fenice, Venice in 1844) and written after the play Hernani by Victor Hugo. Going to the opera in Europe is an elegant affair. People take it quite seriously, and any rustling of candy wrappings, clapping at inappropriate times, or coughing is rewarded with an immediate shh!! I enjoyed the production; it was very stylized and highly dramatized with symbolic staging (sets and costumes in a variety of reds). The Theater was beautiful — huge chandeliers, boxes, balconies with only one row of seating, others with easy chairs.
The next day we headed to Venice, a 2-hour car ride. Raymond and I had been in Venice many years ago, but here we were with friends who knew the city far better than we did so I didn't need to look at a map. Staying at a hotel in Maestro (a train station away from Venice), we were able to park the car and get a room for a reasonable amount of money. We didn't go into any museums, just took the boat from the train station to San Marco Square and walked back via alleyways and bridges. I spoke with two artists who were selling their paintings on the street, and again heard about how hard it is to make a living. People will buy paintings of bridges, of carnival, of buildings, but not the artist's true work. Same old story. We found Venetian glass available in many stores, and passed fine clothing shops, restaurants as well as the hardware stores, plumbing supply stores that exist in every city. We stopped into what had been a church and is now the Museum or Institute of Vivaldi. Five or more vitrines held string instruments of his time, including beautiful violins, violas, cellos and other instruments I had never seen. Apparently they have concerts here, some with these old instruments.
As closed in as the streets and alleyways are, there is still an expansive feeling — perhaps it is the waterways that are never-ending. This has been a gateway between East and West and a center for culture for centuries. As if on a planned schedule, we arrived at the top of the Rialto Bridge just in time to view a glorious sunset. We left Venice after a full day of exploring and I thought, this is not the last time I will visit this city. Perhaps spending a few weeks would really allow me to know some of its treasures.
On our return to Munich we stopped in Ritten, a small Tyrolean village on the top of a mountain that gets a lot of activity during the summer, but in the winter only one restaurant was open. We were close to Austria and so German was the language and the menu a mix of Italian, Austrian and German. I took a walk through the old church and cemetery (pictures of deceased are on the grave markers) and from this vantage point, a view of the Rosengarten (a particularly striking group of Alpine mountains).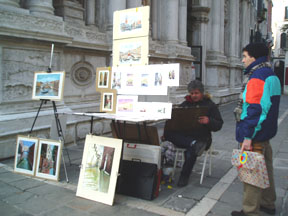 Street Artist in Venice, Italy.

From Munich, we went to visit Heinz and Christiane Jarczyk in Cologne for some quiet time to begin digesting all the images and ideas we took in over the past weeks before heading back to New York.
Now this next part in particular is what made family and friends hard to be sympathetic about all the work facing us in the office on our return. After an overnight in Queens, we left for Barbados staying with Barbara Gill, owner of Valley Courier in Kingston, NY (they'll travel anywhere you need them to go) for 8 days of rest and relaxation (although I did write most of this report there) and some time visiting a few artists and galleries.
Traveling is a wonderful way to come out of my own world — as open as I think it is. I am now much more ready to read and understand history, to see that the problems people have with one another today goes back hundreds of years to political maneuvers that changed peoples lives. Understanding the bigger picture is deepening, rewarding and humbling.