Culturally Speaking
By Cornelia Seckel
ART TIMES Winter 2013
In November's Culturally Speaking column online you can find my Comments about The Armory Show at 100 at the New York Historical Society; The 14th annual fiercely independent Woodstock Film Festival; Pirira, a play written by J. Stephen Brantley and produced by theatre 167; Ilka List's terra cotta figurine reliefs at the James Cox Gallery, Willow, NY and a Group Exhibit curated by Lenny Kislin at Wired Gallery in High Falls, NY. I also made a short video of my stroll along the High Line, one of the newest NYC Parks that at one time was an elevated freight line. The video is available on the arttimes Youtube channel and can be linked to from the videos page on the arttimesjournal.com website. The music accompanying the video Darlin' Darlin' was written by classically trained oboist turned folk singer-songwriter Emily Mure. More of her music at EmilyMure.com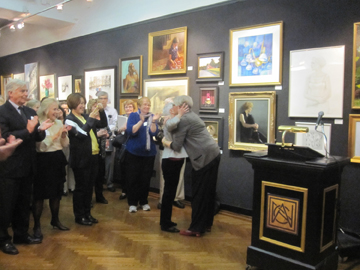 The 117th Annual Open Exhibition for the Catharine Lorillard Wolfe Art Club (clwac.org) was, as usual, an excellent exhibition with about 250 paintings and sculpture coming from all across the US, Brazil andCanada. Catharine Lorillard Wolfe, the only woman among the 106 founding members of the Metropolitan Museum of Art, left money to Grace Church (NY) to be used for some form of "women's work" — that work being a club to support and give aid to young women art students, most significantly with exhibitions and meeting space at the Parish House. 117 years later, the Parish House continues to be a base for the Club while for numerous years the National Arts Club, NYC, has been the location for the annual exhibitions. This important Art Club's history A Chronicle— The Catharine Lorillard Wolfe Art Club is now available to order from the CLW website. We were pleased that Jeanette Koumjian was the winner of the ART TIMES Award with her painting Red Hook, Brooklyn. Congratulations Jeanette. Claudia Seymour was named as thehonored artist for 2013. Claudia, a painter of still life in oil and pastels is recently retired as the president of the Salmagundi Club, NYC (founded in 1871) and continues to give her skills and organizational talent to the art community. Top award winners include Jill Pabich, Patricia Billecci, Andrea Pejeau, and Alicia Ponzio. The Opening Reception is always a benefit for travel opportunities for curators at the Metropolitan Museum of Art. The Opening was packed, hundreds of people attending, enjoying the art and the artists.
I attended a luncheon sponsored by Focus-Abengoa Foundation promoting the exhibitionNur: Light in Art and Science from the Islamic World currently on view in Seville, Spain and opening in Dallas Museum of Art in Spring 2014. We first heard from Anabel Morillo León, Director General of the Focus-Abengoa Foundation who spoke about the foundation and the work it does and supports. Abengoa, is a global biotechnology company and leader in Solar energy specializing in the development of new technologies and promoting sustainability of raw materials and along with the Focus-Abengoa Foundation (abengoa.com) they organized their first traveling exhibition about the subject of light, raising the awareness of its importance in science, art, and culture. The exhibit includes artworks and secular objects from institutional and private collections. We then heard from Dr. Sabiha Al Khemir, project director who is an expert in Islamic Art and concerned with bridging cultural divides and spurring international dialogue. She is currently the first Senior Advisor of Islamic Art at the Dallas Museum of Art and has been the project director and catalogue author of several major exhibitions. She was delightful to speak with and I am sure her courses and documentaries are exceptional. She is an author of several novels and I've just ordered The Blue Manuscript — which looks very interesting. Next to speak was Maxwell L. Anderson, The Eugene McDermott Director of the Dallas Museum of Art. This museum now has no admission fee and has spearheaded a program called Friends & Partners, a different take on museum membership, one that more engages the visitors and supporters of the Museum. The Dallas Museum is part of a program for Museums to have access to each other's art —a free exchange, rather than fee based. More about The Dallas Museum at DMA.org.
Sotheby 's treated the public to a non-selling exhibition of a great master many of you may never heard of— Alexandre Reza. Reza is the Paris-based maître joaillier known for extraordinary gem expertise, spectacular design and incredible craftsmanship since the 1950s. The Reza family of jewelers emigrated from Persia to Russia and then to France in 1925. Alexandre traveled the world collecting and then selling precious stones of a size and quality no longer available today at any price. It wasn't until the 1970's that he created jewelry under his own name. Like all masterpieces each piece is unique, and designed to feature specific gems rather than finding gems to fit the design. While this exhibit has moved on to other Sotheby locations we can look forward to more non-selling exhibitions in the future. This exhibition will be traveling to London, Doha and Beijing (dates are TBD). Learn about future exhibitions at Sotheby's at sothebys.com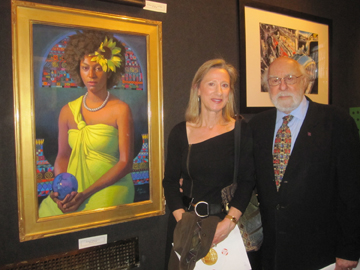 Allied Artists of America (alliedartistsofamerica.org) held their 100th Annual Juried Exhibition at the National Arts Club, NYC. The grand gallery was filled with artists and supporters. The excellent work was varied with different styles of painting and sculpture. There were over 200 works juried from about 1300 submissions with work coming from most every state and as far away as Singapore. Current President of Allied, Thomas Valenti, welcomed us all, thanking those who have been on the board and supported and worked towards making the club viable and this celebration successful. Allied Artists was founded by 12 artists who felt that there was a greater need for exhibition opportunities and for the group to be an artist-friendly organization. Rodney Gibson, the great, great grandson of Ernest Albert who was an early President of Allied, spoke about the value of the organization, the importance of tradition and gave some of its history. Gary Erbe, president of Allied for 11 years, spoke about the exhibition opportunities that the Butler Institute in Youngstown, Ohio has provided. It was excellent to see the fine work. Daniel Greene received the Allied Artists of America's Gold Medal of Honor with his oil painting Elin Waiting; TheGold Medal of Honor for Sculpture went to Larry Scaturro for Crouching Man; the Gold Medal of Honor for Watermedia, Pastel & Graphics went to Alexandra Bastien for Rebirth.
The 41st Annual Open Juried Exhibition, "Enduring Brilliance" of the Pastel Society of America (pastelsocietyofamerica.org) was, as usual, a look at all the possibilities that pastel can achieve. The work was exceptional and so many different styles. Of the 1,001 images submitted by members and non-members for consideration 178 paintings were juried into the show. Dan Slapo, PSA, was inducted into the PSA Hall of Fame. He is a popular instructor, former member of the PSA Board of Governors and mentor to many. Richard Kendall, a distinguished art historian who has raised public awareness of pastel, received Friend of Pastel Award. In 2001 I received that honor for my work with ART TIMES supporting artists. Special recognition was given to Rae Smith, PSA, past president, and to retiring board members Brenda Tribush, PSA, and Christina Debarry, PSA, for their many years of service to PSA. Congratulations to the 9 new Master Pastelists: Nancy Brangaccio, Stephanie Birdsall, Judy Evans, Hui Chu Hu, Christine Ivers, Leslie Lillien Levy, Pat Ross Marx, Mary Muller , and Patricia Tribastone. To achieve Master Pastelist status, one must be a PSA Signature member who has won three awards in the open annual juried exhibitions. And finally congratulations to Bre Barnett Crowell receiver of the Art Times Award for Reading Her Poem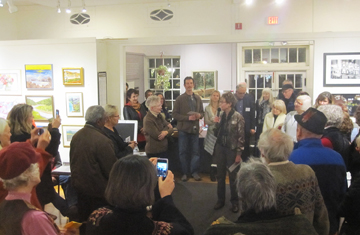 The Woodstock Artists Association Museum, Woodstock, NY , had their annual Holiday exhibition. Awards were presented to Ze'ev Willy Neumann who got the Yasuo Kuniyoshi Award and to Harriet Livathinos who got the Sally Jacobs/Phoebe Towbin Award. This is always a fun show, a place to meet so many artists, to see their work and to get some fine paintings at really good prices. The show will run thru December.
Audubon Artists of America held their 71st Annual Exhibition online again due to the renovations at the Salmagundi Club in NYC, their exhibition venue for many years. In 1940 a small group of NYC artists got together for the purpose of art discussion, demonstrations, films and lectures. At a meeting in 1941 at the homestead of American artist and ornithologist John James Audubon, they decided on the name 'Audubon' as their group was embracing a wider geographic range and broader goals. Last year and again this year the annual exhibition is online. President Vincent Nardone said "Keep in mind the advantages of this online venue when compared to the customary onsite event, including: world wide exposure, greater viewer audience, limited exhibition crating and shipping costs and a longer major exhibition schedule. Positive comments logged on our website were quite reassuring. " You can see the show through Dec 31 at audubonartists.org. May Rolstad Trien received the ART TIMES Award for her graphic "Interweavings." Top award winners include
American Artists Professional League held their 85th Annual Exhibition online and it can be seen until Dec 30 at americanartistsprofessionalleague.org. In January 1928, F. Ballard Williams, Assistant Treasurer of the National Academy of Design in New York, called a meeting of fifteen members of the Salmagundi Club. The purpose: to discuss the need for a national organization to meet the increasing interests in traditional realism in American art. Their mission "To advance the cause of the fine arts in America, through the promotion of high standards of beauty, integrity and craftsmanship in painting, sculpture and the graphic arts. To emphasize the importance of order and coherent communication as prime requisites of works of art through exhibitions and publications." Award Winners included Rick Perez – Best Painting in Show; Penny Billings won the Alden Bryan Award for Traditional Landscapes in oil; Barbara Groff won the Art Spirit Foundation Gold Medal Award for Excellence in Pastel andDavid Tutwiler won the AAPL Board of Directors Award for Representational and Traditional Artistic Merit. The ART TIMES Award went to Marilyn Swift. Last year's Future Art Masters Exhibition (FAME) was a great success. Young artists are needed to keep American Artists Professional League viable for another 85 years and to take on leadership roles for the organization. In 2013, AAPL had entries from all over America and Canada and awarded $2,000 in scholarships to two college freshman artists. In 2014, they will start the FAME show earlier so that winners can be chosen before the end of the school year. Information for the 2014 FAME Show can be found at the AAPL website.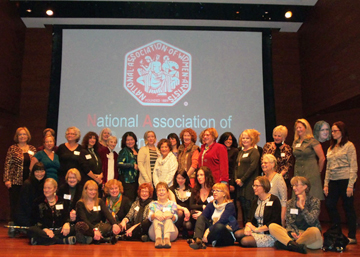 The National Association of Women Artists (N.A.W.A.) has been empowering, promoting, supporting and encouraging women artists, since 1889. It was an exciting day at the Rubin Museum of Art, NYC where 83 members coming from: AR, AZ, CA, CT, FL, IL, MA, MD, ME, NC, NJ, NV, NY, PA, SC, TX and VT were inducted into the association. The Ceremony was followed by a reception for the New Members' Exhibition at the N.A.W.A. Gallery at 80 Fifth Avenue, Suite 1405, NYC. It was in January of 1889 that five innovative women, Grace Fitz-Randolph, Edith Mitchell Prellwitz, Adele Frances Bedell, Anita C. Ashley , and Elizabeth S. Cheever, barred from full participation in the male-dominated National Academy of Design andThe Society of American Artists, founded the Women's Art Club, later named the National Association of Women Artists. This 125th Anniversary Year is filled with exhibitions around the country, workshop, demonstrations, and exciting events. For more: thenawa.org
As we head into Winter, I hope you all have a good holiday season, a solid time to refresh and gain inspiration for Spring's creative awakenings.