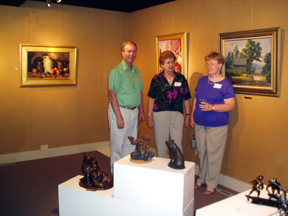 Paul Gould, former President, Ruth Newquist, member and Patricia Boun, President at the President's Show at kent Art Association, Kent CT.
CULTURALLY SPEAKING …
By Cornelia Seckel
ART TIMES September 2005
We begin a new "season" for the arts— back from summer Festivals, Residencies and Institutes. Summer is often a time when one can explore with some intensity. There are so many Opera, Theatre, Dance, Music and Film Festivals to choose from, and that is a good thing. There is something for each of our creative interests.
During this past month I did get to Kent Connecticut to the President's Show at the Kent Art Association, an arts organization celebrating 82 years. The group, formed by 9 artists (6 National Academicians) who knew each other in NYC before moving to Kent, wanted a place to exhibit and to meet. The Show had well over 100 works that came from this region and beyond. Nearly $2,500 was given in prizes. Overall, the work is traditional in style and includes most mediums. The association bought a house in 1956 and expanded the space over the years to have numerous small galleries that are well lit, spacious, and comfortable viewing areas providing natural groupings for work to be seen. Pat Broun, President, and Ruth Newquist, Publicity Chair, made me feel quite welcome • The current exhibition at the Woodstock Byrdcliffe Guild's Kleinert/James Gallery is Passionate about Art, curated by Sonia Sudak. Sonia said that the idea for the exhibition started out as an exhibit of
collector's choices. She then realized that she wanted to include two other works by each of the artists (which would be for sale) and show a greater variety of the work. I asked her how she chose the work: "When I walked into the studio a piece would just speak to me…" • It had been awhile since I saw oil paintings and watercolors by Bruce North (I first saw his work at he Connoisseur Gallery in Rhinebeck), and when I learned that he was showing at the James Cox Gallery in Willow, NY I made it a point to go and I am so glad I did. I remembered liking the work, the fine attention to details in the landscapes, the rich color and his ability to paint the light. Many of his painting in this show were from the Ithaca, NY area where Bruce teaches at Ithaca College.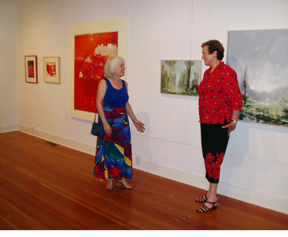 Sonia Sudak (L), current exhibition curator with Carla Smith (R), Executive Director of thye Woodstock Byrddcliffe Guild
Going on a studio tour in a relatively small area is an excellent way to meet lots of new artists, see their work, perhaps purchase something from the artist, and get a good idea of the arts community. Sometimes there are buses, often maps with good signage on the roads and central locations where a group exhibit gives samplings of the work of participating artists. In my immediate area, Saugerties Artists had their tour this August and in September, Woodstock Artists will have their tour. Throughout our region numerous small towns, and not such small communities such as sections of Brooklyn and Tribecca in NY and Hoboken in New Jersey have similar tours. Check with your local arts council for a studio tour in your area. For the future, you might plan a getaway to an area you want to explore, take a studio tour, learn more about the arts, and meet some artists.
Thomas Cole's house, Cedar Grove, was opened to the public just a few years ago.This National Historic Site, a living memorial that includes Cole's reconstructed studio, the gardens and his home, is located on Spring Street, near the western entrance to the Rip Van Winkle Bridge, in the village of Catskill, NY. Cole lived here(beginning in 1836 and subsequently with his family who continued to live there after his death. In fact, his grandchildren kept the house up until 1979. After a number of years the National Park Service declared Cedar Grove a National Historic Site. It was through the work of several dedicated individuals including (if not spearheaded by) historian Raymond Beecher that funding was acquired, and in 1998 the Greene County Historical Society purchased the property. Restoration of the main house followed and in 2001, Thomas Cole's 200th birthday, Cedar Grove was opened to the public.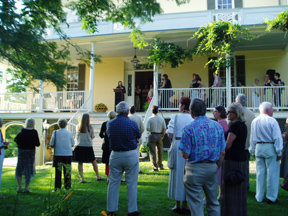 Elizabeth Jacks welcoming guests to the
Thomas Cole's Cedar Grove "Picnic"
One of the traditions while Cole lived at Cedar Grove was the grand picnics held on the lawns surrounding the house. This tradition was renewed with a great fundraising event attended by Cole's great granddaughter Edith Cole Silberstein who spoke a little about her time in the house, as she was the last of the Cole's to live at Cedar Grove. Executive Director Elizabeth Jacks thanked the hundreds of people that came to the elegant cocktail party, which was followed by dinners at homes and galleries of patrons of the site. I was fortunate to be invited to have dinner at Brik, a new gallery in Catskill owned by Frank Cuthbert, an enterprising man who is helping to revitalize Catskill. It was a delightful afternoon and I was so pleased to see Kay Stamer, Executive Director of the Green County Council on the Arts, an organization celebrating 30 years (and 30 years of Kay's leadership) of broadening and enriching the quality of life in Greene County by developing and strengthening all the arts and by fostering cultural- and arts-related activities in Greene County. Yeah Kay!!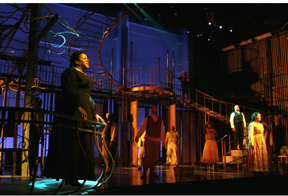 Maroetta Simpson as Addie in"Regina" BardSummerScape 2005
Bard Summerscape at Bard College in Annandale on Hudson, NY presented an extraordinary program of Opera: Regina and The Tender Land, Theater: Rocket to the Moon by Clifford Odets; Dance: The Martha Graham Dance Company, Film, Jazz, Cabaret and the Bard music Festival which this year was Copland and His World. These programs took place in Fisher Center, an intriguing building designed by Frank Gehry. I went to see Regina, an opera written by Marc Blitzstein placed in the 1900's in Alabama. The music, performed by the American Symphony Orchestra with Conductor Leon Botstein, was engaging and, as is the case with opera, another strong voice. This is a story of greed, of commitment, of control, and of challenges. Each character presents a dilemma to be overcome, sometimes for the good, sometimes for evil. The 900 + seating of the theater was filled as a large chorus came onto a stylized and highly dramatic set. Lighting set moods as clearly as if it were an actor reciting lines. The voices of the actors were powerful, blending beautifully with the other instruments and voices. Acting was strong, dance delightful and excellent. Judy Pfaff designed the set and created many levels on which actors worked, and director Peter Schneider utilized the levels by creating psychological barriers and levels as well as varying the acting space. In many ways it is a hard play to watch as none of the characters are endearing and the story line is thin. It was the music, acting, voices and dance that made it an overwhelmingly good evening.
See you as I make the rounds next month, and not before as I've "gone fishin'" for a few days.