CULTURALLY SPEAKING
By Cornelia Seckel
ART TIMES October 2007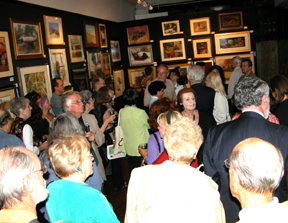 Raymond J. Steiner (center left with microphone) giving an informal talk at the Pastel Society of America's 35th Annual Exhibit
The month flew, especially since I took several days off to go fishing with Yolanda, a new fishing friend from Pompano, Florida. We headed up to Gloucester, MA, for a 2-day trip (we fished 100 miles out and got lots of cusk, pollack, haddock and cod) but before that we went to Boston and made a fast tour of Boston's Freedom Trail. This three-mile ribbon of red paint and bricks, which identifies the route, links 16 historical sites. As most tourists, we began at the Boston Common and proceeded to Old State House, Faneuil Hall and the Old North Church. We spent too much time at Quincy Market (but loved it) and didn't get to Paul Revere's House and the Copp's Hill Burial Ground. Oh well, the choices one has to make. After our fishing trip we loaded up the coolers with lots of ice to keep our fish and headed up to explore more of Cape Ann where the scenic beauty, active fishing industry, and renowned arts community has attracted and inspired painters since the early 19th century, as they continue to do today. Painters attracted to Cape Ann include William Morris Hunt, Winslow Homer, Childe Hassam, John Twachtman, Frank Duveneck, Cecilia Beaux, Jane Peterson, Milton Avery, Theresa Bernstein, Marsden Hartley as well as Edward Hopper, John Sloan, Robert Henri, William Glackens, and Maurice Prendergast. Organizations such as the Rocky Neck Art Colony and the Rockport Art Association have long been sources for exhibition space, classes and social gatherings. Their permanent collections are the history of art & the artists in Cape Ann. In addition to the visual arts, Music Festivals, Dance & Theater Companies are well supported on Cape Ann. The light, and early on, the availability of inexpensive housing in the form of fisherman's shacks were the key factors in attracting artists to the area. During the summer months there are 60 + galleries (many studio/galleries) and museums found on Cape Ann especially in Bearskin Neck and Gloucester.
Our editor and art writer Raymond J. Steiner was asked to give an informal talk during a walk through of the Pastel Society of America's 35th Annual Open Juried Exhibition For Pastels Only. Judging from letters (see our Letters Section), the night was a resounding success. As always, every entry was a winner, the selection jury having artists from around the U.S. from which to choose the best. The ART TIMES AWARD went to Robin Nuse for her landscape, "Autumn Glow"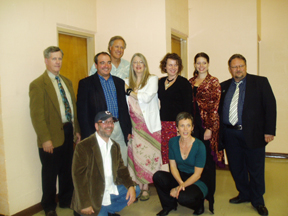 Terry Blaine (center w/ white jacket) and Friends (including Tom Chapin and Bar Scott) performed at a concert to benefit the Music Therapy Program at Hospice in Poughkeepsie, NY
I have long been a fan of Terry Blaine, a singer with an old soul and a bluesy, jazzy, richly mellow voice. Terry organized a Healing Voices, Caring Hearts concert to benefit Hospice Music Therapy and invited jazz pianist Mark Shane (with whom she regularly collaborates); clarinetist Allan Vache; singer & composer Tom Chapin with guitarist Michael Mark & pianist Jon Cobert; vocalist, composer Bar Scott; and several music therapists and Interns from the Poughkeepsie, NY, Hospice program including Terry Glusko, Elisa Clark, Lisa Broniak, and Trisha Cannon. Included this year was Terry's teenage son Michael playing the fiddle. This fabulous concert is held each year to support the Sam & Cynthia Blasenstein memorial fund which benefits Music Therapy. The Blasensteins are Terry's parents. In 2004 the Music Therapy Program was established at Hospice as a joint project with the American Music Therapy Association. Music Therapy is an established healthcare profession that uses music to address the physical, emotional, cognitive, and social needs of individuals. In hospice settings research has shown that music therapy interventions increase the quality of life and helps to bring a focus on living to the patients, their family and caregivers. There was a poignant quote on the concert's program by Hans Christian Anderson: "When words fail, music speaks". For more information about Hospice and their Music Therapy program call your local hospice at www.hospicenet.org or call the Poughkeepsie, NY office 845-473-2273. Musician information can be found at: www.terryblaine.com, www.barscott.com, www.tomchapin.com,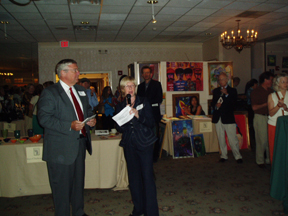 Donald Katt, President of Ulster County Community College accepting this year's award to the college from Barbara Cohen UJA board member at Fall for Art, a progrma of the Jewish Federation of Ulster County
Fall for Art, a program of the Jewish Federation of Ulster County held their 11th annual art show and sale. It is referred to as the social gathering of the season for Kingston, NY and each year's event lives up to the reputation. Hundreds of people come to enjoy and buy art and to partake of the delicacies prepared by the Wiltwyk Country Club. Proceeds of the sale go to various area social services and a special recognition to an association important to the Arts. Ulster Community College was the recipient of this year's check that will go toward restoration and conserving the College's growing art collection. Donald Katt, UCCC President, accepted the check and spoke genuinely of the work that the Jewish Federation does and how meaningful it is to the college to receive the generous contribution.
Café Mezzaluna, a Bistro Latino located on Route 212 between Woodstock and Saugerties, is the place where all the arts are flourishing. I stopped by for dinner and found the place transformed into a World Poetry Café hosted by Josie Peralta and Will Nixon. Will & Josie read in Spanish, Carrie Monroe in Filipino and Ellen Luzy in German —each giving English translations. The featured poet was Terence Chiesa who performed and read while utilizing props, costumes and numerous accents of the characters in his poetry and prose. Patti Ferrara, a fine oil painter will have her luscious landscapes on view on the gaily-painted walls, until mid October. The schedule of events and their menu can be found online at www.cafemezzaluna.com.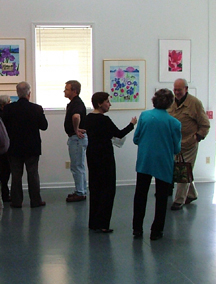 ElayneSeaman (center) speaking with visitors to her "In Detail: Paintings & Drawings, 1970-2007 at the Mill Street Loft in Poughkeepsie, NY
Elayne Seaman's exhibit "In Detail: Paintings & Drawings, 1970—2007" is at the Mill Street Loft Gallery in Poughkeepsie, NY, until October 20. It is a wonder that Elayne, who has been a hard worker and major supporter of visual arts organizations, ever has time to work on her incised paintings, a technique, according to Elayne, that allows her to indulge her love of line, detail, and texture as well as give in to her passion for color and fluidity. The gallery was packed with well-wishers, friends and patrons.
I have been wanting to go "up the line" (west on Rt. 28 into the Catskills) toward Roxbury and Andes for a while and finally did. It was a beautiful day and I could feel the temperature drop as I drove up and into the mountains. On the way, I passed a cemetery for old farm tools called "Rust in Peace" — quite an interesting installation. A few miles further I passed a sign that read "Halcottsville Art Auction Today". So I made another U-turn and went to check it out. The auction was for the benefit of the grange and had art as well as many other items for sale. As I was going back to my car I asked a woman who looked like she might know, who the auction was benefiting. She told me and then I'm not sure how it came about but after I introduced myself she said her name was Ann Epner, a name I immediately recognized as someone who works at Roxbury Arts Group and someone I have spoken with on the phone numerous times over many years. What a fortuitous meeting. Ann encouraged me to take a detour and meet Mark and Alyssum Pilato, at the Wawaka Gallery. Mark was gracious with my intrusion and told me that he and Alyssum came from China Town in NYC just before 9/11. They fell in love with the area and found a building that provides space for living, for the gallery and for their own studios —Mark is a sculptor and Alyssum is a painter and also does wood cuts. Early on they met other artists who also wanted the isolation from city life and soon enough the Pilato's opened the Wawaka Gallery which now has paintings, pottery, glass and sculpture by nearly 30 artists from the region. Workshops for kids, music and poetry programs and a sketch group round out the activities at the Gallery. It appears that this is a successful endeavor with over 50 sales in the past 2 months and between 40-60 tourists and collectors visiting the gallery each weekend. Take a look online at www.pilatostudios.com or call 607-326-3508.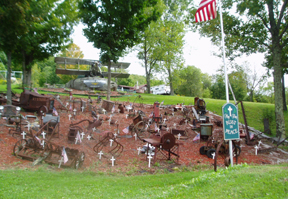 "Rust in Peace" an installation near Halcottsvilole, NY
I continued on to Roxbury specifically to the Roxbury Arts Group. They have 2 buildings, one mostly office and gallery space where I came across Bertha Rogers' exhibit of stones & bones of Delaware County on view until October 14th. I regularly get emails from Bertha as she is a Poet, Visual Artist, Educator, Translator, and First Poet Laureate of Delaware County, NY, and the director of Bright Hill Center, a literary center with a gallery, a community library & internet center, an education wing, a literary garden/park, and offices. The exhibit features books, boxes, and installation pieces that incorporate stones, tree parts and other natural elements. Pat Vatali, gallery/office assistant, brought me next door to The Center, formerly the YMCA circa 1911. This Greek Revival building built by Helen Gould Shepard has excellent exhibition spaces where Treadwell artist Joe Kuharjec's had "Skull and Mask", an installation created from the skulls and bones he uncovered in a New Paltz work horse graveyard in 1972. Upstairs there are rooms for Dance and Painting studios. As we wandered around we came upon "The Hall", a huge room with a stage and lots of space for various programs to take place. Take a look at their website for the event schedule. There are some excellent programs including a Fiddlers workshop and Square Dance as well as a Comedy Cabaret with Modern Man. www.roxburyartsgroup.org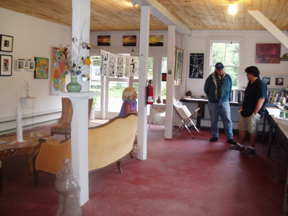 Mark Pilato (L) speaking with a client at the Wawaka Gallery, Halcottsville, NY

Before leaving Roxbury and heading to Andes I stepped into the Enderlin Gallery, a two-level space with excellent work, including a show of Harry Orlynk's landscapes (his work was critiqued in ART TIMES in 1993 by Raymond J. Steiner). Unfortunately, they are closing as the owner is moving out of the area.
I got to Andes Antiques and Art at Blink where Merna Popper has created a combination Gallery and Antiques Store on Lower Main Street. Merna is showing 19th & 20th century Posters and in the upstairs gallery Gary Hayes has his sculpture. I call it sculpture but it could be book art, mixed media, or? Gary didn't have a category for it. Gary has taken various sized art books and, leaving the bindings intact, cut up the pages and folded them, etc. The contents explode out like a very crowded pop-up card and one gets a gestalt of the book: Brancusi, The Italian Countryside, Russia: 1900-1917, Marilyn, Van Cleef and Arpels. His work will be up until the end of October. The gallery was packed, people coming, going, drinking champagne and buying art. There were so many different things to look at and the downstairs space allowed for intimate arrangements as well as large cases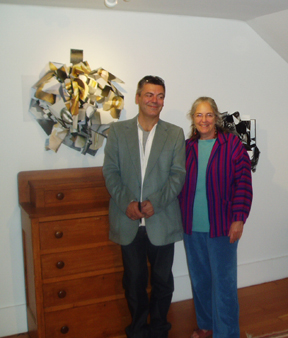 Gary Hayes and Cornelia Seckel at his reception at Andes Antiques and Art at Blink in Andes, NY
against the walls of wonderful objets d'art, jewelry and antiques. Owners of Blink Gallery, Marion Corbin and Susan Littin, have combined their talents and are designing beautiful, bold pieces of jewelry (www.sumaris.com) They will be back in their gallery in the Spring and Merna will, I'm sure, be showing her antiques and favorite artists somewhere in Andes. Merna is the former publisher of Women's News and midwife to ART TIMES. When I was first thinking about publishing I met Merna who encouraged me to take the leap and get started (there is a full version of how we came to publish ART TIMES on our website).
A new gallery in our region: The grand opening of the Mona Lisa Gallery, on Montgomery Street in Rhinebeck, NY will be held on Friday, Oct. 5 at 5pm. The Gallery's first exhibit, "The Bad Dog Show"...the first photo exhibit of its kind, will run the entire weekend and then by appointment. Gallery owners are artist/photographers Nadine Robbins and Molly Ahearn of Rhinebeck. For details, visit www.gallerymonalisa.com.
Well that's it for this month. See you out and about and don't hesitate to say hello.