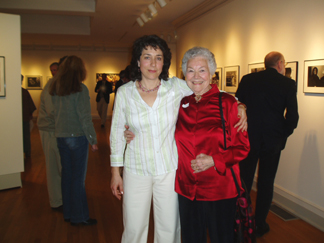 Eleanor Jacobs and her daughter at the Raymond Jacobs Retrospective at the Tremaine Gallery, Hotchkiss School, Lakeville, Ct.
Culturally Speaking
By Cornelia Seckel
ART TIMES May 2006
This month seemed to disappear more quickly than any month that I can remember. As many of you know, the work involved in making an art show is tremendous. The details of Raymond's exhibit (see his comments in Peeks & Piques!) of labels, publicity, catalogue, invitations, reception, and then a party kept me quite busy for the first 10 days of the month. That's my excuse (and then there were preparations for Passover) for not getting to as many places as I usually do, and I hope to make up for it next month.
At the beginning of the month I accompanied Raymond to the Photography Exhibition "Raymond Jacobs Rediscovered" at the Tremaine Gallery at the Hotchkiss School in Lakeville CT. It was a pleasure to speak with Eleanor Jacobs who said of her late husband's work, "His commercial work was excellent and received many awards but this (works included in the exhibition) was the work of his heart" and that was obvious to me. You will find a critique of the show on page
While delivering papers last month, I met up with Kiki and Ed Brodkin at the Pleiades Gallery where Kiki's exhibit "Wax & Wood" was hanging. The small encaustics felt like worlds upon worlds — flowing with color. It is work that I could lose myself in, going round and round, deeper and deeper. Kiki also had a number of her gentle and sensuous wood sculptures on display with lines flowing into easy movement •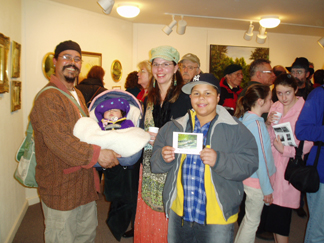 The Meneses family and others at Raymond J. Steiner's exhibit "Landscapes of the Hudson Valley" at the Woodstock Artists Association, Woodstock, NY
I did get a copy of the cd Chicken Fat Pudding and other Delights by Rick Pantell and Karen Whitman (Karen's show was critiqued in our Jan/Feb '06 issue). Both Rick and Karen are active artists and musicians — the Print Shop in NYC consistently shows their work. Written on the back of the CD cover is the following description: "Take a classical and East European influenced singer/songwriter with a flair for puns and limericks, pair her with an American folk and rock influenced singer/songwriter who was educated by Mad Magazine, and you have the duo of Whitman and Pantell." Produced by Cooper Lake Records in Bearsville, NY, the 12 songs on the CD are written by Karen & Rick except for the traditional songs. Karen's fiddle and Rick's guitar (and other instruments) accompany these memorable songs. For more information email: WhitmanPantell@aol.com
We begin to see the popularity of open studio tours and art walks. Check out the calendar and plan a visit to a new area every few months. There is a lot of exciting work, artists, and new venues to explore.
We recently heard from several new galleries in our region: the Avant-Garde Gallery in Peekskill, NY about their gala opening on May 6. This gallery will represent a wide spectrum of contemporary art from artists mostly living in the Hudson Valley Region. Joan Blutreich, owner and director, can be reached at 914 734-1133 or visit online at: www.a-ggallery.com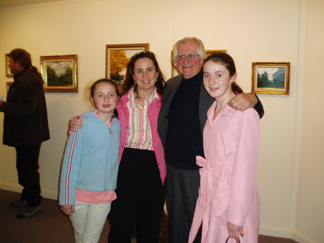 Antonia & Kim Butwell (who excelently hung the show) RJS & Carley Butwell at Raymond Steiner's show at the WAA, Woodstock, NY
• Le Petit Musee, formerly of Housatonic, MA., will open with a reception on May 11 at Wild Sage, 333 North Street in Pittsfield MA. The gallery, possibly the world's smallest gallery measuring 7' by 17', has an adjoining room measuring 4' by 6' for solo shows. According to Sherry Steiner, owner and director, she will have an on-going selection of small works of art at a wide range of prices and styles, and will feature small works from a variety of contemporary artists from the Berkshires and beyond. For more information email Sherry at: indearts@aol.com • Jon Stevens will open the Silver People Studio in Peekskill, NY with his multi-media /multi-cultural exhibit on Saturday & Sunday, June 10 & 11. He will exhibit his photography and art and have a performance space, and expects to establish a crossroad for multicultural communication and creativity. We wish him lots of success. The gallery phone is 914-293-0884. Bertha Rogers of Bright Hill Press, Treadwell, NY, announced the five winners of its 2005 international poetry chapbook competition, selected from several hundred submissions. The winning manuscripts, scheduled for publication in spring 2007, is "A Sense of Place" by Bhikshuni Weisbrot, Jamaica, NY; second place, "Hairpin Loop," by Anne Blonstein, Basel, Switzerland. Third place, planned for summer 2007 publication, is "The Coriolus Effect" by Michael Dowdy, Chapel Hill, NC; fourth place, fall 2007 publication, is "The Courtship & Other Tales" by Kathryn Ugoretz, Santa Fe, NM; and fifth place, also scheduled for fall 2007 publication, is "Colma (City of the Dead)" by John Laue, La Selva Beach, CA. Congratulations. For further information about Bright Hill Press and their extensive programs, call: 607- 829-5055 or e-mail: wordthur@stny.rr.com.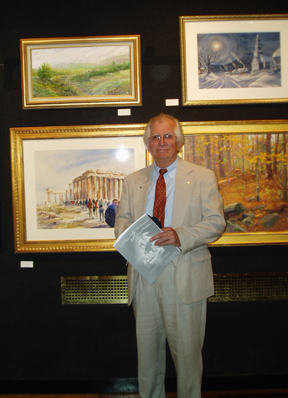 Raymond J. Steiner (his painting top left) at the Hudson Valley Art Association,
National Arts Club
Westchester Art Workshop
is celebrating its 80th Anniversary
this year with several different events. The workshop, located in Westchester County Center in White Plains (914-606-7500) and in Peekskill, NY (914-606-7300), offers classes in creative expression, on a credit or non-credit basis as the workshop is (as of 1980) part of Westchester Community College
. Begun as an enterprise of the county's Parks, Recreation and Conservation Department
the courses were centered on applied arts & crafts. Over the past decades, photography, drawing, ceramics, wheel throwing, and now the computer arts (illustration, imaging and design) have been included. The Peekskill facility has a state of the arts Computer Center with both Graphic Arts and Multimedia labs. There is a Gallery in both locations and on May 24 from 6:30-8:30, in White Plains, there will be an opening reception of a Ceramic Invitational
of 19 visiting artists who have contributed to the ceramics program whih will run through July 28. Related seminars will be offered.
The Hudson Valley Art Association's 75th Annual Exhibition is at the National Arts Club, Gramercy Park South, NYC. According to Joan Rudman, "…we are so pleased to be at the National Arts Club; the generosity and support for HVAA has been wonderful". There is a special tribute to painter Daniel Greene (well known for his paintings of NY Subway Stations as well as for his teaching). The show, always an exceptional one, looked the best it ever has hanging at the NAC. Included in the show was a painting by Raymond J. Steiner. The Gold Medal of Honor prizes went to: Roger Dale Brown's oil River's Edge; Jack Jones' watercolor Lily Pond; and Sam Goodsell's pastel Prospects. The exhibit will be on view through May 7. The ART TIMES Award went to David Bender for his sculpture Dreamer.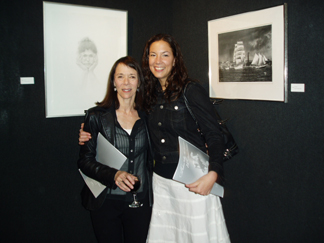 Awaan & her daughter Michelle (R) at the Hudson Valley Art Association's 75th Annual Exhibition
The President's Dinner at the Salmagundi Club is always an elegant affair and this year was no exception. This club, begun as a sketch club in 1871, has been and continues to be a center for American art. Dinner was excellent (there is a new chef and now the facilities are available for all kinds of parties.) Conversation is always jovial, painters meeting with one another, joking and sharing ideas. Painter and teacher David A. Leffel was the honoree and Ira Goldberg, Director of the Art Students League of New York spoke about Leffel's 30 years on the roster of League instructors and his work as an excellent teacher and painter.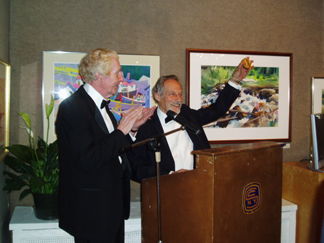 Richard Pionk, President of the Salmagundi art Club (L) and David Leffel,
Honoree (R) at the Salmagundi Club's Annual President's Dinner
AmericanWatercolor Society had their 139th Exhibition at the Salmagundi Club and I was glad to have some extra time to spend enjoying the work. What fabulous paintings. The show gives us insights into how far the medium can be pushed: loose, tight, abstract, photrealism…… Buses come from hundreds of miles, bringing watercolor painters to see and learn from the top watercolor artists. The top 3 awards went to John Salminen for Rainy Day, Times Square, Elaine Daily-Birnbaum for Beyond the Bridge and to Gordon Phillipson for Beneath the Doge's Palace. Joe Miller received the Dolphin Medal, given to a person who made outstanding contributions to art, to watercolor and to AWS. Each year a selection of paintings from the annual exhibit is chosen to travel for a year. First stop for the Traveling show is the Freeport Arts Center, Illinois before moving on to Ogunquit Museum of American Art, Maine; Tullahoma Fine Arts Center, Tennessee; Art Center Manatee, Florida; Kerr Arts & Cultural Center, Texas; Eastern Shore Art Center, Alabama and Middletown Arts Center, Ohio. Go to their extensive website: www.americanwatercolorsociety.org and plan a trip to the Salmagundi Art Club for fine food and excellent art.
Enjoy the Spring and the plantings of all sorts of new things.