By Cornelia Seckel




ART TIMES Jan/Feb 2009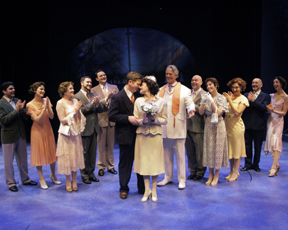 Cast of It's a Wonderful Life: The Musical
at Westchester Broadway Theater

, Elmsford, NY
This is our January / February issue. If you missed out on our advertising deadline, submitting calendar or opportunity listings, you can still do so. Send an email and we can place it online within a few days. Deadline for advertising materials for the March issue is February 19; calendar and opportunities, February 12.
It was quite a hectic month and I am truly ready for a break to re-create for the coming year. We expect more changes as we move through our 25th year with more opportunities for online advertising, and a chance for you to send us comments and video clips of cultural events you attend.
"Helvetica" a film distributed by Independent Lens and directed and produced by Gary Hustwit will be shown on PBS January 6 at 10pm (check local listings). This is a fascinating look at the "typeface that changed the world". I found the film particularly interesting and appreciated the viewpoints of the many Type Designers who discussed various aspects of type, most specifically how type styles effect and reinforce the message and how it is important not to confuse legibility with communication. After WW II, people needed rationality and Helvetica, developed by Max Miedinger with Edüard Hoffmann in 1957 for the Haas Type Foundry in Switzerland, began to be used by corporations and governments around the world for signage and advertising. It is clear, readable, straightforward and simple. Today we see it more frequently than any other type style and people are now more in touch with typefaces given the use of personnel computers. When individuals create an invitation on their computer or choose a type and design for a Facebook, LinkedIn or MySpace page, it is a reflection of how they see themselves. Choosing the typeface for the ART TIMES logo (souvenir demi) and the text (century schoolbook) was a very difficult decision 25 years ago and I'm happy to say I think they still hold up well.
Friends Jacky & Jörg, visiting from Berlin, Germany, accompanied Raymond and me when we went to see "A Wonderful Life", the musical at Westchester Broadway Theatre in Elmsford, NY —their 159th production. The musical was based on Frank Capra's classic film of the same name: Sheldon Harnick wrote the book and lyrics; Joe Raposo wrote the music; Richard Safford was the director and choreographer. I have never been disappointed with a show (or dinner) and have often preferred their productions to ones I've seen in Manhattan. The story is one we all know: self-sacrifice, despair and renewal; the lesson: dreams don't always come true and that's ok. The music and voices were excellent, acting exciting, and the staging made a great use of the space. It was a heartwarming, delightful and fun evening. Westchester Broadway Theatre has perfected Dinner & Theater. They have 5-6 musical productions each year and single night concerts several times a month— the current play will run through February 7 and their next production "Meshuggah Nuns" begins February 12. One of their community services is to do numerous benefit performances for organizations that help physically & emotionally disabled people.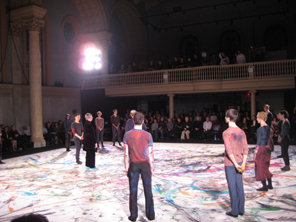 Shen Wei honors Jennifer Tipton at the end of the performance of Connect Transfer II at the historic Judson Memorial Church, NYC
Choreographer Shen Wei's work, Connect Transfer was part of the Olympic Opening Ceremonies in Beijing (see more information on the company and a YouTube of the Beijing performance at www.shenweidancearts.org) and last month I was invited to the gala performance of a limited engagement of Connect Transfer II—reimagined for a tour of modern art museums (dates to be announced) at the historic Judson Memorial Church, NYC. What an exciting and sensuous performance as dancers connected, intertwined amoeba-like, disengaged and finally came together as one body that reminded me of a "puppy pile" and for much of the time created calligraphy with their hands, bodies and feet. The music by Stephen Gosling, piano, and The Flux Quartet was outstanding. Don't miss Shen Wei Dance if you have a chance to see this NYC-based company perform as they tour the US and abroad. They also offer classes and have an Education through Dance program. Jennifer Tipton, designer of lighting for dance and theater, was honored at this performance. As part of the company's fundraising efforts the canvas that was danced on /painted during the performance was cut into sections and sold. Shen Wei's focus in all of his works is to build bridges between cultures and artistic disciplines, companies and communities, and does so by incorporating all aspects of the arts into a mode of movement-based performance.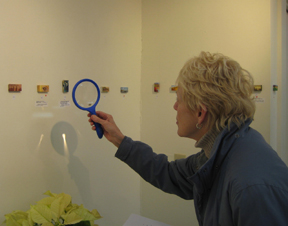 Jean Hopkins (artist) checks out the work at the 2 x 1 show at Hudson Valley Gallery, Cornwall-on-Hudson, NY
I was able to get to several exhibitions including one at the Hudson Valley Gallery of The World's Smallest Stretched Canvas Painting. What a great idea; I thought so (we gave an award that was received by Beth Kurtz for "Feather") as did the 75 artists that submitted 141 paintings. Art came from California, New York, Florida, Georgia, New Jersey, Maine, Texas, and Minnesota. The show was judged by Del-Bourree Bach who gave the top prize of $500 to William Giese for "In Your Eyes". There were 13 prizes given in all. To date, over half of the paintings have been sold and the range in price is $20-$675 (about ½ under $50). Paul Gould, Director of the Gallery, said that there was so much enthusiasm that this will be an annual event. The show is also on their website www.hudsonvalleygallery.com.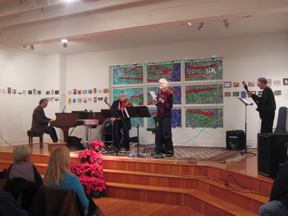 (L to R) Vinnie Martucci, Betty MacDonald,
Janine Pommy Vega, Michael Esposito performing at the 5 x 7 show at Kleinert/James Art Center, Woodstock, NY
Woodstock, NY held their 27th Annual Open House with lots of events, art openings and Holiday decorations. I got to The Kleinert/James Gallery for the "Annual 5x7 Show", a benefit for the Woodstock Byrdcliffe Guild (paintings are sold for $100 and the artist is unknown until the work is purchased — a lesson in buy what you like, not the name). The Fletcher Gallery Holiday Group Show; Woodstock Artist Association Museum for Paul Abrams' solo show and the Holiday Show; The Rondout Savings Bank for a show of work by Marlene Wiedenbaum and many shops throughout town. These wonderfully festive community events seem to take place in most towns — I hope you enjoyed the one in your area.
In Manhattan I was so pleased to see Hilda Green Demsky's paintings at the Pleiades Gallery. Many of the paintings were on aluminum, one on copper and what a fabulous effect. Her work is exciting, colorful and powerful. Hilda does some wonderful art-related traveling and many of these paintings were done during her residency at Mt. Desert Island in Maine. Take a look for yourself at www.demskyart.com • Jessica Fromm's exhibit, Linear Visions, was at noho gallery, also in Manhattan, and I so enjoyed the color and movement in many of her paintings. Take a look at www.jessicafromm.com • In Saugerties I saw Julia Santos Solomon's exhibit at Mezzaluna Bistro Latino and Gallery. What a blaze of color and energy in those oils, limited edition prints, and sculptures. Julia also had Birdhouses on display that were part of a show organized by Bernice Steinbaum (Steinbaum Gallery, formerly of NYC now in Miami) called "It's for the Birds" that traveled to museums around the country from 2004-2007. Each Birdhouse represented a reason why a person would immigrate to another country. Julia made several including a "money hut", "education hut", "resources hut", "dream-house hut", and "weather hut" and each had a Caribbean side, a North American side and a resident alien. Take a look on Julia's website to learn even more about this established and accomplished artist www.santossolomonstudio.com.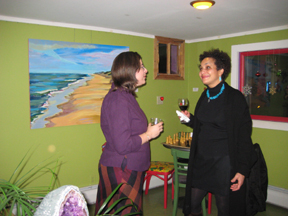 Julia Santos Solomon (R) talking with a visitor to her exhibit at Mezzaluna Bistro Latino Gallery
The Van Buren Gallery, New Paltz, NY, owned by Kevin Van Buren and Toni Hokanson is, according to the owners, "more of an artist incubator rather than a traditional gallery." There are computers and printers available for rent, classes & workshops, and gallery wall space for rent. Kevin, a landscape photographer, will be available for assistance with equipment and software.
I recently got a copy of A Very Smart Cat (Una Gata Muy Inteligente) published by Campanita Books and written by Mario Picayo. This delightful story, written in both English and Spanish, has bright, clear, interesting illustrations by Yolanda Fundora. The illustrations are truly paintings unto themselves and each one tells an intriguing story as well as illustrating the doings of a very smart and mischievous cat. I met Mario who is also a cultural activist, audiovisual artist and producer. He is the Publisher and Editor in Chief of Editorial Campana, an independent publishing house. Learn more about their titles at www.campanitabooks.com. He has done work with LART (Latino Artist Round Table), a not-for-profit organization founded in 1999 and whose principal purpose is to promote Latina/o culture in the United States and facilitate interaction between artists and writers living in the United States, Latin America (including the Caribbean) and Spain and Produced Gente y cultura, the award winning public television program.