Culturally Speaking
By Cornelia Seckel
ART TIMES Fall 2013
Summer is a time for being out of doors, going to the beach, working in the garden and exploring. It is also a time for summer music and theater festivals. Keep in mind that we are publishing quarterly and visit us online (arttimesjournal.com) each month for new essays, videos, opportunity and calendar listings. Follow us on: Twitter (twitter.com/ arttimesjournal) and Facebook (facebook.com/arttimesjournal)
Raymond J. Steiner
, editor and co-founder of
ART TIMES
took part in the
Saugerties Artist Tour
. The weather was gorgeous and people came from well over 100 miles to visit the studios (there were about 40) of Saugerties Artists. This is the 11th year for the tour and it seems to me, that fine ceramist
Barbara Bravo
, coordinator, of the tour can at this point write a book on managing a successful tour. Certainly artists do their share and now it is a well-oiled process. It is always interesting to see what people like, and who shows up from year to year — this year it was the sister of a fellow student that went with Raymond to the one-room schoolhouse back in the late '40s.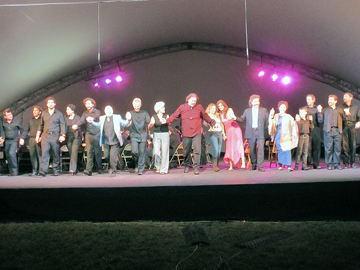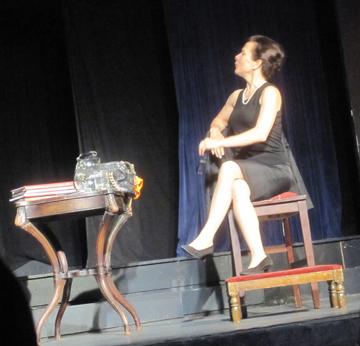 (L) Curtain call at the end of Rigoletto (Louis Otey center) (R) Irene Glezos as Maria Callas in Master Class by
Terrence McNally both performed as part of the Phoenicia International Festival of the Voice
The, as founders Louis Otey and Maria Todaro called it, fourth installment of the Phoenicia International Festival of the Voice was a great success. Thousands enjoyed the 4 days of music, theater, lectures, recitals, and the Saturday night opera Rigoletto. I was able to see Master Class by Terrence McNally performed magnificently by Irene Glezos. This is the story of Maria Callas as told by her during a Master Class in which we, the audience, are students. This is a powerful play with many lessons about music, the voice, life and Art. One of the lessons from the play is to use what you have learned wisely, to live properly and honestly and that Art leaves the world wiser and smarter. Rigoletto by Giuseppe Verdi was excellent, Louis as Rigoletto was wonderful. His voice is excellent, his acting strong, his stage presence solid. This year there were new tents that provided coverage for all who wanted to be under a tent and the structure of the tents, made by Euphoria Tent Co. were acoustically perfect. Each year this festival grows; it is about making wonderful music for the audience says Maria, we know the joy, the healing, the benefits — human, spiritual and economic — that the human voice brings. Read more about the festival and Maria and Louis at phoeniciavoicefest.org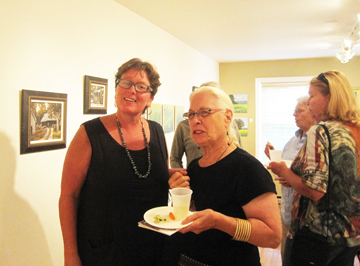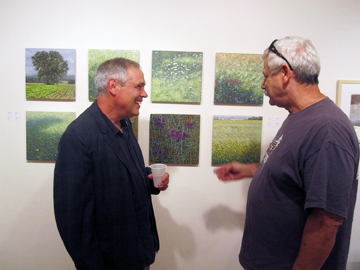 Albert Shahinian continues to present, this is the 16th year, The Luminous Landscape. This year Karl Dempwolf, Kate McGloughlin and Thomas Sarrantonio were featured. Each are fine and substantial artists showing landscapes in oil and some prints. The gallery is in Rhinebeck and more of these artists' work and the work of others can be seen at ShahinianFineArt.Com. If you like the feel of the Hudson River School of Painting, you will love the work at this gallery.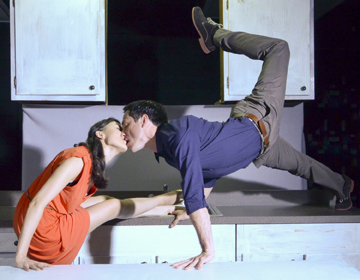 Stageworks/ Hudson is a theater company known for doing risky and adventurous productions. The American Premiere of Stockholm, by Bryony Lavery was directed by Laura Margolis who is also the founder and Artistic Director. This is a powerful play and performance with characters you will not like. It shows the continuing deterioration of their relationship, inner madness, abuse, and life. The actors Jason Babinsky and Emily Gardner Hall were excellent. Their movements were choreographed so that they were in a dance, and they were. The set was quite innovative, direction excellent. The story was hard to take in, so much abuse, destruction, frenzy. I left the theatre in a bit of a stupor. Exactly what Laura wants from the audience. The next production will be by visiting theater company
Kaliyuga Arts
performing the U.S. premiere of Kill Me Now
by Brad Fraser running from October 3-13. For more information stageworkshudson.org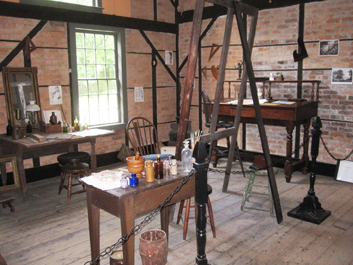 I went with Raymond to Olana, home of Frederic Edwin Church and to Cedar Grove, home of Thomas Cole. There were 2 exhibitions that he wanted to write about and I hadn't been to either place in a while. See Raymond's review of the Bierstadt exhibit at the Cole house and Church's Maine paintings at Olana in this issue and online at arttimesjournal.com. I remember the early fundraisers to save Thomas Cole's home, Cedar Grove, in Catskill, NY during the early 1980's. The Arts Council and County Historic Society resurrected this important landmark, home to painter, poet, and essayist Thomas Cole (1801-1848). Cole created pristine landscape paintings and became the leader of an informal alliance of landscape artists now known as the Hudson River School. Cole, Asher Durand, Frederic Church, Sanford Gifford, Jasper Cropsey, and other painters, along with literary figures such as William Cullen Bryant and James Fenimore Cooper, developed an "American" style and landscape vision— the first truly American style/ school of painting. The artists of the Hudson River School were united by their belief that their art might lead to spiritual renewal and today many contemporary artists are again now working in this style. The house has been restored, Cole's studio brought back to how it looked during his time and the grounds are the next project for restoration. The programming at Cole's site is extensive with art exhibitions, scholarly lectures, fun parties, and activities designed especially for kids and school groups. From January through April they present "Sunday Salons" – a series of presentations. During the warmer months, they offer a guided hike along the Hudson River School Art Trail, where you can see the landscapes that appear in Thomas Cole's paintings. Currently the exhibit on view (through November 3) is Albert Bierstadt in New York & New England. The show, curated by Annette Blaugrund, former director of the National Academy Museum, focuses on Albert Bierstadt's east coast paintings and offers a rare opportunity to see these little known works. For more about Cedar Grove: thomascole.org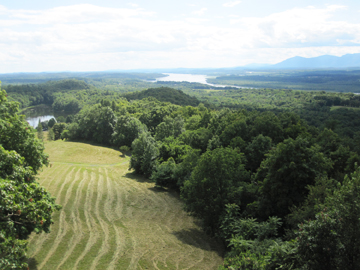 Mark Prezorski, landscape curator at Olana, walked the grounds with me (grounds are open and many artists come and set up their easels) and explained the reinterpretation of the site. Olana has always been a destination for seeing the home that Frederic Edwin Church built in Hudson, NY and his paintings. Church (1826-1900), was one of America's most important artists, a student of Thomas Cole, and a major figure in the Hudson River School of landscape painting. Quoting from their website: "An interpretation of Olana now includes Church the painter, Art, Architecture, Landscape, Farm & Views. Under Frederic Church's direction, Olana (completed in 1872) developed over the last forty years of his life into a three-dimensional work of art that includes the magnificent Persian-inspired home with its myriad of collections set in a 250-acre designed landscape with iconic views of the Hudson River Valley. Frederic Church constructed the landscape at Olana in the same manner that he constructed landscapes in his paintings: with an eye to composition, balance, and fidelity to nature. Although Olana was a working farm, expected to turn a profit, Church also wanted the property to be pleasing to look at. He used the Hudson River and mountains in the distance as a background to a composition with carefully planned foreground and middle ground elements." Church is referred to as an early environmentalist preserving nature and the views that he loved to paint. Olana is a very popular tourist destination and generates millions of dollars in revenue for the county and state. Tours sell out quickly although walking the property requires no reservation or entrance fee. Coming up at Olana on Sept 21 is Olanafest 2013, a fundraising event where ten outstanding restaurants recreate Church works of art for a fun and tasty bite. On Sept 22 an event called Framing the Viewshed: Groundswell— Site-specific works, along the paths, by more than a dozen artists in sound, text, installation, and movement will reflect and react to Olana as a vast environmental work. For more about Olana
See you out and about, visit us online for new essays, videos, opportunity and calendar listings.