Culturally Speaking
By Cornelia Seckel
ART TIMES online Dec 2009


More and more I am seeing groups craftspeople coming together to have a holiday show and sale— sometimes in one's home, studio or sometimes in a church or firehouse hall. The idea of buying local is stronger and stronger and in this buying season very prominent. In my area I happened onto several sales: The High Woods Coop – Ceramic Studio, Annual Catskill Fiber Celebration, Highwoods Schoolhouse Sale, and 2nds Sale at the Colony. This is such a delightful way to shop. Meet the artisans, enjoy refreshments, see a variety of work yet not be overwhelmed as is so often the case at large Craft Fairs. Shop locally is the theme of the times. Enjoy the holiday art and craft shows in your town.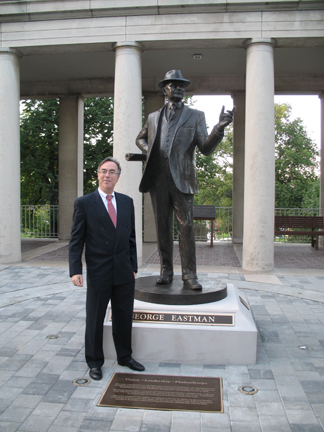 I was pleased to hear that Marc Mellon has completed and installed an eight-foot bronze statue of inventor and philanthropist George Eastman, which was unveiled at the University of Rochester on October 10. Marc has created busts of Pope John Paul II, George H.W. Bush, Winston Churchill, Theodore Roosevelt and Albert Einstein; life-size statue of Kate Smith; and official 2009 Presidential Inaugural Medal of President Barack Obama. I have known Marc for many years and it has been a pleasure to see him emerge as one of this country's finest portrait sculptors. Marc also spent many years a President of the Artists' Fellowship, Inc., an organization dedicated to helping artists in crisis. To learn more about Marc visit www.marcmellon.com.
The 2nd Annual Chinese International Figure Painting Competition was held at the Salmagundi Club in NYC. This was an exhibition of the finalists and what excellent, competent and compelling work. Sponsored by the new Tang Dynasty Television, the work featured was of some disturbing images representing the plight of many peoples. According to their brochure, the purpose of this competition is to promote cultural exchange and the art of figure painting that portrays pure truth, pure compassion, and pure beauty.
The Stella Adler Studio of Acting, NYC, recently celebrated the 60th anniversary of its founding. It is one of the oldest actor training schools in the country, founded by the legendary Stella Adler in New York City in 1949. Over the years, the Studio has trained many of the industry's preeminent artists including Marlon Brando, Robert De Niro, Salma Hayek and Susan Sarandon and today is nurturing the next generation of artists. In 2004, Warren Beatty becomes the Studio's Honorary Chairman, filling the role that had previously been held by Marlon Brando. Currently, The Stella Adler Studio upgraded its facilities has over 300 full-time students.
Dawn Lille (one of our Dance writers), read from her book Equipoise: The Life and Work of Alfredo Corvino at the National Arts Club, NYC. Published by Rosen Publishing Company, this is the 4th in the Dance Movement & Press Series Contemporary Discourse on Movement and Dance. There were several hundred people, including many students of Corvino's, Dawn's friends, family, and colleagues. Dawn is an excellent storyteller and the book is a delight. Corvino's daughters both read and spoke and a film of Corvino teaching ended the program. The book is currently available from www.rosenpublishing.com
We wish you all a very healthy, creative, peaceful, and joy-filled holiday season and New Year.