Culturally Speaking
By CORNELIA SECKEL
ART TIMES December 2005
In the past several days we have gone from 60 degrees to 23 degrees, the trees are bare, the garden is definitely done producing and I, like many of you, are preparing for the winter. It is the time of year for Holiday Crafts Shows, Group Exhibits at galleries, and the music and dance performances that are only produced at this time of the year. As you spend these next weeks with much of the time spent in thinking about gifts, consider the gift of art, a subscription to a music, dance, film, theater series, fine crafts or materials for someone to explore their own sensitivity to creativity.
The Music Committee of the National Arts Club had two Awards Dinners for music within several weeks and it was my great fortune to attend both. Marilyn Horne was leading lady of the Metropolitan Opera for twenty-six seasons, and the San Francisco Opera for thirty-nine; she "may be the most influential singer in American history," according to Opera News. For her birthday in 1994, she launched the Marilyn Horne Foundation, whose mission is to "Encourage, support and preserve the art of the vocal recital through the presentation of vocal recitals and related educational programs in communities across the United States." She said that it was time to give back to the audiences that have supported her all these years by putting her attention to upcoming professional singers. The Foundation has numerous programs including: National Artist Residency Programs, On Wings of Song - NYC Recital Series, The Song Continues... Festival, New York City Educational Outreach, WQXR Radio Broadcast & Webcast, Annual Song Commission, and others. There is a lot more information at www.marilynhornefdn.org. Coming up is a performance of the Music Academy of the West Vocal Competition Winners: Isabel Leonard, mezzo-soprano & Tamara Sanikidze, piano on Sunday, December 4, at 3pm at St. Bartholomew's Chapel, Park Avenue at 51st Street, NYC. At the Awards Dinner Susanna Phillips, soprano, Leonardo Capalbo, tenor, and Jonathan Kelly, pianist, gave a musical tribute. What exciting and excellent voices. Mathew Epstein, VP of Columbia Artist Management, spoke of Horne's generosity towards other new emerging artists, and that it was a great honor to celebrate her— a great singer and a wonderful person. In her acceptance, Horne spoke of the personal rewards in teaching and working with the foundation.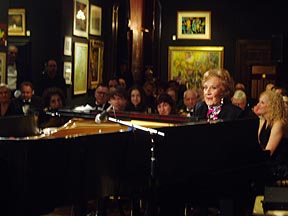 Marian McPartland playing her appreciation
at the National Arts Club Medal of Honor Dinner honoring her
The other medal from the Music Committee was for Marian McPartland. I have been listening to Piano Jazz on NPR with Marian McPartland for many years, and it was a great pleasure to meet her and to learn more about her through the eyes of several musicians whose lives she touched. The evening was spectacular. Bill Charliap and his mother Sandy Stewart were delightful as they gave a musical tribute, as was Barbara Carroll who referred to herself and to Marian, as the "Chic" piano players. Barbara spoke about Marian's great contribution to music and that she was an exceptional role model for women. I was deeply moved when she played and sang Stephen Sondheim's "Old Friends" to Marian. Bill Taylor spoke about how she was so wonderful and generous to other musicians. He played "If you are really concerned then show it" because as he said, she does. After the medal presentation Marian came to the podium to thank the club, and within minutes said "If I don't get to that piano soon I'll just go crazy" and thanked us with some wonderful music. The evening wrapped up with a Jam session. What a night!
I headed down to NYC for a very full day of Out and Abouting. First stop was the UN for a Press Lunch with Ranan R. Lurie, artist and political cartoonist (he holds the Guinness Record holder for most widely syndicated Political Cartoonist in the World) to see and hear about the Uniting Painting that was unveiled at the UN earlier this month. The Uniting Painting, conceived by Lurie in the mid 60's and financially supported by him, utilizes many mediums. Beginning on the ceiling of the Visitors Lobby of the UN, it moves through air taking the form of a mobile on canvas; moving to the stairway where it then becomes a carpet before heading out the door to the Plaza. The colors up till this point are various blues, white and black flowing in a ribbon-candy like design. Just outside the entranceway the colors change to reds and yellows, (design remains the same) and the Painting, now on stones, moves across the plaza and up a retaining wall. The Painting, in the same colors and design, can next be seen in the middle of the East River on Roosevelt Island and from that point the Painting will reappear across the Atlantic. England, Greece, Cyprus, and Israel have all agreed to have the painting enter their countries. At the Luncheon, Lurie spoke about the painting, and that what connects us is far greater than what separates us. The provenance of art, he said, is to make people stop and listen. Art touches the head and heart and reaches us in ways little else can. He spoke about the UN (celebrating 60 years) as having a moral obligation, a must for humanity, that governments may report to each other. When asked about how the painting might change in different countries, Lurie said that the Painting will live its own life, and moving to other places, must adapt as we must adapt to survive. Ranan R. Lurie is a member of the oldest recorded family and traces his line to the Prophet Isaiah. With a heritage like that he certainly has to have an embracing view of all peoples and work to unite humanity for peace. Learn more on the website: www.rananlurie.com.
That evening I met up with my sister Laurie and we attended the premier performance of Cedar Lake Contemporary Ballet. Featured were three choreographers, Jodie Gates, Edwaard Liang and Benoit-Swan Pouffer (artistic director) and the Cedar Lake Dance Company. What excellent dancers, what innovative dances and what an appreciative audience. Cedar Lake, founded by and underwritten by Nancy Walton Laurie, is "a contemporary ballet company committed to bringing attention to the talent of recognized and emerging choreographers by creating an atmosphere for both the dancers and artistic collaborators to fully express and realize their theatrical identities". Nancy felt that there were not enough dance instruction centers and founded the Columbia Performing Arts Centre in 1999 in her home city Columbia, Missouri. Now she has established Cedar Lake to continue manifesting her vision, which is to raise the level of art awareness and to lend her support to professional dance. Located in Chelsea, NYC in a building built and designed in 1914 as a commercial garage, the west side of the building has offices, rehearsal hall, lounge and lockers for the dancers (who also are on a 52-week contract with health benefits). The theater part of the building (east side) can be configured for traditional dance and cabaret to theater-in-the round and banquet functions. For more information on their 2006 performances 212-868-4444 or go online www.cedarlakedance.com.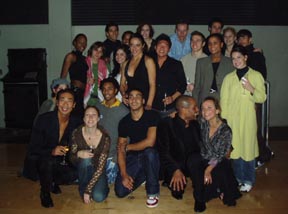 The Cedar Lake Dance Company, NYC
Several new galleries have been brought to my attention: BOTH Gallery is a new contemporary art venue located in the Rondout section of Kingston, NY, and showcases the sculpture and jewelry work of Talya Baharal and Gene Gnida (known as Baharal-Gnida Designs), and other artists with whom they share an aesthetic dialogue. BOTH Gallery & Studio is open Wednesday thru Saturday. They chose Kingston because of the amount of art energy and that it is still relatively affordable. For more information 845-331-2976 or visit online at www.baharal-gnida.com • LIVINGSKIN®, a ten-year-old international company that makes specialized prosthesis, recently relocated to the historic Powder Creek Mill Building on Broadway in Newburgh, NY. Artist Philip Castore, the Director of Operations for the LIVINGSKIN Corporation, already had a studio in the rear of this former textile factory. The expansion of the factory included a small storefront on Broadway, next to Hudson Valley Coffee Roasters and this, according to Bette Minervini of LIVINGSKIN, gave the impetus to create an art gallery featuring their employees, the Working Artists of LIVINGSKIN®. This opportunity fits perfectly with the company's holistic philosophy of supporting its employees' lives. The current show runs thru Dec 18 and features the after-hours artworks of the artists who work at LIVINGSKIN® as well as samples of their day work. Future plans include showing works of other area artists, and staging benefits for community organizations. Proceeds from this first show, which will run through December 18, benefit Action Toward Independence, an organization that serves people with disabilities in Orange and Sullivan Counties. Gallery hours are Saturdays and Sundays. Call them for more information at 845-561-8624 or online: www.livingskin.com.
Anything Goes was presented by the School of Fine and Performing Arts Department of Theatre Arts at SUNY New Paltz and it was a delightful evening. The play with music and lyrics by Cole Porter, and a new book by Timothy Crouse & John Weidman provides an excellent opportunity for actors to portray a great variety of characters, including: a comic, nightclub singer, a sexy gun moll, a mobster, sailors, a debutant, high society, and working class people. The acting, singing, choreography, sets, and costumes were excellent, and the nearly sold out house gave the cast a standing ovation. Particularly notable was Joe Carusone in the role of Lord Evelyn Oakleigh and Marc Suave as Moonface Martin. During the 2nd act, a fire alarm went off, the play was interrupted, and we all vacated the theater. After a 1/2 hour we returned and the cast picked up the flow as the professionals they are. Getting a season's subscription to a college theater program and/or community theater is an inexpensive and very enjoyable way to see some good plays by very fine actors.
Allied Artists have their 92nd Annual Exhibit up at the National Arts Club until December 6. At the Salmagundi Club I also got a look at the American Artists Professional League's 77th National Exhibition, which was hung just a few weeks after the Audubon Artists 63rd Annual Exhibit closed. Excellent sculptures and paintings have been chosen from around the country. Most of these groups give cash and material awards that are quite substantial. Don't miss out on this opportunity to see some of the finest work being done, and if you're an artist, check out their prospectus for next year's shows.
Reminder: our next issue is a combined issue of January and February. Deadline is the 12th of December for calendar items and about the 15th for advertising.
Happy holidays from all of us here at ART TIMES. May it be a beginning of new and wonderful things for us all.