CULTURALLY SPEAKING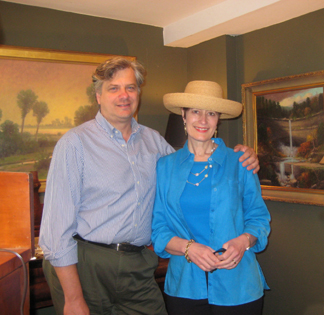 Robert Schneider & Suzy Goetz at Robert's shop in Cooperstown

By Cornelia Seckel




ART TIMES September 2008

Well here it is, summer almost a memory, time off is history, and we are back at our desks as we move along our 25th year of publishing ART TIMES. So many of you have written with congratulations that although we love receiving them we chose not to print them since we didn't have space for all of them. Thank you for your support — we appreciate your comments along with our readers and our advertisers as they literally support us.

Raymond & I were asked to Jury and to Judge the 73rd Annual National Juried Art Exhibition at the Cooperstown Art Association and so, early in July, we traveled to Cooperstown to Judge the winners. It is always a daunting job to make those decisions, and of course to see the actual work that we chose from slides and cds. While we were in Cooperstown we had the pleasure to stay with friends Robert Schneider and Suzy Goetz, two very fine artists that we have known for many years. Cooperstown is located at the foot of Otsego Lake (a gem for summer and winter recreation) and during the summer a very popular tourist destination for The Art Association, Glimmerglass Opera, The Fenimore Art Museum and the Farm Museum, Leatherstocking Theatre and, of course, The Baseball Hall of Fame.

Cooperstown Art Association, founded in 1928, has continued to serve the artists of the region with a full year of solo and group exhibitions, art classes, demonstrations, and programs that include lectures, studio tours, performances and a film series. All this activity certainly keeps the community aware and encourages the sparks of creativity. Janet Garber, Executive Director of the Association, made our job easier. There were over 20 prizes and now there are 20+ people who believe our taste is excellent and 130+ that believe our taste is (to quote Suzy Goetz's father) "just no damn good".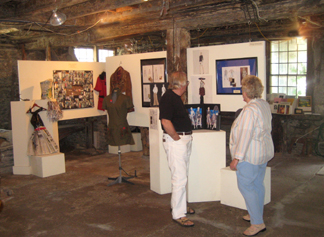 Raymond J. Steiner & Lillian Yerdon at
The Smithy-Pioneer Gallery, Cooperstown
The Smithy-Pioneer Gallery, housed in the oldest building in Cooperstown, was built in 1786 as a blacksmith shop by Judge William Cooper and father of James Fenimore Cooper, writer of The Leatherstocking Tales and other books set in the early American Frontier and considered to be America's first novelist. I was so pleased to speak with the director, Tara Sumner, who told me that the gallery opened in 1957, and is now a member organization. What an interesting building with 3 floors of gallery space for group, solo and history exhibits, as well as old tools on the walls that are reminiscent of the blacksmith days. On the ground floor, mostly reserved for group shows, was an exhibition of costume designs for Glimmerglass Opera's current season. A number of other artists showed fabric, jewelry, sculpture and then a pleasant surprise to see paintings by Gerri Scheele and Elizabeth Apgar Smith whose excellent work was quite familiar to me. There are also sculptures throughout the lovely gardens that lead from the Smithy to the recently opened new building, which houses the pottery school and pottery gallery.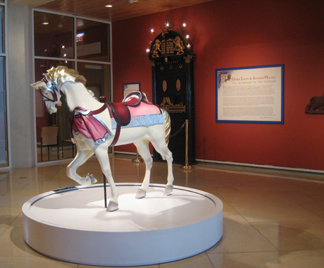 "Gilded Lions and Jeweled Horses: The Synagogue to the Carousel", exhibit at the The Fenimore Art Museum, Cooperstown, NY
We headed over to the Fenimore Cooper Art Museum, an elegant 1930's mansion donated by Stephen Carlton Clark, Sr. to the NYS Historical Association and opened in 1945, passing the Farm Museum, one of the oldest rural life museums in the country, where we could see many visitors touring this 19th century village and farm. Much of Clark's American Art Collection is on view as is the Thaw Collection of American Indian Art, Folk Art of the 19th century and The Smith and Telfer Photographic Collection that documented Cooperstown and its people for almost a century. I was particularly pleased to see Gilded Lions and Jeweled Horses: The Synagogue to the Carousel
, which included wood carvings of carousel horses as well as the carved objects found in synagogues: lions, crowns, the ark, 10 commandment tablets made by immigrant Jewish artisans who brought with them from Europe a vital and meaningful artistic tradition that helped bridge the transition from the Old World to the New. The exhibit was organized by the American Folk Art Museum, NYC.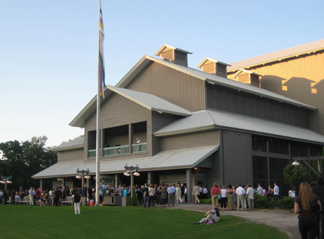 Alice Busch Opera Theater, home of Glimmerglass Opera, Cooperstown , NY
In 1975 residents of Cooperstown — musicians, artists, educators and lovers of Opera — formed a company that became Glimmerglass. La Boème, the first production, took place in the auditorium of Cooperstown High School. Today, 4 productions performed in repertory are offered throughout the season and Glimmerglass Opera, housed in The Alice Busch Opera Theater since 1987, has grown to international stature. What a delightful experience it was to see one of their productions. We parked in a lot about 500 feet from the theater, which sits by a pond. The sky was beautiful, water was calm showing a clear reflection of the theater that was built exclusively for Opera. We were there for the opening night of the season that included Giulio Cesare in Egitto, Das Liebesverbot and I Capuleti e I Montrecchi and there were only a handful of empty seats. The theater itself was very comfortable; the production we saw was Kiss Me Kate by Cole Porter. A musical is quite out of their usual offerings, but according to General & Artistic Director Michael Macleod they "wanted to try something different." Their mission is "to produce new, little known and familiar operas and works of music theater in innovative productions which capitalize on the intimacy and natural setting of the theater." There are 58 interns working in each of the departments — what a fabulous learning experience with housing included. The production was excellent, voices & acting professional (with several of the actors performing courtesy of artist equity), comic relief delightful and the excitement and energy of the audience stimulating. The sets were reminiscent of The Globe Theater and the seating for the audience very comfortable. A very important component to Glimmerglass Opera is The Young American Artists Program (est. 1988), an education through performance program that allows members, many with Bachelor and Master's degrees from leading conservatories, to learn firsthand the demands of a professional opera career by performing and covering appropriate roles on the mainstage and working closely with world-class directors, designers, conductors and coaches. There is also a solo recital that each member gives. Alumnae of the program have become "stars" of opera companies around the world. For information about Glimmerglass and the Young American Artists program: www.glimmerglass.org
Raymond J. Steiner has given several readings from his new book this summer and the latest one was in Andes, NY at the Roundtable — a group of community people that meets monthly and has a variety of programs. Raymond read from The Mountain and spoke a bit about the book and I spoke about publishing. What a team. The next reading and book signing is in Sand Lake, NY at the Zion's United Church of Christ of Taborton on Sept 28 at 2pm. In October, Raymond will be at the Woodstock Art Fair (Oct 12) at the Woodstock Jewish Congregation on Glasco Turnpike and also at the Colony Café (Oct 13). Hope you can join us.
While in Andes, I had the pleasure to meet Karen Levey who recently opened Sixty One Main Gallery. Karen has a great variety of work and artists, all quite good. The work is presented well and the various rooms allowed for groupings of artists and themes. She is showing contemporary, fine art, and one-of-a kind handmade items and crafts. She can be reached at 845.676.4030. Merna Popper has an intriguing show of portraits by Geoffrey Raymond at Andes Antiques and Art. Large and compelling, these images are of distinguished people from this century. Give Merna a call at 845 676-3420.
Michael Gabor has opened a new art supply store that caters to the professional and student in Newburgh, NY. They will carry a number of unique and eco-friendly materials and are looking for feedback from artists as to what they need and would like them to carry. Give a look online at www.newburghsupply.com
What a pleasure it was to see works from the estate of Eugenie Gershoy at Fletcher Gallery in Woodstock; it was like visiting an old friend long gone. I always smile when I see her work or think of her; she was just so delightful. We first met Eugenie when we began publishing ART TIMES and she was very supportive and encouraging. Raymond did a profile that was in our November 1984 issue. Her work in stone, bronze, terracotta, plaster and papier-maché were mainly figurative in nature and many of her artist peers, such as Carl Walters, Raphael and Moses Soyer, William Zorach and Lucille Blanch, became her subjects. In the exhibit were delightful watercolors and drawings as well as pottery.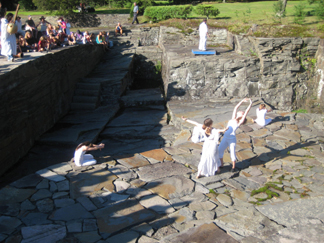 Dancers from Vanaver Caravan's Summer Dance Institute
performing at Opus 40, Saugerties
So here I was, writing this column and then distracted by lots of cars going down the road and then some wonderful music coming from Opus 40, an environmental sculpture by Harvey Fite just down the road from our office and a popular location for a variety of events. I remembered that the Vanaver Caravan was to perform and so, notebook and camera in hand, I headed down the road. I am so pleased I went to see this dance performance done amongst earth sculpture of bluestone. The choreography by Livia Vanaver was specific to the site. People on blankets with picnics were asked to move to the back quarry where dancers from the Summer Dance Institute began in one of the quarries and then were led from one rock formation to another, leaving a dancer to do a solo in relationship to the stone and then we were led to another formation. A beautiful dance by Livia before the group of dancers delighted us with their final performance. Also part of the program was a flamenco dance by Marina Lopez, several tap dance routines by Nathan Bugh and music by Andy Teirstein, Bill Vanaver, Toby Stover and Fode Sissoko. As is their usual custom, the Dancers invited the audience to the performing area for more dancing. Their next performance will be October 5 at Fall for Dance at the Ulster County Fairgrounds, and their big local performance (as they do travel around the country) will be at SUNY New Paltz on Dec 19-21 collaborating with the theater group Arm of the Sea for a holiday show called "Into the Light". For more information see their site at www.vanavercaravan.org
I also went to LA to visit childhood friends and while I was there went to both the Getty Museum and Villa as well as to Laguna for the Pageant of the Masters. More about that trip in the Travel and Culture column next month. See you out and about.