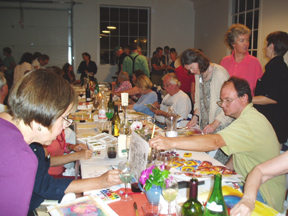 Painters at the
The 1st Annual Vinarelli at the
Woodstock School of Art, Woodstock, NY
CULTURALLY SPEAKING
By Cornelia Seckel
ART TIMES September 2006
Here it is mid August and time to be gearing up for the Fall after a very full Summer of festivals, concerts, fairs, exhibitions, and travel. As yet I have not gotten to many of the places I hoped to go but this is an old story. From what I am hearing, the weather and price of gas has not helped attendance, although for me it was jut too full a calendar.
The 1st Annual Vinarelli at the Woodstock School of Art, Woodstock, NY, was a great success. All 100 tickets were sold for a scrumptious cocktail hour, dinner, wine (courtesy of Millbrook Winery), art supplies (courtesy of Winsor Newton) and dessert. An excellent Italian Feast was prepared by CIA instructor Gianni Scappin and served family style — just as I remember in many restaurants in Italy. We were all encouraged to paint and received watercolor paper and paints along with cups of red and white wine (not the good wine!). About 25 professional artists were invited to the Vinarelli and their paintings were auctioned off at the end of the evening. It was a delightful event, a strong fundraiser for the school, and I'm ready to do it again.
"A Maverick Celebration" is the current show at the Woodstock Artists Association & Museum in Woodstock, NY (note name change from Woodstock Artists Association). This ambitious exhibition gives us a look into the history and art of the Maverick through paintings, sculpture, written documents, artifacts and a movie taken at one of their early Festivals. The Maverick: Hervey White's Colony of the Arts, 1905-1944 is on view through December. Hervey White was one of the founders of the Byrdcliffe Arts and Crafts Colony in 1903. In 1905 White established the Maverick, a less formal, more socially progressive colony than Byrdcliffe. (In Raymond J. Steiner's book The Art Students League of NY: A History, there is a chapter devoted to the League in Woodstock, which includes discussion of the Maverick and Byrdcliffe). Woodstock and Hearsay by Anita M. Smith (see listing in our New Art Book Column) was re-released as an art book edition to help commemorate the 100 year anniversary of The Maverick and the 90 year anniversary of the Maverick Concert Series — the longest continuously running chamber music program in the US. The book, when first released in 1959, was the town's first official history. For more information: www.woodstockarts.com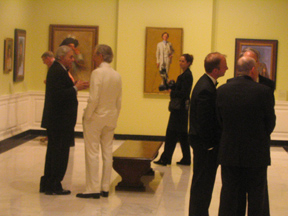 Everett Raymond Kinstler (L) speaking with Tom Wolff
at Kinstler's opening at the Museum of the City of NY, NYC
New York Creative: Portraits by Everett Raymond Kinstler, featuring 50 paintings and drawings of celebrated figures from the world of arts & letters in New York, is on view at the Museum of the City of New York until October 15, 2006. It is fitting that Kinstler, born and raised in NYC is being honored by the museum, and this solo show is timed to celebrate his 80th birthday. Considered America's leading portraitist, Kinstler has painted five of the last Presidents, celebrities and people in government including Katherine Hepburn, Tom Wolff, Paul Newman, Tony Bennett, Leonard Bernstein, Patrick Moynihan, Elizabeth Dole, Ruth Bader Ginsburg as well as hundreds of business people and academicians. Many of his portraits of people in government are at the Portrait Gallery of the Smithsonian Institution in Washington, DC. Whether teaching at the Art Students League of NY, the National Academy School and Museum, NY or giving workshops throughout the country, Kinstler is a revered teacher and will be giving a Painting Demonstration at the museum on Sunday, September 17 at 2pm. According to the Museum, over 700 people attended the opening and daily, dozens come to view his work. Kinstler, a beloved raconteur and member of many arts organizations, has also devoted a good part of his talent to portraying his many artist friends, colleagues, and club members — including our editor Raymond J. Steiner — a practice that has not only kept him "close to his roots", but also has endeared him to a great many who have come to know him over the years. Raymond Kinstler: An Artist's Journey, a book that celebrates his life, was reviewed in ART TIMES July 2005. For more information about ERK see: www.everettraymondkinstler.com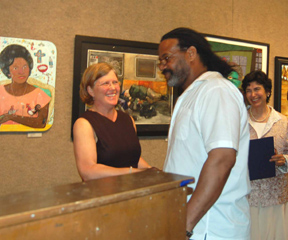 Commissioner Marha Hirst of NYC's Department of Citywide Administrative Services, after bringing greetings from Mayor Bloomberg, congratulates the "Best-In-Show" award winner, Marvin Franklin, as Salmagundi's Director, Kathleen Arffmann, (r), looks on. Mr Franklin, a subway track inspector by night, comes off his shift to paint at the Art Students' League almost daily. His watercolor from his "Homeless Series" won him a year's artist membership in the Salmagundi Club.
The Salmagundi Art Club, NYC, hosted an exhibition of work by New York City Workers. Edwin Lynch, sculptor and photographer, conceived of and curated this 1st Annual Exhibition for the Club and it was a brilliant idea. Hundreds of exhibitors and well-wishers packed the main and lower galleries during the opening reception and many of these people had never been to the Salmagundi Club, a center for American art since 1871 and one of the oldest art organizations in the US. Kathleen Arffmann, Director of the Salmagundi, hopes that this will be the first of many visits they will make to the Club and that people will know they are welcome to come and view the art, eat in the excellent restaurant, and to hire the facilities for all kinds of parties. There were 130 art works produced by people from law enforcement, transit, education, park and sanitation jobs that included paintings, sculptures, photographs, and graphic works. After bringing greetings from Mayor Bloomberg the "Best in Show" was presented by Commissioner Martha Hirst of NYC's Department of Citywide Administrative Services, to Marvin Franklin, a subway track inspector by night and a dedicated art student at the Art Students' League. His watercolor from his "Homeless Series" won him a year's artist membership in the Salmagundi Club. Several years ago the Club hosted an exhibition of work by people from Law Enforcement and not only work from those who do the artists' sketches! This too was an excellent idea and helped to encourage and support people who are unfamiliar with the art clubs and organizations to become more involved. Too often people don't realize that exhibitions at these clubs are open to the public.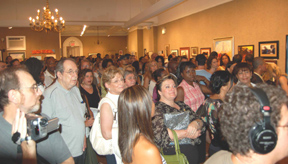 Part of the enthusiastic crowd of exhibitors and well-wishers who packed the main and lower galleries during the evening reception at the City Workers exhibition at the Salmagundi Art Club, NYC
Seven21 Media Center is a state of the art creative media center recently opened in Kingston, NY. The three-floor office building and studios make up a total of 30,000 square feet with two fully functional television studios equipped with lighting, video, and audio production equipment. The building is wired with a fiber optic Internet line with super high bandwidth and has the capability of uplinking and downlinking high quality video and data. Henry Ellenbogen, president of the Ellenbogen Group, said "With the increase in the creative media workforce in the Hudson Valley our facility fills the need for a resource with the quality of a studio in Manhattan". Tenants of the Seven21 Media Center include Canus Major Services, Circulation Printing, Electric River Productions, The Ellenbogen Group, Evolving Media Network, Nevessa Production, Remote Digital Media, RNN, Toolbox Productions, and Woodstock Films. This is a great resource for people in creative media. For more information: www.seven21.com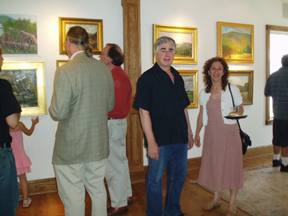 Seth Nadel and Marlene Weidenbaum, painters and participants in the Plein-air Event at Windham Fine Arts, Windham, NY
Windham Fine Arts, Windham, NY, held their 2nd Annual Plein-air Event featuring the work of well over 50 artists. Artists were invited to paint within 10 miles of the gallery over a 3-day period. Work was brought to the gallery, often still wet, and hung by Victoria Alten, gallery owner and director. There was a great turnout and lots of excitement as artists enjoyed each other's work, the live music, and barbeque. Raymond J. Steiner was asked to paint and he joined up with Linda Richichi to do their outdoor paintings. The next show at the gallery is 
"Town & Country", works by Anthony Brownbill, Michael Fauerbach, Lisbeth Firmin, and Seth Nadel and will open on September 2. While in Windham check out the Greene County Council on the Arts Mountaintop Gallery, Phantasma Gallery, The Gallery at Windham Mountain and Roshkowska Galleries showing regional, national and internationally known artists.
My friend Heidi came for a visit from California to help celebrate my 60th Birthday, and while she was here we got to BardSummerscape 2006 and saw Camille, adapted by Neil Bartlett after La dame aux camellias by Alexandre Dumas fils. As with all of Bard's programs, the acting was excellent and the staging both fascinating and innovative. This year Bard has constructed a SpiegelPalais, one of the few Spiegeltents owned and operated by the Klessen Family in Belgium (www.spiegeltent.be). These exquisite rotundas are made of carved wood, canvas, and glass, with ornate interiors that feature a shining parquet dance floor, beveled mirrors, stained-glass windows, and ballooning velvet canopies. In their heyday, Spiegeltents toured the lowlands of Europe as traveling dance halls, wine-tasting marquees, and cabaret venues. These famed "palaces of mirrors" were named for the myriad glittering mirrors that surround the interior. The mirror tents became the domain of night owls and a symbol of the wild fin-de-siècle period in France and Belgium. Both Marlene Dietrich and Josephine Baker made their debuts in Spiegeltents. We enjoyed dinner before the show but it got too late to return for the cabaret. Next year.
See you out and about, enjoy the fruits of summer — I know I am.